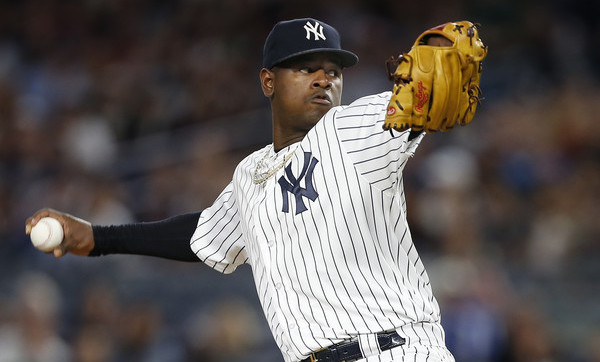 Yet another tough loss last night. The Yankees have let a five-run lead and a four-run lead turn into losses within their last three games. Games like those are why the Yankees are unlikely to win the AL East — FanGraphs puts their division odds at 6.4% at the moment, for what it's worth — and are instead fighting for a wildcard spot.
Fortunately, the Yankees have Luis Severino on the mound this afternoon, and he's been their best starter all season. The Yankees could really use a dominant Sevy outing today. I'm pretty sure none of us want to see three innings worth of middle relievers again this afternoon. Here is the Rangers' lineup and here is the Yankees' lineup:
LF Brett Gardner
DH Chase Headley
C Gary Sanchez
SS Didi Gregorius
2B Starlin Castro
RF Aaron Judge
CF Jacoby Ellsbury
3B Todd Frazier
1B Greg Bird
RHP Luis Severino
Lovely weather in Arlington today. Nice and sunny but not insanely hot either. Great day for a ballgame. This afternoon's game will begin at 1:05pm ET and FOX has the broadcast. Regular old FOX. Not FOX Sports 1. Enjoy the game.