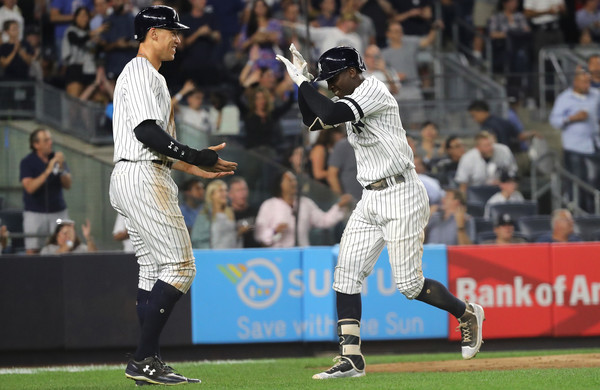 Two games, two comfortable wins so far this series. The Yankees have crushed the Orioles at Yankee Stadium all year. They're 7-1 against the O's at home this season and they've outscored them 88-37 in the eight games. The Yankees have scored 141 runs against the Orioles this year overall. 141 runs! No team has scored more runs against any other team in 2017.
Anyway, those last two wins tonight were nice, but they don't mean anything today. Gotta go out and score a boatload more runs this afternoon. The lead for the top wildcard spot is four games and the lead for a wildcard spot in general in six games. Would be nice to gain ground on the Red Sox one of these days, but for now, keep creating separation with the other wildcard hopefuls. Here is the Orioles' lineup and here is the Yankees' lineup:
LF Brett Gardner
DH Chase Headley
RF Aaron Judge
SS Didi Gregorius
2B Starlin Castro
CF Jacoby Ellsbury
3B Todd Frazier
1B Greg Bird
C Austin Romine
LHP Jordan Montgomery
It is a bit cloudy and humid in New York today, and there's some rain in the forecast later on. Nothing heavy and nothing that should interrupt the game. Today's game will start a little after 4pm ET. YES will have the broadcast. Enjoy the game.
Roster Moves: Both Jonathan Holder and Miguel Andujar were called up from Triple-A Scranton, the Yankees announced. There are now 35 players on the active roster.
Injury Updates: Adam Warren (back) threw on flat ground this afternoon. The hope is he'll be back within a week to a week and a half.