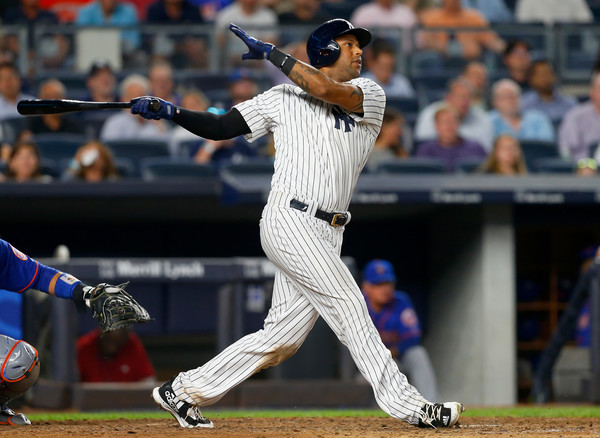 Aaron Hicks was activated from the disabled list this morning, and he'll be batting lead-off tonight. It's good to see that Joe Girardi isn't hesitating to maximize Hicks's opportunities to shake-off the rust of a nearly four-week layoff with the playoffs just around the corner; here's hoping that Hicks can make the most of it, given his all-around value to the team.
It's also worth noting that the Yankees magic number to clinch homefield advantage in the Wild Card game is just one, meaning a Yankees win or a Twins loss will seal the deal. The sooner the better, in my mind, so Girardi can allow most everyone to get a bit more rest without the added stress of a Twins run or a Yankees slump.
Jordan Montgomery will take the mound for the Yankees tonight, and here's the Rays lineup he'll face. Blake Snell is starting for the Rays, and he'll square-off against:
Aaron Hicks, CF
Aaron Judge, RF
Gary Sanchez, C
Matt Holliday, DH
Chase Headley, 1B
Starlin Castro, 2B
Todd Frazier, 3B
Clint Frazier, LF
Ronald Torreyes, SS
Tonight's game will start at 7:05 PM EST, and will be broadcast on YES.
Injury Updates: There's nothing new to report here. Didi Gregorius was expected to sit today, so it's nothing more than a day off.