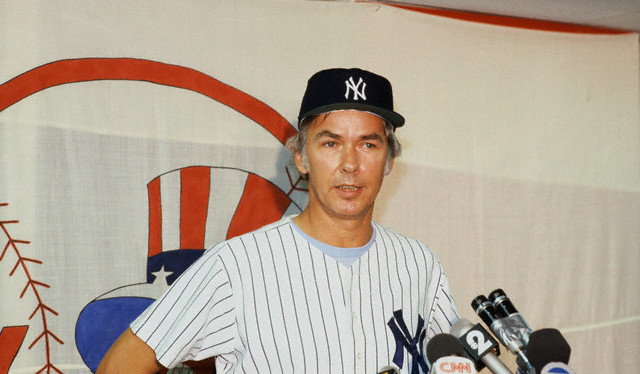 Sad news to pass along. Former Yankees player, coach, manager, scout, and executive Gene "Stick" Michael has passed away following a heart attack, report Mike Mazzeo and Bill Madden. The Yankees have since confirmed the news. Michael was 79. He had a heart procedure earlier this year that was kept private.
"Stick was a pillar of this organization for decades," said Hal Steinbrenner in a statement. "He knew the game of baseball like few others did, and was always willing and excited to talk about it with anyone in earshot. His contributions to the Yankees over the years have been immeasurable. He loved baseball and this organization, and he will be profoundly missed. I extend my deepest sympathies to his wife, Joette, and his entire family."
"Stick was a great man with enormous heart and integrity. One of the greatest baseball executives of our time," said Yankees president Randy Levine to Mark Feinsand. By all accounts Michael was a wonderful man in addition to being a true baseball genius. He's one of the greatest executives in the sport's history.
Michael, a shortstop, started his playing career with the Pirates in 1966 before moving to the Dodgers and eventually joining the Yankees in 1968. He played for New York from 1968-74 and retired as a career .229/.288/.284 hitter. Those were the organizational lean years, so Stick never did win a World Series as a player or even get to play in the postseason.
After his playing career was over, Michael served as a coach with the Yankees and had two stints as their manager in 1981 and 1982. He also managed the Cubs from 1986-87 before rejoining New York as an executive. The Yankees named Stick their general manager in 1990 and he held the post until being fired in 1995.
"I am heartbroken by Stick's passing," said Brian Cashman in a statement. "He was both a friend and mentor to me, and I relied upon his advice and guidance throughout my career. He did it all in this industry – player, coach, manager, general manager and scout – and his knowledge base was second to none. My condolences go out to his family, friends and all those he touched throughout his lifetime in the game. I will miss him."
Michael is most famous for being the architect of latest Yankees dynasty. He loaded up on high on-base players before Moneyball made it cool, and he built the dynasty core through the farm system. George Steinbrenner's suspension gave Michael the freedom to build the roster as he saw fit, and the result was four World Series titles in five years.
"Gene Michael was not only largely responsible for the success of the Yankees organization, but also for my development as a player," said Derek Jeter in a statement. "He was always accessible and willing to share his personal knowledge as well as support. He will be greatly missed. My thoughts and prayers go out to his entire family."
Even after being fired as general manager, Michael remained with the Yankees in various front office capacities, most recently as a senior advisor. He was one of Cashman's most trusted aids and reportedly pushed hard for the Didi Gregorius trade three years ago. Stick was a brilliant baseball person. The Yankees will wear a black armband on their uniform the rest of the season in his memory.