Not a great outcome. Sonny Gray showed flashes of brilliance but also allowed three home runs and took a loss. Meanwhile, the bats got shut down by Doug Fister and the Red Sox bullpen. The losing formula is as simple as that. The Yankees will have to win the next two games to gain ground in the division race.
Strikeouts and dingers
The Yankees struck quick with the bats this game. Brett Gardner started things off with a double to lead off the bottom of the first and Aaron Judge followed it up with a two-bagger of his own to make it 1-0 Yankees. That ended up being the only threat that the Yankee bats had going on tonight.
On the other side, Sonny Gray pitched an electric first two innings to start it out, striking out three while allowing one baserunner (on a wild pitch on a swinging strike three). However, that was the high point for the Yankees in this game.
In the third inning, Red Sox struck back with two runs. With one out, Brock Holt worked a 3-2 walk and Eduardo Nunez lined a two-run home run over the left field fence to make it 2-1 Red Sox. Remember when he dropped an easy pop up to give Yankees a 2-1 lead last night? Different story this time. Fast forward to the fifth inning, Boston added another on a solo dinger by Andrew Benintendi. Two outs in the inning, Gray threw a 93 mph fastball right down the pipe for the first pitch and Benintendi did not miss any.
The Red Sox home run machine did not stop there. In the top of the seventh, Hanley Ramirez hammered one over the center field fence to make it 4-1. Gray's not really been a home run-prone guy in his career but that rate's gonna go up a bit pitching at the Yankee Stadium.
Gray did look nasty when he was on though. He struck out nine in seven innings and got 12 whiffs overall. You could tell with your own eyes that his curveball was working, his fastball was moving everywhere, etc. He had a good stuff tonight! However, this is the big leagues and the mistakes towards the middle of the plate won't cut it. You can see from his pitch chart that a decent amount of pitches that ended up towards the meaty part of the zone were put in play.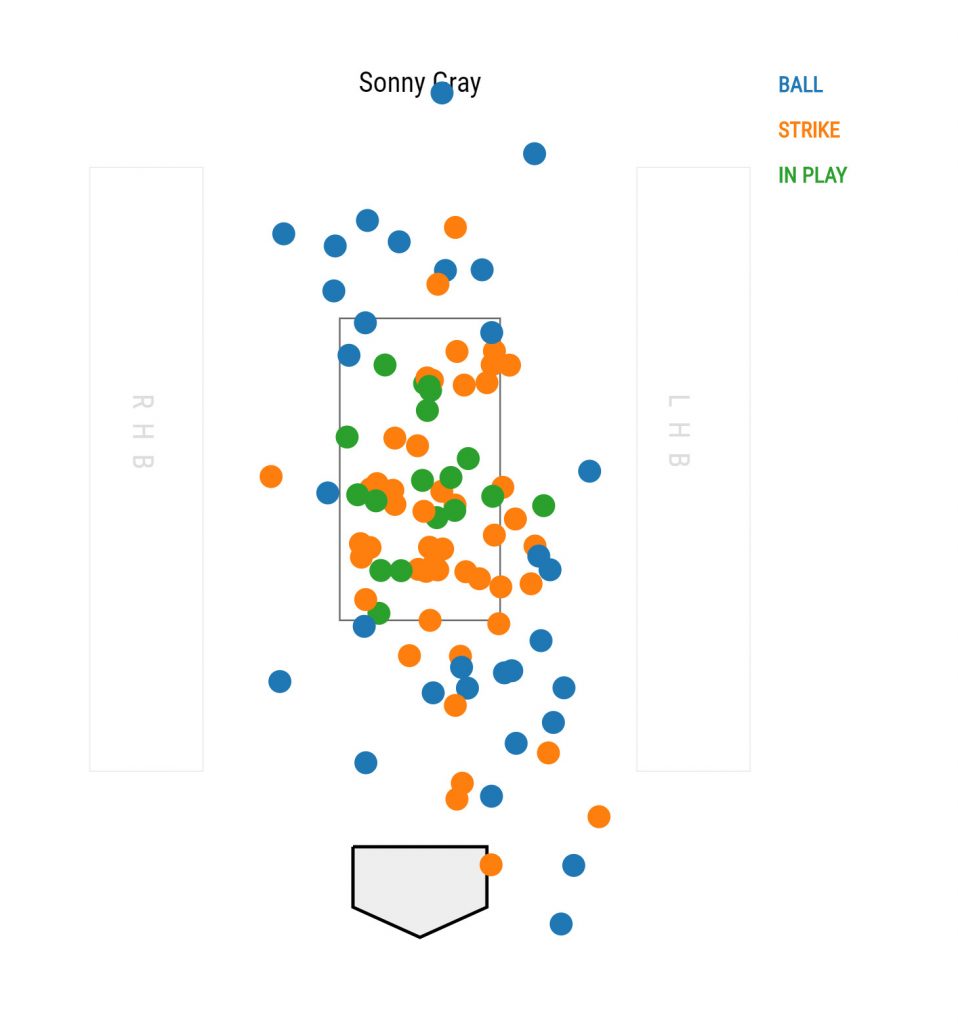 Tonight was the first time that Gray allowed more than 2 ER as a Yankee. Oh well. It wasn't that he pitched particularly poorly either – he made some mistakes but the bats couldn't get it going against Doug Fister to support Gray. Speaking of which…
One run & done
Doug Fister gets talked about like he's the worst starter in the Red Sox rotation but he actually has not been bad at all the past several outings. Prior to tonight, he had a 3.65 ERA in the past 6 appearances (5 starts). During that span, he's struck out 33, allowed only 3 HR's and a .593 OPS against so… yeah. His velocity is back to the low-90's range, which is where it was during his prime years with the Tigers and Nationals. I don't know how long he'll sustain this upswing of performance, but for the Red Sox, it is a very encouraging sign to see him at that range given that his decline correlated a lot with his velocity decrease.
Up to the bottom of the sixth, he allowed only three hits total and none since the two-out single in the second inning. Fister made his career as a crafty starter that can change speeds and eye levels (helps to be really tall in that regards) and he certainly showed it tonight. He held the Yankees to 4 total hits and 1 ER in 7 IP while striking out five. The bats have seen the better days (e.g.: last night). Hopefully they'll show more signs of life tomorrow and beyond.
Leftovers 
Aroldis Chapman came into pitch the eighth against his kryptonite team and he looked… actually really good? He was generating whiffs (6 total in 18 pitches), throwing strikes and the velocity was way up, hitting 104.2 mph per Statcast. It was easily the best that Chapman has looked in months. Maybe it's him being very rested or maybe they found some kinks in his mechanics but Yankees could really use him down the stretch in the pennant race.
As you could tell from the final score, Yankees didn't get much support from their big bats. The 3-4-5 guys (Sanchez – Gregorius – Castro) went for a combined 0-for-12. That ain't gonna cut it.
Box score, video highlights, updated standings, WPA
Here are tonight's box score, video highlights, updated standings and WPA.

Source: FanGraphs
---
The Yankees are back at it tomorrow against the Red Sox tomorrow at the Bronx for a 1:05 pm start. Masahiro Tanaka will take the mound and it will be Drew Pomeranz on the other side.