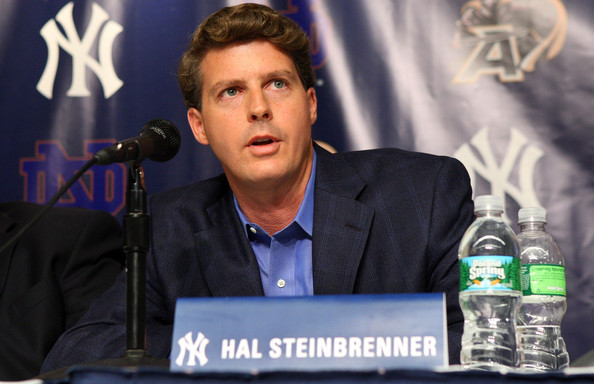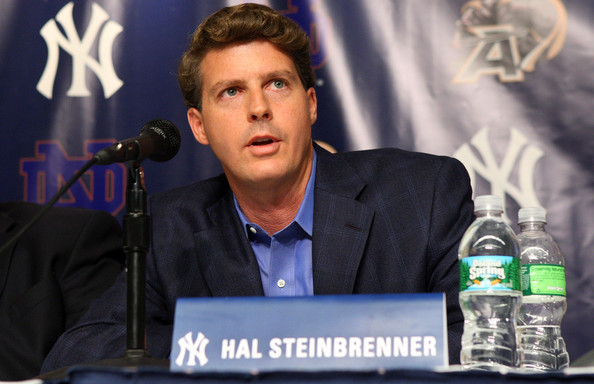 Right now, everyone in Yankeeland is focused on locking down a postseason spot, and understandably so. They're going to clinch a wildcard spot very soon and the AL East title isn't completely out of reach. The Yankees have been to the postseason once in the last four seasons, and that was a wholly unsatisfying Wild Card Game shutout loss in 2015. No one wants to see that again.
In the front office though, Brian Cashman and his staff are surely already in 2018 planning mode. Yes, they're focused on the postseason race too, but they never stop looking for ways to improve, and in mid-to-late September, that means looking ahead to the offseason. It's a weird dynamic. There's only so much the front office can do to help the 2017 Yankees at this point. The roster is built. Now it's up to the players to perform.
Once we get into offseason mode and start thinking about how the Yankees will adjust and improve their roster for next season and beyond, the $197M luxury tax threshold is going to hang over every discussion, every move. Hal Steinbrenner has made it clear he wants to get under the threshold and 2018 is, by far, the best chance the Yankees have had to do it in quite some time. They hoped to do it in 2014, but missing the postseason in 2013 changed things.
So, with that in mind, I figured we might as well break down the current 2018 luxury tax payroll situation, just to see where the Yankees stand heading into the offseason. The short version: they should have a nice chunk of change to spend this winter. The long version: well, let's get to that now. Here's a 2018 payroll breakdown.
Guaranteed Contracts
Masahiro Tanaka: $22.14M
Jacoby Ellsbury: $21.86M
Aroldis Chapman: $17.2M
David Robertson: $13M
Chase Headley: $13M
Brett Gardner: $11.72M
Starlin Castro: $9.5M
Might as well start with the elephant in the room. Tanaka might opt-out of his contract. He also might not! My guess right now is he will opt-out. I'd say it's 90/10 right now in favor of opting out or leveraging the opt-out into an extension, CC Sabathia style. For now, Tanaka is under contract next season, so you have to include him in any payroll projection. If he opts out, you adjust. Those seven contract above total $108.42M toward next year's luxury tax payroll.
The Yankees are shedding Sabathia's contract ($25M annually for luxury tax purposes) as well as Matt Holliday's pricey one-year commitment ($13M) after the season. The good news: that's $38M freed up! The bad news: they have to replace Sabathia and Holliday somehow. Michael Pineda ($7.4M), Todd Frazier ($12M pro-rated), Jaime Garcia ($12M pro-rated), and Chris Carter ($3M) are among the smaller commitments coming off the books as well. All told, roughly $52M worth of veterans will be leaving the luxury tax payroll this offseason, not counting Tanaka.
Arbitration-Eligible Players
Didi Gregorius: Eligible for third time as Super Two ($5.1M salary in 2017)
Sonny Gray: Eligible for second time ($3.575M in 2017)
Dellin Betances: Eligible for second time ($3M in 2017)
Adam Warren: Eligible for third time ($2.29M in 2017)
Aaron Hicks: Eligible for second time ($1.35M in 2017)
Austin Romine: Eligible for second time ($805,000 in 2017)
Chasen Shreve: Eligible for first time as Super Two ($552,425 in 2017)
Tommy Kahnle: Eligible for first time ($535,000 in 2017)
Erik Kratz will be arbitration-eligible for the third time this offseason as well, though he's as good as gone. He'll be among the first players (if not the first player) designated for assignment when time comes to clean up the 40-man roster. I suspect Shreve will be a 40-man casualty as well. He's out of minor league options, and when a middling up-and-down reliever runs out of options, they tend to get cast aside for the next optionable up-and-down arm. Such is life.
Anyway, the Yankees have a pretty sizeable arbitration class. Gregorius could end up earning north of $8M next season while Gray should clear $6M. What'll happen with Betances? He went to his fourth straight All-Star Game this year and, even with the walks this season, his track record puts him among the best relievers in the game. Also, he went 10-for-11 in saves while filling in for Chapman, and saves pay in arbitration. Even if Dellin were to go to arbitration and lose again, I think he's looking at $5M or so next season.
Warren, Romine, and Kahnle won't get huge raises given their roles and track records — Warren might get $3.5M or so, but the other guys won't get much more than $1M — though I have no idea what'll happen with Hicks. He was outstanding in the first half this year, then hurt and kinda crummy in the second half. Tough to value him. I'd say $3M seems like a possibility. Based on my guesstimates, the Yankees are looking at $25M to $30M in arbitration salaries next year, not counting Shreve. Add that to the guaranteed contracts and we're at $138.42M total. Let's call it $140M flat.
Miscellany
Dead money ($5.5M): Portion of Brian McCann's salary
Eleven pre-arbitration-eligible players ($5.995M): $545,000 league minimum each
Remaining 40-man spots: $2M estimated
Player benefits: $12M estimated
The other big contract the Yankees are shedding after the season: Alex Rodriguez. The Yankees paid him $21M to hang out with Jennifer Lopez this year and he counted against the luxury tax at $27.5M. Woof. That $27.5M worth of dead money on the luxury tax payroll is gone. The Yankees are still paying part of McCann's salary, but that's it. No other payments to players no longer on the roster.
Unloading the Sabathia and A-Rod contracts is the biggest reason next year will be the best chance the Yankees have had to get under the luxury tax in quite some time. The second biggest reason? The pre-arbitration-eligible players. Homegrown All-Stars Aaron Judge, Gary Sanchez, and Luis Severino will all make something close to the league minimum next year. It won't be exactly the league minimum — the Yankees have a sliding salary scale based on service time with escalators for awards, etc. — but it'll be relative peanuts. Among those three, Judge figures to get the largest 2018 salary for several reasons …
He was the AL's leading vote-getter for the All-Star Game.
He's probably going to lead the AL in home runs.
He's going to win Rookie of the Year, possibly unanimously.
He's going to finish in the top ten of the MVP voting. Maybe top five.
… but even then his salary will be in the six-figures. The largest pre-arbitration salary ever went to Kris Bryant this year. The Cubs gave him $1.05M. All he had to do was win Rookie of the Year one year, then MVP and the World Series the next. Mike Trout is the only other member of the $1M pre-arbitration club, so yeah. Point is, the Yankees have a great chance to get under the luxury tax threshold next year because their three best players will make something close to the league minimum. What a huge, huge advantage.
Beyond those three, there's also Jordan Montgomery providing cheap rotation innings and Chad Green dominating out of the bullpen at little cost. And Ronald Torreyes serving as the cheap utility infielder. Now, here's the thing: I said eleven pre-arbitration players, but that's not correct. Seven guaranteed contracts plus seven arbitration-eligible players (not counting Shreve) gets us to 14 roster spots, so the Yankees need eleven guys to fill out the roster.
They're not going to fill all eleven spots with pre-arbitration-eligible players, however. They're probably going to sign a pitcher to replace Sabathia (or re-sign Sabathia himself) and probably add a veteran bat to replace Holliday and/or Frazier (or re-sign Frazier himself), plus who knows what else. Judge, Sanchez, Severino, Montgomery, and Green are pre-arbitration locks. Torreyes figures to still be around and there will probably be a few cheap bullpeners too (Ben Heller? Jonathan Holder?). Inevitably the Yankees will sign some veterans though.
Alright, so when we add all that together, the guaranteed contracts plus arbitration and pre-arbitration players plus the dead money plus the miscellaneous expenses (benefits, other 40-man guys) we get roughly $165M. The luxury tax threshold is $197M next year, so the Yankees are left with $32M or so to play with. It'll be about $55M if Tanaka opts out, which I think will happen. That would be $55M to replace Tanaka, Sabathia, Holliday, and Frazier, plus other miscellaneous upgrades.
* * *
Because the Yankees appear to have $32M to spend this offseason — I say appear because this is all one giant estimate — even if Tanaka doesn't opt-out, I wonder whether they'll look to lock up some of their young players to long-term extensions. If a player does sign an extension, next year's luxury tax hit becomes the average annual salary of the contract. So giving Sanchez, say, six years and $45M would give him a $7.5M luxury tax hit rather than his league minimum salary. That's a pretty big deal.
At the same time, signing young players to multi-year extensions that buy out future arbitration and free agent years is generally great for business. There are always exceptions — some guys get hurt or just stop hitting and the contract becomes a dud, that's baseball — but more often than not, teams are glad they signed their players. The sooner the better too. Salaries only go up the longer you wait. The Yankees have five obvious extension candidates and I'd rate them in this order, in terms of priority:
Sanchez: You don't let young catchers who hit like this get away. I don't care how many passed balls he allows. Sign him and enjoy having the game's top hitting catcher for the next decade.
Gregorius: He'll be a free agent following the 2019 season, and the only reason I don't have him above Sanchez is all the young shortstops in the system. Gleyber Torres, Tyler Wade, Thairo Estrada, etc. Still, a shortstop who is above-average on both sides of the ball and is as wonderful as Didi is off the field is worth keeping.
Gray: Like Gregorius, Gray will be a free agent following the 2019 season. I am normally cool with going year-to-year with pitchers because of the injury risk, and I'd probably wait another year with Gray, but there is some urgency here. He's not under control for that long.
Judge: I have no idea how this dude will age because of his size. It's such a unique profile. Also, the Yankees already have Judge under team control through his age 30 season, so they're getting his prime. It's not like he's due to become a free agent at age 26 or something.
Severino: Pitchers break, man. Severino is at the bottom because the Yankees have him through the 2022 season. He's not hitting the open market anytime soon. Going year-to-year is fine with me. The Yankees did that with Chien-Ming Wang and saved millions when he broke down. They can afford to pay big arbitration raises, if necessary.
Steering clear of big money free agents — that doesn't mean staying away from free agents entirely, just the super expensive ones — would give the Yankees enough payroll space to sign one or two of their young cornerstone players to a long-term contract, which will potentially save millions down the road. Short-term pain (higher luxury tax during pre-arbitration years) for long-term gain (below market salaries in the future). The Yankees signed Robinson Cano to an extension through his arbitration years and first few free agent years and didn't regret it for a second.
Personally, I don't think the Yankees are going to sign anyone long-term until they get under the luxury tax threshold and reset their luxury tax rate, which is currently the maximum 50%. Once they do that, they'll be in much better position to lock up their own players (Sanchez, Judge, Severino, etc.) and spend big for free agents (coughBryceHarpercough). The Yankees have some payroll space to play around with this offseason, though they won't spend wildly like they did during the 2013-14 offseason. This is their best chance to get under the luxury tax threshold and they're not going to miss it.