Got a dozen questions in the mailbag this week. RABmailbag (at) gmail (dot) com is where you can send us all your mailbag questions throughout the week.
Dan asks: If the season ended today, would you include Chapman on the postseason roster? Especially considering the idea that his last postseason is causing him to be so bad this season.
Yes, definitely. Aroldis Chapman would be on my postseason roster. Assuming the Yankees make it to the ALDS — a pretty big assumption, of course — and go with an eleven-man pitching staff, here would be my eleven pitchers:
Starters (alphabetically): Sonny Gray, CC Sabathia, Luis Severino, Masahiro Tanaka
Relievers: Dellin Betances, Aroldis Chapman, Chad Green, Tommy Kahnle, Jordan Montgomery, David Robertson, Adam Warren
The Yankees would essentially be taking two of Chapman, Montgomery, Jaime Garcia, and Chasen Shreve in that scenario. Give me Chapman and Montgomery. No, Chapman has not been all that good this year, but at least he offers you a chance at dominance. The other guys don't, really. I'm not saying I'd bring Aroldis into a tight one-run playoff game or anything like that, but as the fourth or fifth guy on my bullpen depth chart? Give me him over the other guys, no question.
Dan asks: Is it possible that as Chapman has gotten older, he is just losing some of his arm strength, and he is sacrificing command of his pitches to keep his fastball up in the triple digits? At this point in his career, should he think about trying to locate and command his pitches better even if it means settling for a 98 mph fastball instead of a 102 mph?
Yes, absolutely, and I think that is happening to some degree. One of the reasons Chapman has been so amazing throughout his career is not just the raw velocity, but how easily he generated it. He'd throw 100-102 mph and it looked like he was playing catch. This year Chapman seems to be putting everything he has into each pitch to get to that 100-102 mph, and I think that's why his location has been so poor. He's missing his spots consistently, and by a lot. He's probably overthrowing. Chapman's control isn't great to start with, so I'm not sure scaling back to 97-98 mph ensures he'd his spot more often. At this point, I'm not sure what more we can do other than hope an offseason of rest gets Chapman back to normal next year.
Brian asks: What do you think of Gerrit Cole as a target in the off – season ? He was a Yankee draft pick at one time so there's familiarity, he's still young, had some injuries, still has controllable years, struggled some this season, etc. Can the Yankees get him on the "low"? What would it take?
I am always interested in talented 20-something-year-olds. The Gray trade somewhat lessens the need for a pitcher like Cole, though there are five rotation spots, and the more good pitchers, the better. The Pirates aren't looking so great going forward and Cole will be a free agent after the 2019 season, so I think it's only a matter of time until they trade him to kick start another rebuild.
As talented as Cole is and as good as he's been in his career overall, I can't help but wonder why he's continually going backwards. I feel like this would be a much bigger story if fans and analysts hadn't decided to never question Pirates pitching coach Ray Searage. Cole's last few years:
2015: 2.60 ERA (2.66 FIP) in 208 innings
2016: 3.88 ERA (3.33 FIP) in 116 innings
2017: 3.99 ERA (4.18 FIP) in 167 innings
If a Yankees pitcher did that, we'd all be calling for a new pitching coach and new management and saying they can't develop players. A player on another team does it, and we're talking about him as a trade candidate. Shrugs.
Anyway, the Gray trade seems like the perfect trade benchmark to me. Same amount of team control, same age, similar career arcs (great early before some injuries). I can't see the Yankees giving up three more really good prospects, even if two of them are damaged goods like Dustin Fowler and James Kaprielian. Never say never. I just don't see the Yankees unloading more prospects after picking up Gray.
Anonymous asks: At the trade deadline we kept hearing about Sonny Gray as a groundball pitcher. How do his numbers compare to Chien-Ming Wang at his prime? Who would you rather have?
Wang's pitching style was so straightforward — throwing bowling ball sinker after bowling ball sinker — and yet he's one of the most fascinating pitchers of the last 10-15 years or so. It wasn't just the sheer number of ground balls. It was the complete lack of hard contact he allowed.
We have some numbers for this now, so let's look at it quick. From 2005-16 there were 1,019 individual seasons in which a pitcher threw enough innings to qualify for the ERA title. Here are the ground ball and hard contact rates: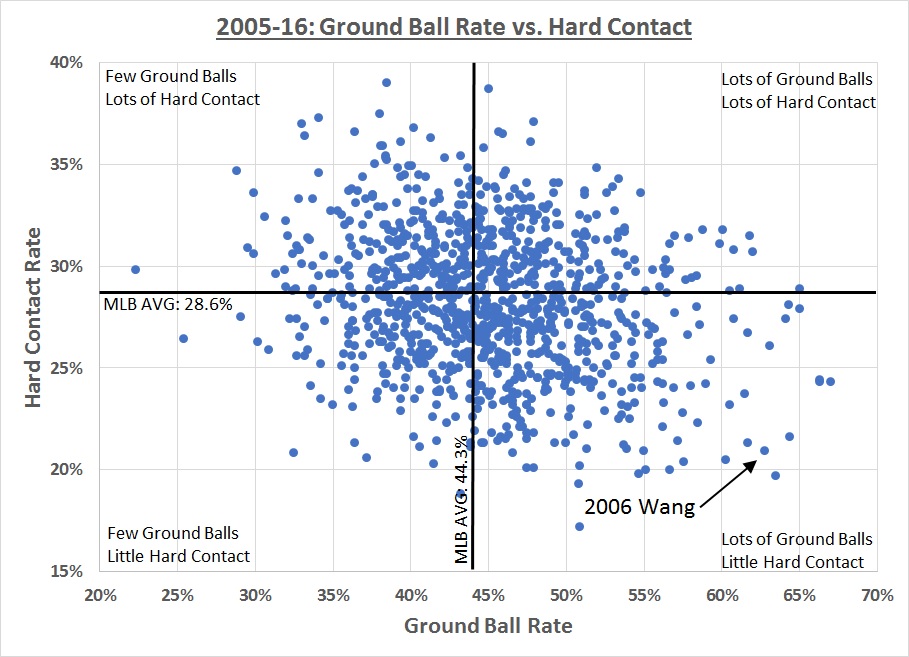 Those handful of dots at the extreme lower right corner, the "lots of ground balls, little hard contact" section, are seasons belonging to four pitchers: Wang, Brandon Webb, Derek Lowe, and Dallas Keuchel. It's actually like five Webb seasons, and one or two from the other guys.
Gray is a very good ground ball pitcher, though he is not in Wang's class. Few are. This season Gray has a 54.6% ground ball rate and a 22.4% hard contact rate, which is really good. Wang used to run ground ball rates north of 60% with hard contact rates around 20%, however. Gray is an above-average ground-baller and there ain't no shame in that. Wang was one of the very best ground ball pitchers of his generation, at least before his body started to break.
Michael asks: The Yankees are the only team in the league to have the highest run differential in their division but not lead the division. Any theories what makes them different?
Going into last night's game the Yankees had a +125 run differential, which was fifth best in baseball. The Red Sox were seventh at +93. The Yankees have a deceptively high run differential though, because a lot of that was built up early in the season. Their run differential by month:
April: +43
May: +13
June: +56
July: +7
August: +6
The Yankees have been hovering around the +120 run differential mark for about two months now. Generally speaking, the Yankees have won a lot of blowouts and lost a lot of close games. Their record in games decided by 5+ runs: 27-11. Their record in one-run games: 15-23. That'll skew the run differential a bit.
Run differential is informative — scoring more runs than you allow is good (duh) — though its usefulness is limited. It's descriptive more than predictive, and even then, it doesn't paint a complete picture. The Yankees are having a bit of a weird season with the blowout wins/one-run losses, and I think it's just one of those years. An anomaly. Nothing really to it.
Andrew asks: If Tanaka opts out after this season, should the Yankees (1) let him go; (2) leave the door open to him returning for the same dollars and years; or (3) offer him a richer deal? I would say (2)
For what it's worth, Jon Heyman says the Yankees will not "chase" Tanaka if he opts out, and they won't bid above the three years and $67M left on his contract. I completely buy that. Should Tanaka opt out, he's not going to come back on the same contract terms, so that "we'll take him back at three years and $67M" is only for show. We tried, basically.
If Tanaka opts out, I think the Yankees are going to let him leave because I don't think they want to get into a bidding war. I also think they want to unload his $20M+ per year salary to help get under the luxury tax threshold next year. If he doesn't opt out, what can you do? You keep him and hope getting his age 29-31 seasons at $67M turns into a bargain. If he does opt out, I think they're letting him walk. I'm sure they'd be open to bringing Tanaka back if his market collapses and they can get him at a reduced price, but that's not happening.
Hakim asks: I absolutely hate the Red Sox but, believe it or not, I would prefer to come in second in the division and play Houston in the Wild Card. The Wild Card Game should be a win with Severino pitching, especially against a weak Minnesota team. We then should beat Houston in the ALDS with their weak and injured pitching staff. It would also be very difficult to beat Cleveland in the ALDS especially with Kluber pitching two games, none against our Ace Severino. I am sure that our manager should not publicly agree to this and publicly want to win the division but I do feel that that would be a mistake. I am wondering if you agree with me and if others agree with me.
Strong disagree. Avoid that Wild Card Game at all costs. The Astros, Red Sox, and Indians are all too good to start picking and choosing who you might match up best against. I know the Astros have kinda stunk in the second half (19-24!), but if they get healthy in the season's final month, they're going to be an awfully tough matchup in a short series. Severino is awesome, but no pitcher is a lock to win anything. Joe Saunders once beat Yu Darvish in a Wild Card Game. I'd rather avoid that winner-take-all Wild Card Game and skip right to the ALDS than get cute and try to pick the best matchup. That seems destined to backfire.
Julian asks: If Gardner finished his career in Pinstripes, would he get a plaque in Monument Park?
Nah, I don't think so. I mean, if Tino Martinez got a plaque, Brett Gardner should too, but that's not going to happen. Gardner has only been part of one championship team (so far!) and he was the fourth outfielder on that team, not a centerpiece. And I don't think Gardner should get a Monument Park plaque either. That should be reserved for the all-time greats. Gardner's merely been a really good player for a long time for the Yankees. No shame in that. I look forward to seeing him sock dingers into the short porch at Old Timers' Day in the future.
Paul asks: Isn't it a little surprising that the union hasn't raised a concern over Holliday bring stashed in rehab until rosters expand?
No because Matt Holliday doesn't seem to mind. When he moved up from High-A Tampa to Triple-A Scranton earlier this week, he told reporters he hopes to be ready to go Friday when rosters expand, and that was it. If he's upset about the long rehab — he's played ten rehab games now — he hasn't said so publicly. I guess Holliday either thinks he needs all the at-bats to get up to speed, or is doing the team first thing by waiting until September 1st. Or a little of both. The union won't make a big deal of it if Holliday isn't. Besides, I think it would be hard to argue a guy is ready to come up when he's still within the collectively bargained 20-day rehab window.
Damian asks: If you could choose one Yankee to play at an MVP level the rest of the way, who would it be and why?… Bring Judge back to his 1st half form? Tanaka or Gray for a 1-2 punch? Or maybe someone out of the box like Ells, Headly, or T. Frazier?
Aaron Judge, for sure. If his shoulder is hurt, and it sure looks like he's favoring it these days given all the lack of hard contact and the way he constantly flexes his arm, I'm not all that confident in him turning things around. If it was a simple mechanical/approach adjustment, I'd expect him to right the ship. But if the shoulder is barking, that's a problem. So give me Judge because I'm not sure he'll get straightened out on his own. If not Judge, then what about Todd Frazier to add another big power bat? I think you'd gain more with Frazier going from his current level to MVP caliber than you would with Gary Sanchez, Didi Gregorius, Greg Bird, Chase Headley … pretty much everyone else in the lineup.
Alessandro asks: Not really a mailbag question, but is Jose Devers related at all to Rafael Devers?
Yes, Jose is Rafael's younger cousin. The Yankees signed Jose last July to an unknown bonus. It couldn't have been larger than $300,000 due to the spending restrictions. Jose, 17, is not nearly as good of a prospect as Rafael, so don't get your hopes up. He's one of those toolsy international guys the Yankees load up on each year. Some click, most don't. Jose is hitting .240/.337/.337 (100 wRC+) with one homer and 16 steals in 51 rookie balls games this year. (Yes, a .674 OPS is a 100 wRC+ in the Gulf Coast League. Kids down there don't hit for much power.)
David asks (short version): So is Brian Keller a legitimate prospect?
Keller, 23, was last year's 39th round pick. This season he threw 144 innings between Low-A Charleston and High-A Tampa, and finished with 3.13 ERA (2.55 FIP) and excellent strikeout (26.8%) and walk (4.8%) numbers. As I mentioned in DotF the other night, Keller has 157 strikeouts this season, the most in the farm system since Alan Horne (165) and Ian Kennedy (163) back in 2007. Keller has already made his final regular season start. His next outing will be in the High-A postseason next week.
The Yankees drafted Keller out of Wisconsin-Milwaukee, where he spent four years and got better each season. Check out the numbers:
| | IP | ERA | WHIP | BB/9 | K/9 | K/BB |
| --- | --- | --- | --- | --- | --- | --- |
| 2013 (freshman) | 33.2 | 4.81 | 1.57 | 4.28 | 4.54 | 1.06 |
| 2014 (sophomore) | 82.1 | 4.26 | 1.32 | 2.62 | 5.90 | 2.25 |
| 2015 (junior) | 97.2 | 3.50 | 1.28 | 1.84 | 5.99 | 3.25 |
| 2016 (senior) | 107.1 | 3.10 | 1.20 | 1.68 | 8.64 | 5.15 |
Like I said, Keller got better each season. Textbook progression. Is he a prospect? Yeah, though not a big one. He's more of a Dietrich Enns type than a Chance Adams type. Keller operates with a low-90s fastball and three secondary pitches (curveball, slider, changeup), and he locates everything well and really knows how to pitch, so it's no surprise he's carving up Single-A hitters. Some video:
The Yankees have a knack for getting pitchers to add velocity, so if they can help Keller go from 91-93 mph to 93-95 mph consistently, they could really have something here. He's an interesting arm to watch going forward more than a true prospect, I'd say. Does that make him a sleeper? The expected return on a 39th round pick is nothing. If the Yankees get anything out of Keller, even if he's the third piece in the trade, it's a big win.