We've got eleven questions in the mailbag this week. As always, you should send your questions to RABmailbag (at) gmail (dot) com. I get to as many as I can, assuming I actually know the answer or can look it up.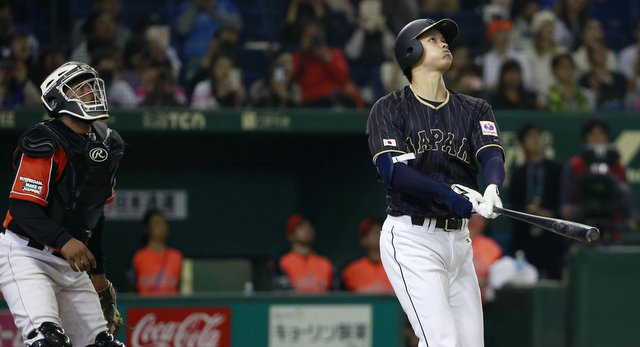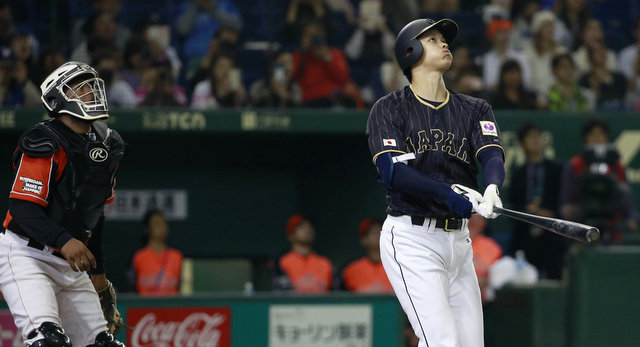 David asks: If the Yankees acquired Otani and he was the DH on days he didn't pitch, (1) who is a comparable hitter, (2) who is a comparable pitcher, and (3) realistically, what should fans expect as a reasonable production for a two-way player?
We still don't know whether Shohei Otani will come over to MLB this winter and chances are we won't know until well into the offseason. These things tend to drag out. Remember, when Masahiro Tanaka and Yu Darvish made the jump, we waited weeks to find out whether they'd actually come over. It certainly doesn't help that MLB is reportedly pushing to renegotiate the posting system with NPB.
Anyway, the 23-year-old Otani got a late start on the season due to nagging quad and ankle injuries. He's hitting .347/.405/.553 with 14 doubles and five homers in 168 plate appearances and has allowed eight runs in 4.2 innings on the mound. Otani hit .322/.416/.588 with 22 homers last year and threw 140 innings with a 1.86 ERA and a great strikeout rate (31.8%) and an okay walk rate (8.2%). Travis Sawchik spoke to someone in the know about Otani comps earlier this year:
To better understand Otani I spoke with Anri Uechi of Kyodo News, who covers Masahiro Tanaka and the Yankees but also has followed the career of Otani. I asked Uechi for a comps on Otani as a pitcher and hitter. He came up with a blend of Yu Darvish — only with more velocity – and Christian Yelich. Hey, not bad.
That sounds … amazing? Yeah, amazing. For what it's worth, Clay Davenport's statistical translations say that .322/.416/.588 batting line in NPB last year works out to a .306/.367/.512 batting line in MLB. Yelich hit .298/.376/.483 last season, so Otani is right in the ballpark. As a left-handed hitter with power, Otani has the potential to do serious damage in Yankee Stadium. The dude certainly looks the part of the superstar, both on the mound and at the plate.
My guess is letting Otani hit will be a prerequisite for signing him, which ostensibly gives AL teams an advantage. They can let him DH between starts. My one concern is he could wear down. Would it be best to give him a full day off the day after and/or before starts? I'm not sure. Anyway, Otani won't cost much given the international hard cap and the fact he'll be a pre-arbitration-eligible player like everyone else. The financial risk of letting him pitch and hit is small.
At the same time, this is a super talented player, and you want to protect him physically so he can help you win as long as possible. I was on the fence about letting him hit before but I'm cool with it now. Why not? If it doesn't work out, it doesn't work out. My only real concern is injury and pitchers get hurt so often it's maybe not worth worrying about. If Otani comes over this winter, the Yankees should go all out to sign him. Shovel every available international dollar in front of him, wine and dine him, let him spend time with special advisor Hideki Matsui, the works.
Alex asks: It was interesting to me to see that Cashman is personally going to Japan to watch Otani pitch. How much actual scouting does Cashman do at this point in his career compared to big picture/management stuff? How much expertise/background does he have as a scout?
Before becoming general manager, Brian Cashman worked in player development and in the scouting department, though as far as I know, he was never a scout who went around seeing players. He's an administrator. A general manager is a manager. The Yankees have countless people working in many different departments, and Cashman manages them all. There is so much more to the job than trade this guy and sign that guy.
Anyway, Cashman may not be able to scout and evaluate Otani, but there is value to seeing him firsthand. You get to see his personality, see his work ethic, see how he responds to adversity, those sorts of things. And Cashman gets to talk to his scouts in real time and hear their opinions, and see what they're talking about. Cashman wasn't the only non-scout to see Otani — Dodgers president of baseball operations Andrew Friedman was there too, and he's a Wall Street guy — and even if he can't pick apart a delivery or analyze a swing, I think it's good for your top decision maker to see a player up close, especially when he's coming from overseas and you have limited information.
Dan asks: Do players appear in person at hearings on appeals of suspensions? Who appears on the player's behalf – someone from the union? The team?
They can appear in person for the hearing but sometimes it's just not possible for the player to get to MLB's office in Midtown. Gerry Fraley explained the process last year following the Rougned Odor-Jose Bautista brawl. Here's how the appeal works:
Odor's representatives, the Beverly Hills Sports Council, and the Major League Baseball Players Association will handle the appeal. Bob Lenaghan, the union's assistant general counsel, will direct the process. MLB has 14 days to schedule an appeal hearing, which can be held in person or by video conferencing.
I assume Gary Sanchez and Austin Romine were in attendance for their hearings, but you never know. Doesn't really matter either way. I don't think there would be more leniency because the player showed up.
Jonathan asks: Is there a stat that shows dead money for each team? I feel after next year, the Yankees will only have Ellsbury and Chapman as brutal contracts and aren't that much worse off then most teams.
When I think of dead money, I think of paying players who no longer play for you. The Yankees are paying Alex Rodriguez $21M this season to hang out with Jennifer Lopez. That's dead money. The Jacoby Ellsbury and Aroldis Chapman contracts don't look great, but they're not true dead money. They are still playing for the Yankees and providing some value.
The Yankees have roughly $27.5M of dead money on the books this year between A-Rod, Brian McCann (they're paying $5.5M of his salary), plus the remainder of Tommy Layne's $1.075M salary. Here are the five non-Yankees teams with the most dead money on the books this year:
Dodgers: $47.4M (Carl Crawford, Hector Olivera, Alex Guerrero, Erisbel Arruebarruena, Yaisel Sierra, Dian Toscano)
Padres: $33.1M (Olivera, James Shields, Melvin Upton Jr.)
Red Sox: $28.5M (Pablo Sandoval and Allen Craig)
Rockies: $26.5M (Jose Reyes and Jason Motte)
Angels: $22.4M (Josh Hamilton minus salary paid to Ricky Nolasco by Twins)
The Angels are paying Hamilton $24.4M to sit at home and Albert Pujols $26M to hit .244/.289/.394 (80 wRC+), so that's probably the worst contract tandem in baseball. The Dodgers have $44.2M tied up in Crawford and Adrian Gonzalez, and that's not much better. In the grand scheme of things, the Ellsbury and Chapman contracts aren't that bad.
Luke asks: What about the Toddfather taking Holliday's spot on the team next year? Can play 3b, 1b, DH. He's not perfect but seems to fit a role perfectly. Thoughts?
I think the odds of this happening are higher than maybe many fans realize, but still unlikely. I still think some team out there is going to be willing to give Todd Frazier a two or even three-year deal to be their everyday third baseman, and I don't see the Yankees going there. Frazier seems to genuinely enjoy being a Yankee, and his ability to play two positions is quite nice. I have two problems with bringing Frazier back. One, he's a low average hitter who hits into an awful lot of easy out pop-ups. His infield pop-up rate (20.3%) is easily the highest in baseball this year, and second highest over the last three years (18.3%). And two, he's yet another right-handed hitter. The lineup leans a little too heavily to that side right now, and it'll only get once worse right-handed hitters Gleyber Torres and Clint Frazier (and Miguel Andujar!) force their way into the lineup.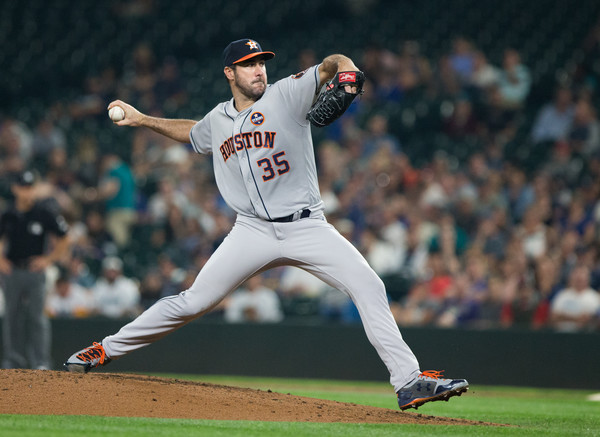 Michael asks: Did the Yankees flub it by not claiming Verlander on waivers? If the Yankees had refused to make a trade offer, almost certainly Detroit would have pulled him back, or Verlander would have vetoed the move, and the worst case of Verlander on a 2x28M (after this year) wouldn't be disastrous. As it is, they let Houston scoop him up and may have to face him in the playoffs.
It's an interesting question. Of course, this also applies to the Red Sox and the Indians and the Angels and every other team with postseason hopes. I do not think the Tigers would've let Justin Verlander go on trade waivers for nothing. He's a franchise icon and they wanted a real return, and hey, they got one. You always have to be prepared for the possibility that the contract gets dumped on you, though the chances of that happening seemed awfully low here. Had the Yankees or any other team claimed Verlander, the Tigers probably would've pulled him back, tried to work out a trade, then try again in the offseason if it didn't work out. In hindsight, yeah, the Yankees or some other contender should've claimed Verlander to avoid facing him in the postseason. I'm not sure how realistic that is though, to expect a contending team to claim any player they could end up seeing in October.
Ralph asks: Now that we've seen Starlin Castro for two seasons, it is easy to see why he was a young all-star. It's also easy to see why the Cubs let him go. The Benintendi slide into 2nd in the first game of the series featured Castro's non-follow on the tag, another example of the bone-headed plays that seem to find their way to his highlight reel throughout the year. Can we really count on Castro as a core guy, or will Wade find his way there assuming some offensive improvement?
I think Castro is a really good complementary player and not necessarily a core piece, and the Yankees don't need him to be. The core of the Yankees going forward, on the position player side, is Aaron Judge and Sanchez, and hopefully Frazier and Torres join them next season. Castro is a quality hitter by second base standards, even though he occasionally gives away at-bats. I'm not sure how much longer he'll remain at second base though. His defense seems to have gone backwards this year. He might be a corner infielder long-term, or maybe even a DH. There's no reason to move Castro now, but if Torres or Wade were to emerge at some point, I don't think the Yankees would have any trouble trading Starlin. He's a good player but probably not someone you make off-limits and build around.
Matt asks: Do you think in this day and age its finally time for the old fashioned waste pitch to die? I'm not talking about changing eye levels or setting up another pitch, but the ball so far out of the strikezone that nobody could possibly swing at it. With pitch counts and limits, it seems silly to waste pitches just so you don't give up an 0-2 hit.
How many of those waste pitches, the pitch so far outside that no one would ever swing at it, do we even see? And how many are intentional? I feel like very, very few. Most of those are mistake pitches. In the traditional sense of the term, a waste pitch is something you throw to set the next pitch up. The fastball up and in to set up the slider down and away, for example. Those aren't going away, even in the age of pitch counts. Take away waste pitches — it's probably better to call them setup pitches, right? — and inevitably other pitches will lose some effectiveness. You need to be able to set one pitch up with another. It's not a video game where you can just throw a slider in any count and get the swing you want. Waste pitches aren't going anywhere.
Melanie asks: Can you ask Katie to run the numbers on Judge when he is up with less than two outs and runners in scoring position? It feels like that home run Sunday night was the first time he has gotten a hit in that situation in months. Even in the first half of the season. Thanks!
Lots of talk about Judge with runners in scoring position and similar situations this year, especially in the second half. Here are the numbers going into yesterday's game:
Men on base: .262/.388/.561 (145 OPS+)
Runners in scoring position: .262/.386/.587 (150 OPS+)
Runner on third and less than two outs: .263/.483/.632 (155 OPS+)
High-leverage: .281/.400/.557 (152 OPS+)
Keep in mind there is some sample size noise here — Judge has only 29 plate appearances with a runner on third and less than two outs all season — but the numbers are pretty great. Roughly a 150 OPS+ across the board, which is right in line with his overall 154 OPS+ this season. Funny how that works. I want Judge at the plate in a big spot because in all of baseball (not only among Yankees) he is one of the hitters least likely to make an out and most likely to hit the everloving crap out out of a ball.
Dan asks: Is deception part of the reason why Chad Green's fastball is so untouchable? If so, what contributes to that kind of deception?
It has to be, right? Green has great velocity and a high spin rate, on par with baseball's other top fastballs, yet no one gets as many swings and misses on that pitch as Green. It's amazing. Green's not super tall by pitcher standards (listed at 6-foot-3) and there's basically no gain through extension. His average fastball velocity: 95.55 mph. His average perceived fastball velocity: 95.56 mph. Yeah. Here's some video:
Green has a big leg lift and his arm action is long and deliberate in the back, then he explodes forward, and I think that creates the deception. The hitter keeps waiting and waiting and waiting for the pitch, then bam, it's right on them. I imagine that contributes to Green's effectiveness. Whatever it is, it's working wonderfully. Green has been unreal this season.
Ryan asks: Don't we need to pump the breaks just a little on Gleyber being reading at the start of next season? I know it is his glove hand (non throwing arm) he had to have TJS on, but doesn't that also make it his lead arm batting, which if I'm not mistaken, is his power arm when batting. Do we have batter comps for Torres coming back with power the way we had with Bird after his, much more risky, shoulder injury in terms of power concerns?
Torres has already resumed baseball activities — he shared videos of himself hitting in the batting cage and fielding grounders within the last week — and he is expected to be ready in time for Spring Training. There are very few comps for this type of injury, though there is a good one: Zack Cozart, another right-handed hitting shortstop. Cozart had Tommy John surgery on his non-throwing elbow in August 2011 and was ready to go for Opening Day 2012.
Torres had his surgery in June, so he has a two-month head start on Cozart. Of course the Yankees are going to play it safe with him. Those videos he posted this week? Those are surely closely monitored workouts. I don't think there's any chance Gleyber will break camp with the Yankees next year, not after missing half a season. I expect him to go to Triple-A to get back into the swing of things before the inevitable call-up. The injury stinks. I'm pretty sure Torres would've been in the big leagues right now. He'd have been up when Castro got hurt, if not sooner. What can you do though? Everyone expected Torres to come back strong and so far his rehab is going swimmingly. That's all I need to hear.