There are 12 questions in this week's mailbag, the second to last mailbag of the regular season. RABmailbag (at) gmail (dot) com is where you can send us all your questions.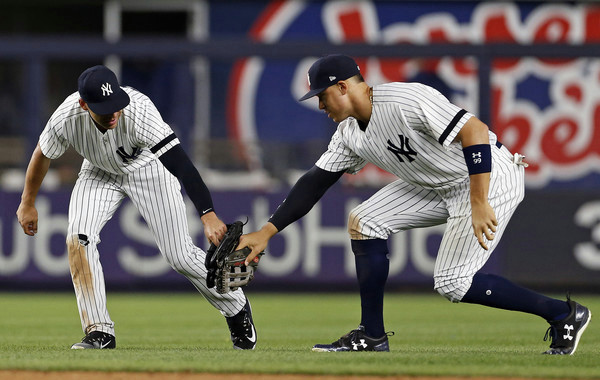 Several asked: Can you explain the various postseason tiebreaker scenarios?
Yes. Yes I can. Technically there are still several tiebreaker scenarios relevant to the Yankees, though, realistically, only one matters. That's tying with the Red Sox for the AL East title. Here are the miscellaneous tiebreakers:
Tie with the Twins for a wildcard spot. If they tie for the second wildcard spot, they'd play a tiebreaker game at Yankee Stadium because the Yankees won the season series. Loser goes home and winner gets the wildcard spot. If they finish in the two wildcard spots with identical regular season records, the Wild Card Game would be at Yankee Stadium because the Yankees won the season series.
Tie with the Angels for a wildcard spot. If they tie for the second wildcard spot, they'd play a tiebreaker game at Angel Stadium because the Angels won the season series. Loser goes home and winner gets the wildcard spot. If they finish in the two wildcard spots with identical regular season records, the Wild Card Game would be at Angel Stadium because the Angels won the season series.
As for the AL East, the Yankees and Red Sox would play a Game 163 tiebreaker if they tie for the division title. Even if they're both assured of a postseason spot. There is a huge, huge difference between winning the division and being a wildcard team. That's not something MLB will let be decided by head-to-head record. The Yankees and Red Sox would play a tiebreaker game at Yankee Stadium because the Yankees won the season series. Winner gets the AL East title and loser gets a wildcard spot. Easy, right? Right.
Brent asks (short version): Should quality starts stats be the new win stat? Like instead of holding pitchers to the old standard of like roughly 300 wins, which is pretty tough to do in today's standards and probably no one will ever get it again. Would quality starts be a better way to categorize it?
A quality start in and of itself is not great to start with. Three earned runs in six innings is a 4.50 ERA. Maybe it should be no more than two earned runs in six innings? Not many guys are going to pitch to a 3.00 ERA all season, but the number of starts with no more than two earned runs allowed in six innings seems kinda useful. Here is this year's leaderboard:
Max Scherzer: 19
Gio Gonzalez: 19
Marcus Stroman: 19
Clayton Kershaw: 18
Chris Sale: 18
Luis Severino and eight others tied with 17
I think the Hall of Fame voting body has been getting better the last few years, and I think they understand wins isn't the best way to evaluate pitchers. I'm not sure how much better quality starts would work. Bottom line, there isn't one good way to measure a pitcher's Hall of Fame candidacy. Wins alone aren't enough. Quality starts alone aren't enough. WAR isn't enough. ERA and innings aren't enough. I think the voting body knows this, and in time, we'll see wins become less and less of a factor in the Hall of Famer voting.
Andrew asks: What was Mariano Rivera's best season? Is it one of the seasons when the Yankees won the World Series? I would consider 2008 when his WHIP was .665 at age of 38, the first of five sub 1 WHIP years. Wasn't Britton's WHIP last year finally lower?
I think it was 1996, when he was a multi-inning setup man. Rivera's 2008 was insane, Andrew is right about that. Among full-time relievers to throw at least 60 innings in a season, Koji Uehara actually has the lowest WHIP. He had a 0.565 WHIP in 2013. Rivera's 2008 season is fifth all-time behind Koji, 1990 Dennis Eckersley (0.614), 2012 Craig Kimbrel (0.654), and 2017 Kimbrel (0.662). Here are Mo's five best seasons by bWAR:
1996: 2.09 ERA (1.88 FIP) and 0.99 WHIP in 107.2 innings (+5.0 WAR)
2008: 1.40 ERA (2.03 FIP) and 0.67 WHIP in 70.2 innings (+4.3 WAR)
2004: 1.94 ERA (2.82 FIP) and 1.08 WHIP in 78.2 innings (+4.2 WAR)
2005: 1.38 ERA (2.15 FIP) and 0.87 WHIP in 78.1 innings (+4.0 WAR)
2006: 1.80 ERA (2.84 FIP) and 0.96 WHIP in 75 innings (+3.9 WAR)
Rivera was ridiculous from 2004-06, huh? Those were his age 34-36 seasons. He led all relievers with +12.1 WAR those seasons. B.J. Ryan was second at +9.4 WAR. Basically a three-win gap between Mo and the second best reliever. Crazy. I'm going with 1996 as Rivera's best season, but 2008 isn't a bad choice at all. What made Rivera great was not only the eye-popping stats. It was that he did it year after year for two decades. There are lots of one-year Riveras. Guys who have an insane individual season, like Zach Britton last year. When someone does it even ten years in a row, we can begin talking about the next Rivera. Right now, no one's close.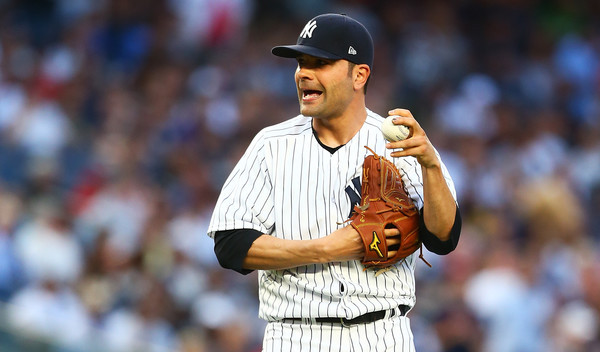 Michael Cohen asks: Could you analyze the Jaime Garcia flip from the Twins perspective? How'd they make out on those two July trades?
The Twins could use Garcia right now, especially with the Angels right behind them in the wildcard race. Since the trade, four different pitchers have started a game as Minnesota's fifth starter: Adalberto Mejia (three starts), Dillon Gee (three), Aaron Slegers (one), and Dietrich Enns (one). They've combined for a 7.13 ERA (6.30 FIP) in 35 innings. Yikes. (Enns allowed two runs in 2.1 innings in his start.)
Minnesota got Garcia from the Braves in what was essentially a salary dump. The prospect they traded, right-hander Huascar Ynoa, had a 5.26 ERA (4.38 FIP) in 51.1 rookie ball innings this season. MLB.com ranks Ynoa as the No. 29 prospect in Atlanta's system. Enns allowed three runs in 11.2 Triple-A innings and four runs (three earned) in four MLB innings after the trade. He also missed time with a shoulder problem.
Righty Zack Littell, the main piece in the deal, had a 2.81 ERA (3.50 FIP) in 41.2 Double-A innings after the trade. All told, he had a 2.12 ERA (3.04 FIP) in 157 innings this year, and MLB.com currently ranks him as the No. 16 prospect in Minnesota's system. He'll be added to their 40-man roster this winter and I'm sure the plan is to have him join the rotation at some point next year, after some Triple-A time. Seems likely.
At the time of the trade, the Twins had lost 12 of their previous 17 games and were five games back of the second wildcard spot. Trading Garcia (and Brandon Kintzler) made sense. Then they got hot and climbed back into the race unexpectedly. Ultimately, they turned a fringy prospect (Ynoa) and about $4M into an up-and-down arm (Enns) and a potential back-end starter (Littell). The Twins could use Garcia right now given their fifth starter situation and the wildcard race, but the trade made sense for them at the time and still does.
Joel asks: Has anyone crunched the numbers on Judge's numbers when Holliday is on the active roster (as opposed to the DL) and when he's not? Seems like since Holliday came back, Judge came out of the slump he was in for a while. I know if there's any correlation it's coincidence, probably, but I can't help but wonder if it's at least a notable statistical anomaly.
It is kinda funny how Aaron Judge started turning things around pretty much right as Holliday came back, isn't it? Holliday was healthy — well, he was on the active roster, but he sure didn't look healthy — for the first few weeks of Judge's second half slump though, so I'm not sure how much there is to it. Here are Judge's numbers:
Holliday healthy (April 2nd to June 27th): .333/.447/.697 (198 wRC+)
Holliday on DL (June 28th to July 13th): .297/.458/.649 (185 wRC+)
Holliday healthy (July 14th to August 5th): .178/.330/.342 (73 wRC+)
Holliday on DL (August 6th to August 31st): .179/.360/.346 (96 wRC+)
Holliday healthy (September 1st to present): .262/.407/.705 (176 wRC+)
That works out to .293/.416/.630 (~169 wRC+) in 490 plate appearances while Holliday was healthy and .217/.392/.443 (~125 wRC+) in 148 plate appearances while Holliday was on the disabled list. I don't think there's much to this. The timing is just a coincidence. I think Judge's injured right shoulder had more to do with his slump than anything. He doesn't need Holliday around to be successful or anything like that. Is Holliday a good mentor? Sure. All the young players say so. But he's not the key to a productive Judge.
Brian asks: Is the last 6 weeks or so the best Ellsbury has ever played as a Yankee?
Without looking up the numbers, I'd say yes. He was pretty good back in 2014 and early in 2015, though not this good. It would be far too time consuming to go through and slice up Ellsbury's four years with the Yankees into six-week segments, so here are his five best months in pinstripes:
September 2017: .429/.543/.625 (209 wRC+) in 72 plate appearances
August 2014: .324/.366/.539 (150 wRC+) in 112 plate appearances
May 2016: .320/.407/.493 (145 wRC+) in 89 plate appearances
June 2014: .324/.390/.419 (133 wRC+) in 118 plate appearances
April 2014: .312/.369/.452 (130 wRC+) in 103 plate appearances
In his four seasons as a Yankee, Ellsbury has ten months with a 100 wRC+ or better and 13 months with a sub-100 wRC+. He has seven months with a sub-70 wRC+. Ouch. So yeah, I think it's safe to say this current hot streak is Ellsbury's best stretch in pinstripes. He's hitting .397/.494/.616 (192 wRC+) with more walks (13) than strikeouts (nine) in his last 24 games now.
Dan asks: If the Mets DFA Harvey, should the Yanks make a run at him? He has so much upside, and he's been so successful before, he seems to me to be a guy to gamble on.
First things first: the Mets are not going to designate Matt Harvey for assignment. They're not even going to non-tender him in the offseason. If anything, they'd tender him a contract and trade him. No way they let him go for nothing.
But, if for whatever reason the Mets do cut Harvey loose, yes, absolutely go after him. I think his terrible 2017 season — and it's been really terrible (6.59 ERA and 6.16 FIP) — has more to do with injuries than a decline in skills. The guy had surgery for Thoracic Outlet Syndrome last year and he missed a bunch of time with a stress reaction in his shoulder this year. Can we give him an offseason to get healthy and see what he looks like after that before kicking dirt on his grave? I enjoy a good LOLMETS as much as anyone, but Harvey is only 28 and he's shown he can pitch at a very high level. In New York too. He was brilliant in Game Five of the 2015 World Series.
If the cost is basically nothing — and that's the hypothetical presented in the question — absolutely bring Harvey aboard and hope he can rebound once fully healthy. Rolling the dice on a 28-year-old who has been a bonafide No. 1 starter in the not-too-distant past is forever cool with me.
Dave asks: Can you explain the pythag. record and how we should think about it? If I remember correctly, the Yankees have outperformed it the last several years, but this year they are lagging behind it pretty significantly. Is it a statistical anomaly or is there an identifiable reason? Does it have anything to do with Girardi's managerial decisions?
The Yankees are 85-67 this season, though their +186 run differential says they should really be 94-58. Nine game difference! Good gravy. That's what a 17-25 record in one-run games and the bullpen letting so many winnable games slip away earlier in the season will do to you. And yes, the Yankees have outperformed their run differential by quite a bit in recent years:
2017: -9 wins from expected
2016: +5 wins
2015: -1
2014: +7 wins
2013: +6 wins
During the Joe Girardi era, the Yankees have outperformed their run differential by 12 wins over ten seasons, so it was 21 wins over nine seasons before this year. I honestly don't think there is anything meaningful to this. I think the early season bullpen meltdowns and the Yankees' propensity for blowout wins — they are 34-12 in games decided by at least five runs (thanks Orioles!) — are skewing the run differential. I think this is an anomaly season. Those one-run losses and bullpen meltdowns happened. Don't get me wrong. I just don't think this indicates some kind of fatal flaw in the roster and reason for concern going forward. Baseball can be weird sometimes. That's all.
Simon asks: Between 2013-2015, CC ran a FIP of 4.40 with an ERA of 4.81. Since 2016, he's had an ERA of 3.87 with roughly the same FIP (4.38), driven mostly by a lower BABIP (.283). How useful is FIP anymore (and by extension fWAR for pitchers) if players like Sabathia have shown they actually can make changes to drastically lower their BABIP?
FIP is still useful — striking guys out while avoiding walks and homers are good skills to have! — though it has always been somewhat limited because pitchers do have some control over the contact they allow. We just couldn't measure it before. Now we can. Some quick numbers on Sabathia:
2013-15: 16.3% soft contact and 30.7% hard contact
2016-17: 24.4% soft contact and 25.9% hard contact
Big difference, huh? Among the 89 pitchers to throw at least 400 innings from 2013-15, Sabathia ranked 73th in soft contact rate and 65th in hard contact rate. Among the 89 pitchers to throw at least 250 innings from 2016-17, he ranks first in soft contact rate and second in hard contact rate. Only Tanner Roark (25.5%) had allowed less hard contact. The drop in BABIP is not an accident or a fluke.
Does that make FIP useless? No. Again, there's still a lot to be said for racking up strikeouts while limiting walks and homers. We just have to understand FIP's limitations. Given his current profile as a weak contact king, Sabathia is probably always going to allow fewer runs than FIP suggests. Some guys, like Michael Pineda, are the opposite. They struggle to avoid hard contact despite shiny walk and strikeout rates. FIP (and, by extension, fWAR) is just one tool in the shed. It helps do the job but it can't do the job by itself.
Anonymous asks: Due to the interest in Shohei Ohtani and his ability to pitch and hit, is it probable that more young players go that route, and do you see the NL adopting the DH, if we see more of this type of player?
Doing one thing, hitting or pitching, is really hard. And lots of players do both through college. Being good at both at the pro level is extremely difficult. Will more kids try it? Eh, maybe. I'm inclined to think their best chance to reach (and stay in) the big leagues is to focus on one thing, and be the best hitter or pitcher you can be.
The Rays are trying to develop Brendan McKay, the fourth overall pick in this year's draft, as both a hitter and a pitcher. He did both at Louisville and was excellent: 2.23 ERA with 391/111 K/BB in 315 innings on the mound and .328/.430/.536 with 28 homers in 189 games as a position player. The stats from his pro debut:
As a hitter: .232/.349/.376 (123 wRC+) with four homers, 22.1 K%, and 14.1 BB% in 36 games
As a pitcher: 1.80 ERA (4.03 FIP) with 28.8 K% and 6.9 BB% in 20 innings
Because more and more teams are carrying eight relievers and three bench players, I think we'll see more clubs try to develop true two-way players. And if Otani manages to do both successfully, teams will try that much harder to develop a two-way guy. But, like I said, doing one thing is really hard. Doing both at an MLB level seems damn near impossible to me.
Daniel asks: Chapman changed his fastball grip. Can you look at Chapman's spin rate since he made this switch? SSS and all, but I imagine spin rate stabilizes very quickly.
Aroldis Chapman did indeed change his fastball grip recently. He told Brendan Kuty that Larry Rothschild got him to throw with more of a true four-seam grip rather than his previous grip, which was more like a cutter. Chapman credits the change for the renewed explosiveness on his fastball. The thing is, we don't know when exactly Chapman made the change. It was recent, after his demotion out of the closer's role. That's about all we know. Here are his fastball spin rates and swing-and-miss rates per month:
April: 2,510 rpm spin rate (24.2% whiffs-per-swing)
May: 2,496 (44.1%) in 3.1 innings due to injury
June: 2,477 (17.8%) in 4.2 innings due to injury
July: 2,486 (22.7%)
August: 2,446 (16.1%)
September: 2,544 (39.7%)
Chapman's spin rate and whiff rate are indeed up in September, though keep in mind he's thrown only 96 fastballs so far this month, so it could be a sample size issue. Still, the improvement is encouraging. The MLB average fastball spin rate is 2,255 rpm this year, and, as I noted a few weeks ago, Chapman has been consistently far above the league average. Even when he was struggling this year. High spin rate correlates very well to swings and misses for a fastball.
Whatever the reason, new grip or otherwise, Chapman looks so much better right now that he did at pretty much any point prior to September. His velocity never really dropped, but the pitch lacked that explosiveness. Hitters kept fouling it off like it was nothing. Now he's throwing it by hitters consistently and looks like the old Chapman. If the new grip is the reason for the improvement, great! If it's something else, well, that's great too. Chapman looks fixed and that's the most important thing.
Rich asks: With Todd Frazier hitting free agency, I was wondering if Nick Castellanos might be a reasonable offseason target? Apparently he possesses decent exit velocity and the ability take advantage of the short porch in right field at YS3. If he seems like a decent candidate, what would he cost?
The Tigers committed to a rebuild at the trade deadline and I imagine the 25-year-old Castellanos will be on the trade block this winter. He'll be a free agent following the 2019 season. Detroit finally came to their senses and moved Castellanos to the outfield last month — since becoming a regular in 2014, his -63 Defensive Runs Saved are second worst by any player at any position (Andrew McCutchen is worst at -64 DRS) — after acquiring third base prospect Jeimer Candelario at the trade deadline.
Castellanos' batted ball stats are drool worthy. Among the 99 hitters with at least 2,000 plate appearances since 2014, he has the third lowest soft contact rate (11.3%) and 20th highest hard contact rate (35.7%). Hit the ball hard and good thing tend to happen. And, as Rich mentioned, Castellanos is a right-handed hitter who can hit the ball out to right field. His 2014-17 spray chart, via Baseball Savant: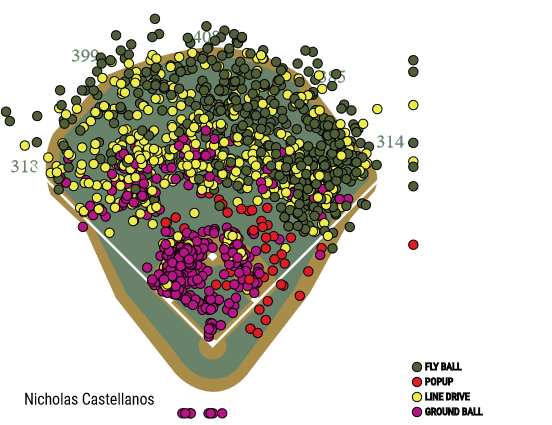 There's some oppo pop in that bat. There's some ability here. Castellanos is a former first round pick and he went into yesterday's game hitting .271/.320/.490 (110 wRC+) with 24 homers. That's something. The problem is he doesn't have a position — the shift to the outfield has been adventurous so far — and he's always been a bit of a free swinger (23.8% strikeouts and 6.3% walks). Can a player learn plate discipline in his mid-20s? Maybe!
What about getting Castellanos to be a most of the time designated hitter who also sees some action in right field and at first and third bases? I have no idea what it'll cost to get him, though I'm guessing the Tigers want prospects, and the Yankees have plenty of those. I can't imagine it'll cost top prospects. Forget Gleyber Torres or Clint Frazier. I wouldn't even trade Miguel Andujar or Tyler Wade for two years of Castellanos. I'm intrigued by Castellanos' ability to hit the ball hard and to right field. The rest of the package kinda stinks. With Matt Holliday and Frazier set to become free agents, Castellanos could be a target to plug in the lineup.