Sunday afternoon ace fireman Chad Green allowed one run on four hits and threw 47 pitches in 2.1 innings against the Rangers. That's a poor outing by his standards. Throwing 2.1 innings and 47 pitches is not unusual for Green — it was his 11th appearance of at least 2.1 innings and ninth of at least 40 pitches — but doing so with a seven-run lead is. He entered with a seven-run lead and exited with an eight-run lead.
That happened three days after Green entered a game against the Orioles with the Yankees leading by seven. Once again, they were up by seven when he entered and up by eight when he exited. That's … unusual. Green has been truly outstanding this season (2.00 ERA and 1.73 FIP) and using him in blowout games is suboptimal. Teams bring up hordes of September call-up relievers to mop up games like that.
Of course, context is necessary. In Thursday's game against the Orioles, Green entered the sixth inning with an 8-1 lead, yes, but also with two on and two outs. One swing of the bat makes it an 8-4 game. And on Sunday, he entered the fourth inning with 9-1 lead and two on with two outs, so one swing could've made it a 9-4 game. Overkill to use Green like that? Yeah, maybe. But the Yankees also let a four-run lead and five-run lead slip away last week, so you can understand Joe Girardi's desire to snuff out those rallies.
Green's usage Sunday left him unavailable for last night's series opener against the Rays and probably for tonight's game as well. Maybe even tomorrow's game too. He threw six innings and 104 pitches across three appearances last week. Green could probably use a little breather. David Robertson bailed the Yankees out in the middle innings last night. Hopefully a situation doesn't arise tonight where Green is needed in a close game but not available because he threw so many pitches with huge leads the last two times out.
There are only 19 games remaining this season and one of Girardi's balancing acts the rest of the way will be maximizing Green's usage. No, he doesn't want to keep using him with seven-run leads like his last two outings. He'd prefer to use Green in close games and let the mop up guys mop up. What's the best way to use Green going forward? These are some different options.
Multi-Inning Setup Guy
This is essentially what Green has done most of the season, save these last few outings. Green would enter a close game, fire two or three innings, and hand the ball off the late-inning guys while giving the offense a chance to add runs. He would then be unavailable for a few days, but that's life. The upside here is multiple innings of dominance that allow the Yankees to take control of a close game. The downside is Green can only do this once every few days. The days of a multi-inning setup guy throwing 100+ innings like Mariano Rivera in 1996 are pretty much over.
Traditional Short Reliever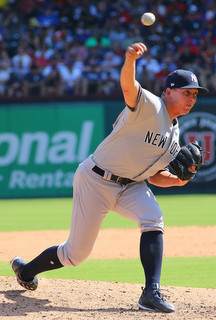 This is so very tempting anytime a young reliever has instant success. Bottle him up and assign him an inning, and move on. Instead of letting Green continue to do the multi-inning thing every few days, the Yankees could shorten his outings and use him as a traditional setup man, say as their seventh or eighth inning guy. The upside here is Green will be available for more games. He won't necessarily need two or three days off after each appearance.
The downside is no longer having that dominant multi-innings presence out in the bullpen, so when the starter goes four or five innings — that seems to be happening more and more frequently, by the way — the Yankees would be stuck cobbling together the rest of the game with five or six relievers. And hey, maybe that's no big deal with expanded rosters. Then again, if Girardi trusted the call-ups, he wouldn't have used Green with a seven-run lead the last two times out.
Also, we have no idea how Green will handle pitching back-to-back days, which is something short relievers are asked to do quite often. He's done it once this season. Green threw 14 pitches in a perfect inning against the Mariners on July 22nd, then came back to throw 37 pitches in 2.1 perfect innings the next day. So maybe back-to-back days won't be a problem? I dunno. There is definitely some merit to the "he'll be available to impact more games as a one-inning reliever" idea.
Montgomery's Caddy
In each of his last two starts, and in three of his last four starts overall, the first guy out of the bullpen to replace Jordan Montgomery was Green. Montgomery's starts are mighty short these days — he hasn't gone six innings since July 25th and he hasn't complete five innings in any of his last three starts — either by design (workload control) or by performance (getting hit hard). Green has picked up the slack.
The downside here is obvious. Saving Green specifically for the days Montgomery pitches means he won't be used as often the other days. The upside? Well, it better allows the Yankees to control Montgomery's (and Green's?) workload, I suppose, and it also theoretically improves their chances of winning on the days he starts. Montgomery to Green might be the team's best hope for six solid innings every five days.
* * *
Keep in mind the season is winding down. The marathon is over. Now we're in sprint mode now. The best way to use Green right now, over the final 19 games of the season as the Yankees try to secure a postseason berth, may be different than the best way to use him over the first 143 games of the season. I know how I want the Yankees to use Green. Now it's time for you all to vote.
How should the Yankees use Chad Green the rest of the season?