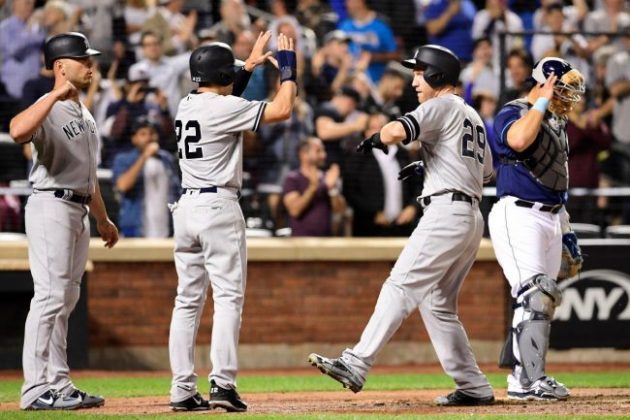 Let the good times roll …
Riding the momentum of a three-game win streak, the Yankees headed back to the Northeast to play a "road series" against the Rays at Citi Field due to Hurricane Irma. Despite spotting the Rays an early 1-0 lead, the Yankees were unfazed by the early deficit, and thanks to an explosive five-run fourth inning, cruised to a relatively easy 5-1 win on Monday. This game-script has actually become a familiar one for the 2017 Yankees (ranks through Monday):
31st win when the opponent scores first, the most among AL teams and tied for the second-most in the majors.
Of course, it also helps that it was the 80th game this season in which they allowed the first runs of the game; only the Phillies and Athletics have more games.
23rd time they scored at least five runs in an inning, tied with the Nationals and Astros for the most 5-or-more-run innings in MLB this season.
Todd Frazier turned a pitchers duel into a rout with a three-run homer in the fourth inning to give the Yankees a 5-1 advantage. The likelihood of him simply getting a hit in that situation – runners on first and second – was low: Frazier entered the game hitting .176 with men on base, the second-worst average in the majors (min. 150 at-bats).
The guy on first when Frazier went deep was Jacoby Ellsbury, who reached base via catcher's interference for the 30th time in his career, breaking the major-league record for that obscure stat. The mark was previously set by Pete Rose, who got his 29 catcher's interferences in a major-league-record 15,890 plate appearances; Ellsbury's 30th came in his 5,308th plate appearance.
The unsung hero of the game was David Robertson, who took over for CC Sabathia with one out in the fifth and two men on base. He got out of the jam by striking out the next two batters and then held the Rays scoreless over next two frames. It was the first time in his career he pitched more than two innings and the earliest he entered a game since April 9, 2011.
How was D-Rob able to dominate the Rays? He peppered the edges of the strike zone with his signature cutter/curveball combo: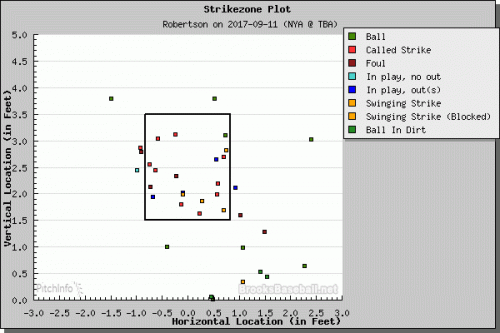 And got a few key outs with his devastating breaking ball (two strikeouts and two groundouts). Robertson's curve is so nasty because of its ability to get whiffs and grounders at ridiculously high rates. More than 200 pitchers this year have thrown at least 100 curveballs, and only one other – Craig Kimbrel – can match Robertson's 50 percent whiffs-per-swing rate and his 60 percent groundball rate with the pitch.
… and then see the good times come to a screeching halt
Buckle up, folks, this is going to be a bumpy and exasperating rollercoaster ride down the stretch in September. After enjoying a few days of offensive bliss, the Yankee bats crashed back down to earth on Tuesday. They were held to three hits – and didn't get a runner past first base after the first inning – in a listless and boring 2-1 loss.
Yes, another one-run loss. It was their 25th of the season, which leads the American League and is also more than twice as many as they suffered last year (12). With a record of 15-25 (.375) in games decided by one run, they are still on pace for the fourth-worst winning percentage in those games in franchise history.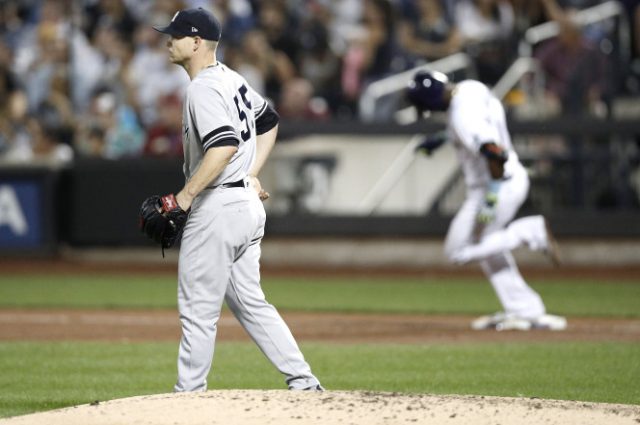 They wasted another gem by Sonny Gray, who literally threw two bad pitches: his first one of the night, a 94 mph fastball up-and-away that Kevin Kiermaier deposited into the right-centerfield seats, and his 90th of the night, another elevated four-seamer that Adeiny Hechavarria clobbered for a tie-breaking solo homer in the eighth inning.
Kiermaier's shot was the ninth leadoff homer allowed by the Yankees this season, which is one more than their pitchers gave up in 2015 and 2016 combined. For Gray, it was the first time in his career he surrendered a longball on the first pitch he threw in a game.
This lack of run support has become a recurring nightmare for Gray, who is 3-5 with a 2.66 ERA in eight starts with the team. In those five losses, they have scored a total of four runs. Tuesday's heart-breaker was the fourth time as a Yankee that he got charged with a loss despite giving up no more than two earned runs. That's the most such losses suffered by any starting pitcher in the majors since Gray made his first start in pinstripes on August 3. #KillTheWin
Gray certainly doesn't deserve this fate, so let's celebrate how terrific he's been this season. It was his eighth consecutive road start allowing no more than two earned runs, the longest streak in the AL this season. The streak dates back more than three months, and during that stretch he's posted a 1.99 ERA in those eight road starts, the best mark in the AL among guys with at least 35 innings pitched since June 1.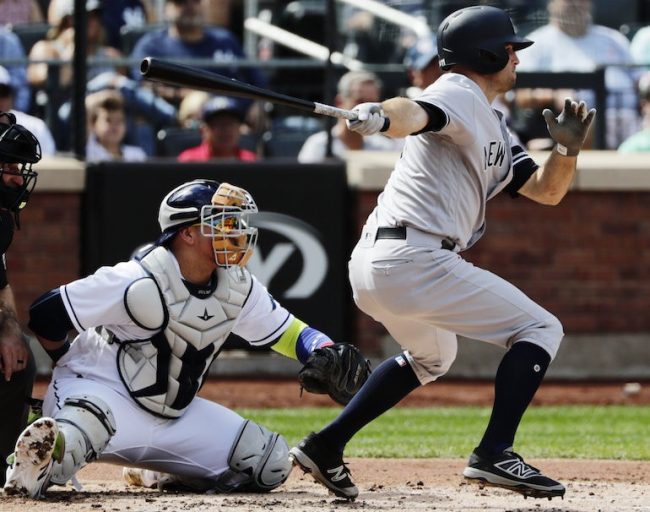 Survive and advance
Not even another massive RISPFAIL performance can stop the Fighting Spirit freight train that the Yankees have been riding this season. Despite leaving a small navy of runners on base and wasting a ton of scoring chances, the Yankees escaped with a 3-2 win on Wednesday to win their fourth straight series.
Joe Girardi went to The Binder early, yanking Jaime Garcia with two outs in the fifth inning after he'd only thrown 78 pitches and had allowed just one run at the time. This has become a signature call for Girardi this season — it was the 13th time a Yankee starter was removed before completing five innings, despite not giving up no more than two earned runs. That's the most such starts by any AL team and tied with the Brewers for the MLB-high.
Yet you could hardly fault Girardi for an early hook with Garcia, given his massive splits when facing batters multiple times in a game (stats and ranks entering Wednesday):
1st time through order: .542 OPS, ranked 15th out of 172 starters with at least 100 batters faced
2nd time through order: .783 OPS, ranked 88th out of 171 starters with at least 100 batters faced
3rd time through order: .989 OPS, ranked 114th out of 119 starters with at least 100 batters faced
[And it also helps when you have a Pitching Cyborg — aka Chad Green — with 99 strikeouts in 64 1/3 innings and a 1.96 ERA ready to go in the bullpen]
Brett Gardner — living up to his G.G.B.G. nickname — was the rare Yankee who came through in the clutch, driving in two runs with a bases-loaded single in the second inning that would end up as the game-winning hit. He is now 11-for-21 (.524) with the bases loaded since the start of last season, the best mark among any AL player with at least 20 at-bats and the second-best in MLB behind Daniel Murphy.