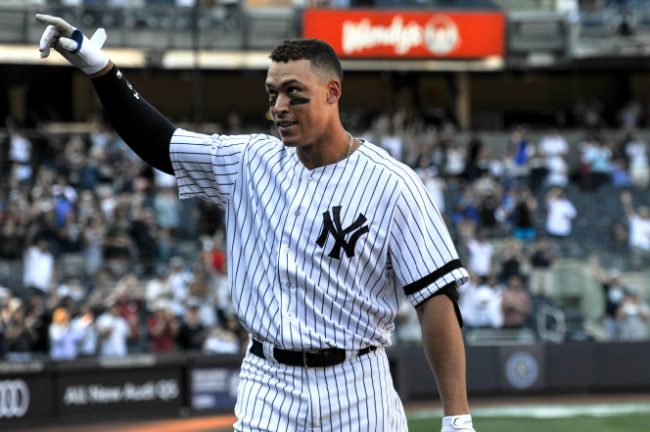 The Dinger King
The Yankees returned to the Bronx on Monday and kicked off the final week of the season with a sweet 11-3 rout of the Royals. They improved to 17-0 in games decided by at least eight runs, a typical blowout for this year's club. The Yankees have the most wins by that margin in the majors, and are the only team that hasn't suffered a loss by eight or more runs.
Aaron Judge stole the statistical spotlight as he enjoyed a record-breaking day at the Stadium. He clubbed his 49th and 50th homers of the season, not only becoming MLB's all-time rookie home run king, but also etching his name alongside a bunch of franchise legends and some of baseball's most iconic players. Let's recap a few of his other incredible feats:
Fifth player in franchise history to hit 50-plus homers, a group that includes A-Rod (2007), Roger Maris (1961), Mickey Mantle (twice) and Babe Ruth (four times)
Joined Mantle (1956) and Ruth (1920) as the only Yankees with seven multi-homer games in a season at age 25 or younger
With his 12th and 13th homers in September, he became the youngest Yankee to go deep 13 times in a calendar month since a 25-year-old Maris had 14 in June 1960.
Coming off his two-homer effort on Sunday, Judge became the first rookie in franchise history with back-to-back multi-homer games
He also got his 120th walk, making him just the second player in major-league history to hit 50 homers and walk 120 times in a season before the age of 26. The other? That Ruth dude in 1920.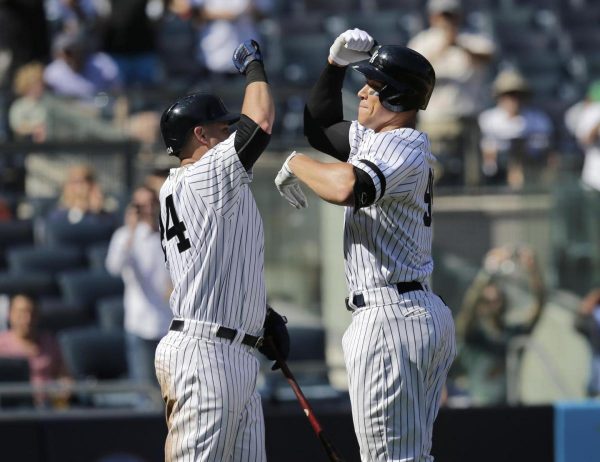 While Judge hogged the headlines, a couple other Baby Bombers helped turn this game into a rout with both Greg Bird and Gary Sanchez adding to their 2017 homer totals. It was the first time in the majors that Judge, Sanchez and Bird each went yard in the same game.
And let's not forget about the old guy on the mound, CC "The Stopper" Sabathia. After cruising through six scoreless innings, he coughed up a couple homers in the seventh but still finished with a win and a bare-minimum quality start. More impressively, he's now 9-0 with a 1.71 ERA in 11 games following a Yankee loss, the best record and lowest ERA of any MLB pitcher with at least seven such starts this season.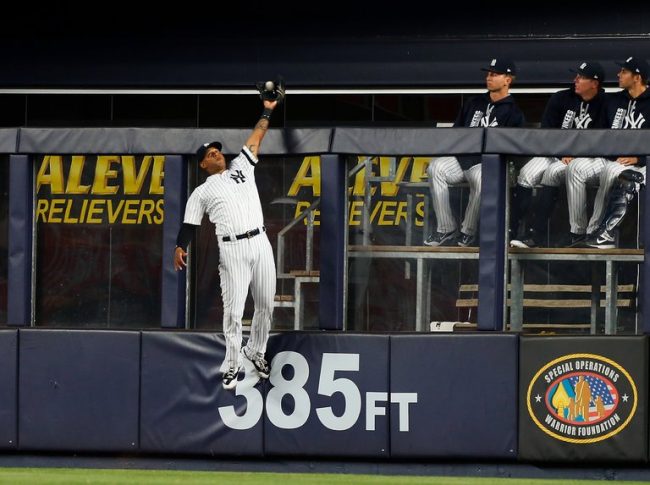 Another win, another clinching
After beating the Rays on Tuesday, the Yankees locked down homefield advantage for the Wild Card game next week. Aaron Hicks was activated from the disabled list in the morning, inserted into the starting lineup and made an immediate impact with a spectacular grand-slam-saving catch in the first inning. Even Hicks was amazed by the jaw-dropping home run robbery: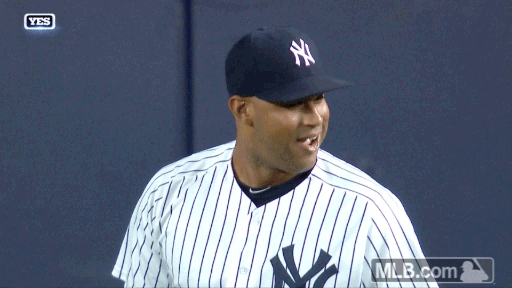 Aaron Judge didn't homer but still contributed with an RBI double and scored his 125th run of the season. He joined Ted Williams (1939) and Joe DiMaggio (1936) as the only players in MLB history with at least 100 RBIs and 125 runs in their rookie campaigns.
Gary Sanchez also reached a nice round number, notching his 90th RBI of the year on a bloop single in the eighth. He's the youngest American League catcher (primary position) to drive in at least 90 runs in a season since a 24-year-old Yogi Berra in 1949.
On the mound, Jordan Montgomery delivered his second straight gem, holding the Rays to one run over six solid innings. After allowing seven homers in his first eight home starts, he's kept the ball in the park in each of his last six home starts dating back to July. How impressive that? The only Yankee with a longer single-season streak of homerless starts at the current Yankee Stadium is CC Sabathia in 2011. And through Wednesday, he was the only pitcher in the majors that had pitched at least 30 innings at home since the All-Star break and hadn't given up a longball in his own stadium.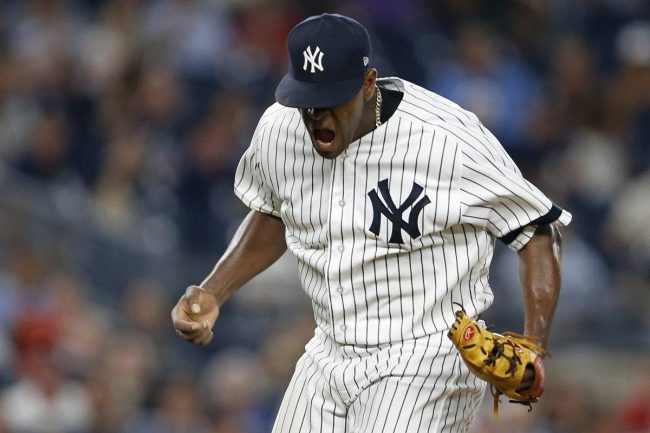 #TooManyHomers
A late-September Home Run Derby broke out in the Bronx on Wednesday as the Yankees enjoyed a 6-1 win backed by three homers and another masterful performance by Luis Severino. It improved their record to 18-7 this month, their most September wins since they went 19-9 in 2009 en route to … World Series title No. 27.
Amidst the offensive fireworks, the star of the game was the team's 23-year-old ace. Severino rebounded from a poor start against the Twins last week to produce another typical dominant outing – nine strikeouts and one run allowed in six sharp innings – in the final performance of his historic 2017 campaign.
It was the 16th time this year he surrendered no more than one run, the most such starts in the majors, and the most by any Yankee since Mike Mussina also had 16 in 2001. He's also youngest AL pitcher with 16 starts of one run or fewer in a season since Vida Blue in 1971, and the youngest right-hander in either league to reach that mark since a 21-year-old Dwight Gooden in 1985.
The nine strikeouts gave him 230, matching CC Sabathia (2011) for the third-highest single-season total in franchise history; the two guys ahead of him are Ron Guidry (248 in 1978) and Hall-of-Famer Jack Chesbro (239 in 1904). Oh, and Chesbro's 1904 season is mind-boggling in the context of today's pitching environment: he threw 454 innings while setting modern-era records in games started (51), wins (41) and complete games (48)!
Severino also lowered his ERA to 2.98, becoming the first Yankee to qualify for the ERA title with a sub-3.00 ERA since David Cone and Andy Pettitte in 1997, and the youngest to do it since Dave Righetti in 1981. Combined with his 230 strikeouts, and Sevvy is in some pretty elite company:
The last American League pitcher with 230 or more strikeouts and an ERA below 3.00 in his age-23 season or younger was Roger Clemens in 1986, the year he captured his first Cy Young award and the league MVP.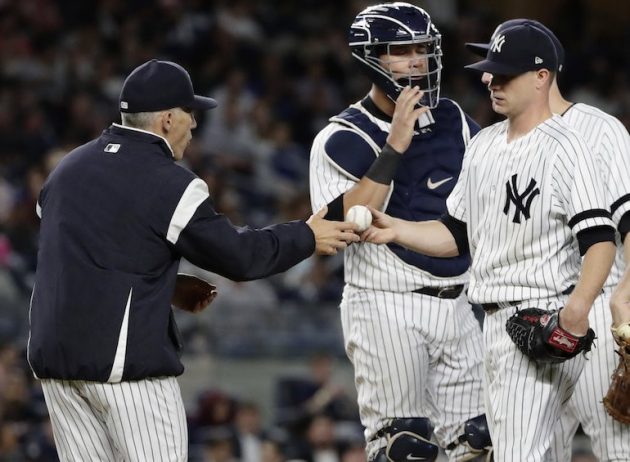 #NotEnoughHomers
The Yankees road to October hit a speedbump with a deflating 9-6 loss in the series finale. Let's recap this rollercoaster-like game with a Yankeemetrics-style of The Good, The Bad and The Ugly.
The Ugly
Handed a 4-1 lead, Sonny Gray imploded in the fifth inning, surrendering five runs in the frame (six overall) before getting pulled with two outs. It was definitely not the way he wanted to cap off his regular season in the Bronx. Following the disaster outing, his final three starts at Yankee Stadium look like this: 15 2/3 innings, 15 runs, 17 hits, six homers.
The Bad:
Normally a dinger party equals a Yankee win, but somehow the Bronx Bombers managed to snatch defeat from a near-certain victory. Prior to Thursday, they were 13-0 when hitting at least four homers in a game this season, the second-best record in MLB. The last game they lost despite going deep four times was August 22, 2016 at Seattle, and their last such defeat at Yankee Stadium was more than two years ago on June 23, 2015 versus the Phillies.
The Good:
The offense got off to a fast start when Brett Gardner and Aaron Judge opened the game with back-to-back homers, the first Yankee duo to do that since Curtis Granderson and Derek Jeter on April 16, 2012 against the Twins. Greg Bird invited himself to the power party with a fourth-inning solo blast, his eighth homer and 23rd RBI in 26 games since coming off the DL. By the way, that's a 162-game pace of 49 homers and 143 RBIs.
And with his first-inning blast, Judge continued his destruction of the record books:
32nd longball at The Stadium this year, tying Babe Ruth — who hit 32 at the Polo Grounds in 1921 — for the most homers hit at home in a season in franchise history.
14th homer this month, the first Yankee to go deep 14 times in September since Ruth set the major-league record for September home runs with 17 in 1927.
The only other right-handed batters to wear pinstripes and hit 14 homers in any calendar month were A-Rod (April 2007) and Joe DiMaggio (twice).
8th straight game with extra-base hit, the longest streak by Yankee rookie in the last 100 years