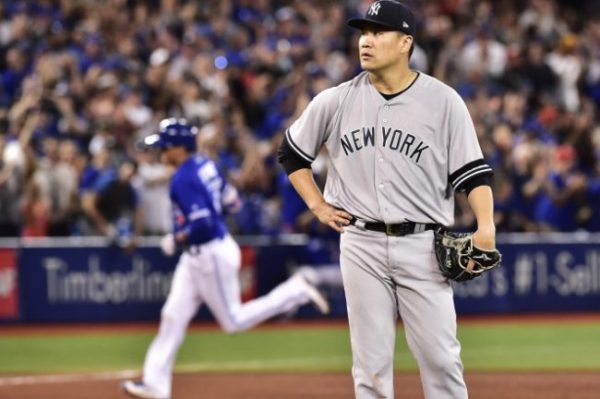 Bad News Yankees
Instead of building on the positive momentum from their sweep of the Twins early in the week, the Yankees opened their weekend series in Toronto with a mistake-filled blowout loss, 8-1, to the Blue Jays.
This road trip north of the border has been a nightmare for the Bombers in recent years. Following Friday's defeat, they guaranteed themselves yet another season-series loss in Canada. The last time the Yankees had a winning record at the Rogers Centre was 2009.
Much of the blame for this embarrassing loss falls on the brutal performance by Masahiro Tanaka. Terrible Tanaka was in peak form as he coughed up eight runs (seven earned) on six hits, three of which cleared the fences. Here's a quickish recap of the ugly numbers after his latest disaster outing:
35 homers allowed are tied with Phil Hughes (2012) for the second-most in Yankees history, behind Ralph Terry's 40 in 1962. Oh, how times have changed: Terry was an All-Star, started 39 games, threw 298 2/3 innings and even got a few MVP votes that season, while Tanaka is at 29 starts and 177 1/3 innings.
Five games with three or more homers allowed leads MLB this season, and is tied with Catfish Hunter (1977) for the most in a season in Yankees history.
Five games with at least seven earned runs matches the most in a season by any Yankee pitcher, a mark he shares with A.J. Burnett (2010) and Red Ruffing (1934). Remember, folks, Tanaka had never given up more than six earned runs in any of his 75 career starts entering this year.
The final pitch he threw was a hanging 0-2 slider with the bases loaded in the sixth inning, that Ryan Goins drilled into the seats in right-center. It was the second grand slam he's surrendered this year, and – you guessed it – he had never given one up prior to 2017. Even worse is the fact that Goins was 0-for-22 against Tanaka entering that at-bat, and had never even hit a flyball or line drive in his career against him!
Finally, there's this stat that sums up Tanaka's Jekyll-and-Hyde 2017 campaign: Through Friday, he was the only pitcher in MLB this season that had five games with at least three homers allowed. He was also the only pitcher in the majors that had thrown multiple games with at least 13 strikeouts and no walks.
Aaron Judge was a one-man offensive machine, producing the team's only run and two of their three hits. His 469-foot booming shot into the second deck in the first inning was the longest homer at the Rogers Centre this season, and tied for his second-longest of the season. Through Friday, he was the only player in baseball to hit three homers of 469-plus feet this year.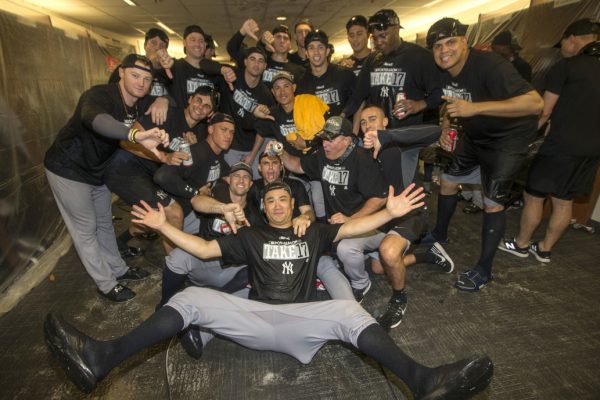 The clinching
It's official. The Yankees punched their ticket to the postseason party with a comeback win, 5-1, on Saturday afternoon.
It was fitting that the clinching victory came in a game where the Yankees had to rally, after the Blue Jays took a 1-0 lead in the third inning. This was the Yankees 34th win when their opponent scored first, tied for the most in the majors through Saturday.
Sonny Gray tossed six strong innings and limited Toronto to one run on four hits, as he continued his six-week stretch of gutty performances on the road. It was his ninth road start in a row with two earned runs or fewer allowed, the longest streak among AL pitchers this season.
Greg Bird earned the hero's cape when he golfed a 91-mph cutter into the right-field seats in the fifth inning, putting the Yankees ahead 3-1. Bird is no stranger to delivering big hits: eight of his 17 career homers have given the Yankees the lead. Among Yankees with at least 10 home runs since Bird's debut in 2015, his "go-ahead homer percentage" of 47.1% is the second-best, trailing only … Jacoby Ellsbury (47.8%)!
We'll also give Bird our Obscure Yankeemetric of the Series: This was the second time he's hit a clutch homer on the road against the Blue Jays; the only other Yankee first basemen with multiple go-ahead homers in Toronto are Jason Giambi and Don Mattingly.
[Because this is a stats post, I'll note that Aaron Judge reached the 200-strikeout mark in the first inning, breaking the rookie record set by Kris Bryant in 2015. I'll also mention that Bryant won the Rookie of the Year Award that season.]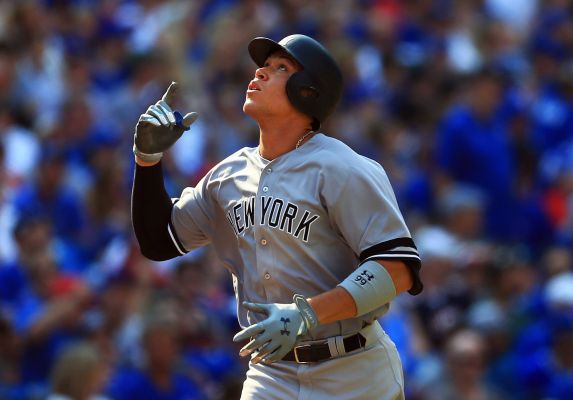 The post-clinching
Less than 24 hours after a rousing playoff-clinching victory, the Yankees played like they were still hung over from the late-night celebration. Not only did they lose the rubber game of the series, but the loss also gave them a disappointing 40-41 record on the road this season as they head home for the final week of games.
This is the second year in a row they've been below .500 away from the Bronx, the first time in more than two decades they've done that. The last time it happened came during the dark ages, a seven-season stretch of road mediocrity from 1987-93.
Jaime Garcia put the Yankees in an early hole, giving up a home run to Teoscar Hernandez on the second pitch he threw. It was the 10th lead-off bomb the Yankees have surrendered this season, the most they've ever allowed in a single season in franchise history.
Garcia remains winless in eight starts as a Yankee, tied for the second-longest such streak by any pitcher to begin his pinstriped career over the last 100 seasons. The only longer streak belongs to Steve Trout, who failed to get a win in his first nine starts after a mid-season trade in 1987.
To say that Garcia lacked command would be an understatement. Not only did he throw a wild pitch and walk three of the 14 batters he faced, but more than half (33 of 60) of his pitches were called balls. His strike percentage of 45 percent is the lowest by any Yankee starter that threw 60-plus pitches in an outing since at least 2000 (as far back as we have complete pitch-by-pitch data).
Once again Aaron Judge was the lone shining star in the lineup, belting his 47th and 48th homers this season. He's now one shy of the major-league home run rookie record set by Mark McGwire in 1987, and also continued his climb up some impressive franchise leaderboards:
The only Yankee right-handed batter to hit more longballs in a season is A-Rod, who hit 54 during his 2007 MVP campaign.
The 48 homers are the third-most by a Yankee in his age-25 season or younger, trailing Babe Ruth (54 in 1920) and Mickey Mantle (52 in 1956).
At the age of 25 years and 151 days, he is the second-youngest Yankee to reach six multi-homer games in a season, behind a 24-year-old Mickey Mantle in 1956.
He now has 11 homers in September, the third time this season he's hit double-digit longballs in a calendar month. The last Yankee to match that feat was Roger Maris in 1961, who had four months with at least 10 homers during his record-setting 61-homer campaign.