Who said the Yankees can't win close games? The Yankees picked up a not at all stressful (nope, not at all) 2-1 win in the series opener against the Twins on Monday night. This is a pretty important series given the postseason races, I hear. The Yankees are 12-4 in their last 16 games and have opened up a five-game lead over Minnesota for the top wildcard spot. They're 6.5 games up on the Angels for a wildcard spot in general. The magic number to clinch a postseason spot is seven and the magic number to clinch homefield advantage in the Wild Card Game is eight.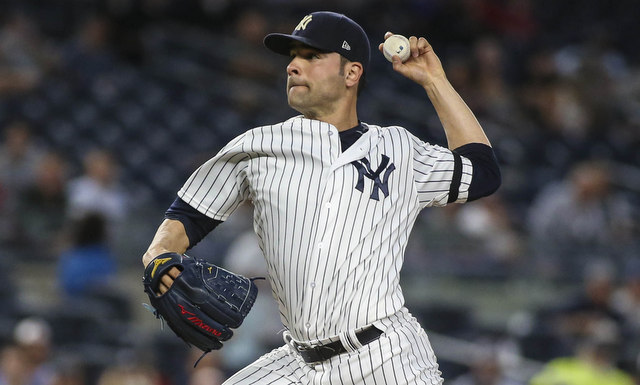 Jaime's Revenge Tour
Thanks to a perfect storm of pissed-off-edness, Jaime Garcia threw what is far and away his best start as a Yankee on Monday night. He was mad at the Twins for trading him after one start and mad at Joe Girardi for the quick hook last time out. The result was a season high nine strikeouts in 5.2 innings, including five strikeouts among the first six batters he faced. Angry Jaime is a heck of a pitcher.
I thought Garcia had the best slider and the best changeup he's had in any of his seven starts as a Yankee, and he had them both in the same start. He threw 20 sliders and got seven swings and misses. He threw 15 changeups and got five swings and misses. That'll work. Garcia allowed his run on back-to-back singles — Aaron Judge bobbled the ball on the second single, allowing the runner to go to third — and a ground ball to third base. It was unearned thanks to Judge's error.
The final line for Jaime: 5.2 IP, 4 H, 1 R, 0 ER, 0 BB, 9 K. Imagine if the Yankees had traded Garcia to the Twins and he pitched like that against them in the postseason race. The internet wouldn't survive the hot takes. I was a bit surprised Girardi sent Garcia back out for the sixth considering the lineup was about to turn over, but he got two quick outs before handsome Joe Mauer ended his night with a handsome single to right.
In his last three starts now Garcia has allowed four runs (two earned) in 15.1 innings, which is pretty darn good. He has a 3.89 ERA (4.24 FIP) in seven starts and 41.2 innings as a Yankee, and considering he is no higher than fifth on the rotation depth chart (probably sixth), that is pretty rad. The Yankees needed another starter with Jordan Montgomery hitting a wall and Luis Severino's innings piling up. Jaime's stepped in and done a solid job overall.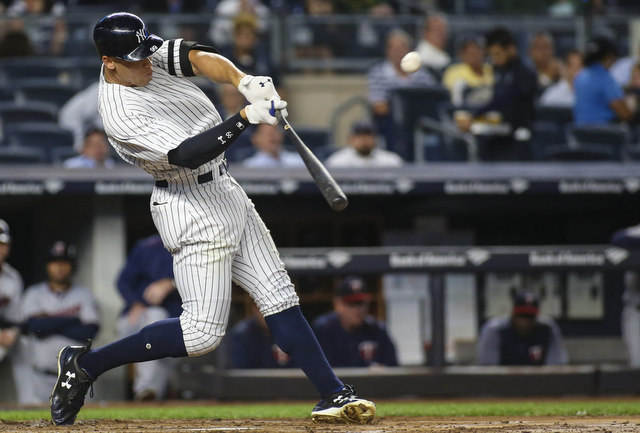 Sometimes Two Runs Is Enough
This felt very much like a "they're going to regret leaving those runners on base" game. The Yankees stranded a runner at third base in the second, third, and fifth innings. They left a runner on second base in the fourth, sixth, seventh, and eighth innings. So that's a runner stranded in scoring position in every inning but the first. Oy vey. The Yankees went 0-for-12 with runners in scoring position.
Fortunately, home runs are cool, and sacrifice flies are slightly less cool but still useful. Judge opened the scoring with a first inning solo home run to right field, giving him seven homers in his last 14 games now. He has 44 (45*) homers on the season and is a) the first Yankee with 44 homers since Alex Rodriguez hit 54 during his sicko 2007 season, and b) closing in Mark McGwire's rookie record of 49 homers. Judge has 13 games to hit five homers to tie Big Mac.
The Twins tied the game in the fifth inning, and one inning later, the Yankees took the lead for good. It wasn't pretty and the Yankees should've scored a boatload more runs that inning, but at least they got one. Chase Headley and Starlin Castro started the rally with back-to-back one-out singles, then advanced on Ervin Santana's wild pitch. That prompted the Twins to intentionally walk Jacoby Ellsbury to load the bases. What a time to be alive.
Todd Frazier, who was 5-for-17 (.294) with three homers and more walks (seven) than strikeouts (five) in his last six games going into Monday night, drove in the game-tying run with your garden variety sac fly to left field. Really nothing special about it, other than the fact it drove in the winning run. Greg Bird grounded out to end the inning, so no insurance run(s) was scored, but Frazier got one run home and ultimately that's all the Yankees needed.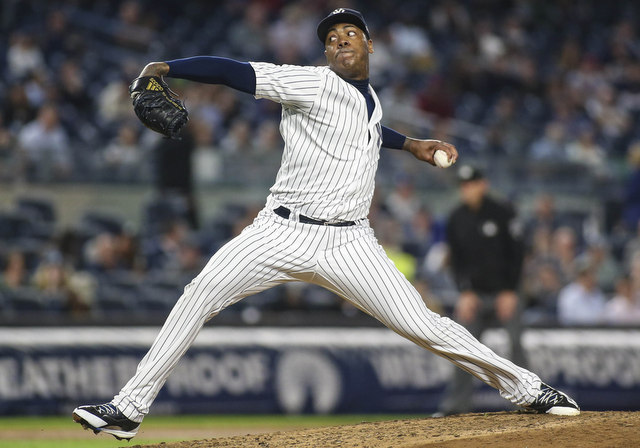 Bad Dellin, Good Aroldis
Great night for every reliever not named Dellin Betances. David Robertson inherited a runner on first with two outs from Garcia and retired the next four batters on 15 pitches, including two on strikeouts. I thought Girardi was going to send Robertson back out for the eighth given his pitch count and the fact we've seen Joe use Robertson for extended outings (against the Mets, most notably), but nope. In came Dellin for the eighth inning.
The Twins did the Yankees an enormous favor. Betances starting that eighth inning by plunking Robbie Grossman, then the Twins gave him a free out on a bunt. First of all, playing for one run when you're down one run on the road is kinda stupid. Second, given Dellin's ongoing control problems this year, why wouldn't you wait to see if he'll walk the park before gifting him an out? Whatever. Thanks Twins. The bunt was the only out Betances recorded.
A walk, a wild pitch, and another walk later, the Twins had loaded the bases with one out. Told you they should've given Dellin a chance to walk them into a rally. Betances threw only six of his 17 pitches for strikes. At that point Girardi had no choice but to go to Aroldis Chapman, and Dellin was booed off the mound. Not that first time that's happened this season. Hopefully it's the last.
Anyway, Chapman inherited a mess and he escaped in four pitches. He completely overpowered Mauer (overpaured?) for the second out of the inning. That was huge. Even left-on-left, Mauer is not an easy out. He doesn't strike out much, so you're kinda hoping he hits it at someone or grounds into a double play. Instead, three pitches and three strikes (two swinging) for the strikeout. A Byron Buxton pop-up followed and that was that. Exhale.
But wait! There were still three outs to get. Chapman got those with zero stress. Two fly balls — well, one line drive and one pop up, but whatever — and a strikeout to end the game. He blew a 103.7 mph fastball by Eduardo Escobar to end the game, then stared him down. Pretty badass. The bullpen: 3.1 IP, 0 H, 0 R, 0 ER, 2 BB, 4 K, 1 HB. The bullpen without Betances: 3 IP, 0 H, 0 R, 0 ER, 0 BB, 4 K. Could Dellin and Chapman please be good at the same time at some point this season? Could be cool.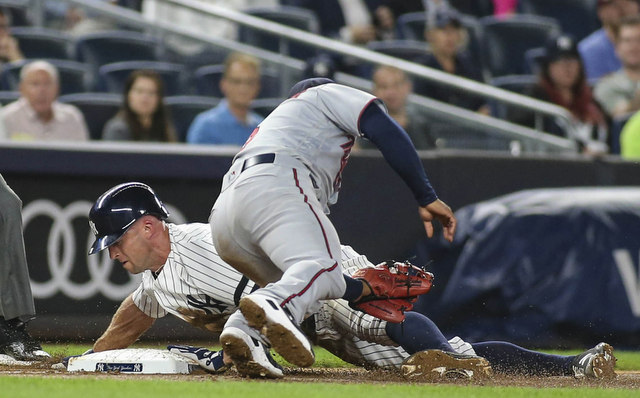 Leftovers
Two steals for Brett Gardner and two steals for Ellsbury. First time the Yankees have had multiple players with multiple steals in a game since Ellsbury and Brian Roberts (?!?) did it back in June 2014. Gardner went 3-for-4 to pace the offense. Judge, Headley, Castro, Ellsbury, and Frazier each had one hit. All singles except Judge's dinger. The Yankees sent 35 men to the plate and 30 put the ball in play (one walk and four strikeouts).
Gary Sanchez took a brutal foul tip right to the left wrist/forearm in the seventh inning and was in obvious pain. He stayed in the game after being looked at by the trainer. Losing Gary for even a few innings would've been bad. I have no idea why anyone voluntarily catches. Seems terrible.
Box Score, WPA Graph & Standings
ESPN has the box score and updated standings, MLB.com has the video highlights, and FanGraphs has the postseason odds. We have a Bullpen Workload page. Here's the win probability graph:

Source: FanGraphs
Up Next
Weather permitting, the Yankees and Twins will get together for the second game of this three-game series Tuesday night. There is rain in the forecast through the afternoon and evening thanks to Hurricane Jose, though it looks like there will be a big enough window to play the game. We'll see. CC Sabathia and Jose Berrios are the scheduled starting pitchers.