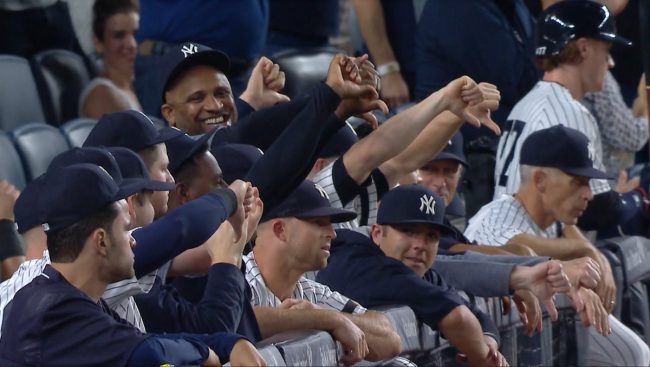 It is difficult to put into words just how fantastic this season was for the New York Yankees. This is a team that was all but guaranteed to float around the 81-win mark this year, with the most hopeful of fans merely expecting strong contributions from the slew of youngsters that were slated for the roster. It was meant to be a transitional season, as Brian Cashman and Joe Girardi spent the last season of their respective contracts stewarding a ship towards 2018, with 2017 in the rear-view before the year even began. And most would have been happy with the team spoiling the playoff hopes of a potential playoff team or two.
Instead, the Yankees spent the better part of the season as one of the best teams in baseball, only bowing out to the soon-to-be World Series champions in the American League Championship Series. It was a hell of a ride, to say the least.
I'm not going to recap this season; those pieces will be written in the weeks to come. And I'm not going to attempt to plot out just how the Yankees made it this far; that story has been written and, exciting as it may be, we all know it well-enough already. Rather, with just under a month to go before Thanksgiving, I'm simply going to write out a few thank yous to the people that made this season special.
Thank you to CC Sabathia, for showing the world that you've still got it, even as your knees breakdown. And thank you for reminding us that some folk just love being a Yankee.
Thank you to Gary Dunaier, better known as 'Thumbs Down Guy,' for giving the fans and the players a new way to celebrate the team's Fighting Spirit.
Thank you to Didi Gregorius, for always playing with the brightest and widest of smiles, and reminding us that baseball is a hell of a lot of fun. The post-game tweets are always a treat, too.
Thank you to Cashman and the powers that be, for brilliantly executing the 'rebuild on the fly' strategy.
Thank you to Girardi for sticking with the team's young players, throughout their ups and downs.
Thank you to Luis Severino, for pitching like an ace from wire to wire, dazzling fans and opposing hitters alike with ridiculous sliders.
Thank you to Greg Bird, for finally getting healthy and raking in the playoffs.
Thank you to David Robertson, for coming home and being better than ever.
Thank you to Gary Sanchez, for proving that 2016 was closer to a taste of things to come than a fluke.
Thank you to Chad Green, for somehow becoming one of the best relievers in all of baseball.
Thank you to Brett Gardner, for being the continuing to quietly be a legitimate bargain in left field.
Thank you to Aaron Judge, for hitting baseballs harder and further than any human being should be capable of, while also playing with a childlike wonderment.
Thank you to the River Ave Blues staff, both on the page and behind the scenes, for making one of my dreams come true by bringing me on-board.
And thank you to the readers of River Ave Blues for taking it easy on me despite my penchant for rambling, and continuing to make the comment section a must-read (which is something that almost reads like an oxymoron).
I could go on and on, as this season was incredibly special in so many ways. It reinvigorated my love of the Yankees, and made me hopeful that another stretch of great success is well within reach. I don't know what 2018 will bring, but for the first time in nearly a decade I'm heading into it with a healthy dose of optimism.