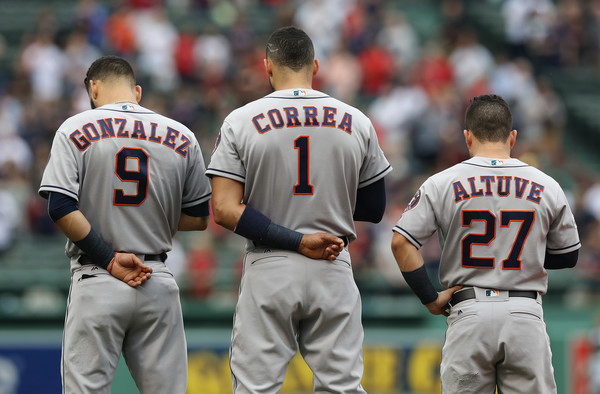 I was one of many that didn't expect the Yankees to do much this season. I would've been happy with an above-.500 season, and competent performances from the litany of young players that the team carried for most of the season.
Instead, the Yankees were one of the best teams in baseball for a significant portion of the season, and ended up making the playoffs. And, even then, I would've been ecstatic just to make it to the ALDS, and put up a good fight against arguably the best team in the American League (if not all of baseball). As the series progressed, though, I wanted more. My hopes and optimism grew in bounds, and once they reached a decisive game five, I knew that I wouldn't be satisfied with anything other than an ALCS appearance.
And now that they've reached the ALCS, I want more. This team is so much fun to root for, and they play with the sort of energy that breeds confidence and pure joy in fans. I'm happy that they've gone as far as they have, and I don't think anything could disappoint me given all that they've accomplished – but I'm more optimistic than I've been at any time since 2009. They can do this.
All that stands in their way is a damn good Houston Astros team.
The Season Series
The Yankees and Astros met seven times this season, with Houston taking five of those match-ups. Two of the Yankees losses were by just one run, though, and the largest margin of victory in a game came when they beat the Astros 13-4 on June 30. Some notes:
Masahiro Tanaka had what may've been the worst start of his career against the Astros back on May 14. He went just 1.2 IP, and allowed 8 earned runs on 7 hits (4 home runs), a walk, and a hit batter. It wasn't pretty, to say the least.
Carlos Correa feasted on Yankees pitching, going 14-for-28 with 7 R, 2 2B, 2 HR, and 10 RBI in those seven games.
The Astros as a team hit .283/.336/.486 as a whole against the Yankees, with 28 extra base hits (including 11 home runs).
The Yankees hit .263/.339/.417, with 23 extra base hits (7 home runs).
How They Got Here
The Astros went 101-61 with a +196 run differential in the regular season, both of which ranked third in the majors. Their 896 runs scored led the majors (as did their 121 wRC+, by a whopping 13 points), and their 700 runs allowed ranked 9th. They were actually a bit better away from Minute Maid Park, going 48-33 at home and 53-28 on the road (tied with Cleveland for the best in baseball). And then they beat the Red Sox in the ALDS, taking the series 3-1.
It wouldn't be too much of a stretch to call this team an offensive juggernaut, given the sheer depth of the lineup. Jose Altuve, Carlos Correa, Marwin Gonzalez, and George Springer all ranked in the top-25 in the game in wRC+, and Josh Reddick, Alex Bregman, and Yulieski Gurriel all fell within the top-60 (among the 181 players with 450-plus PA this year). They will have nine players on their roster that posted a wRC+ above 100 this year, and that doesn't include Carlos Beltran, who hit .400/.500/.600 against in the ALDS. The Astros hit .333/.402/.571 as a team in that series.
Their pitching staff was solidly above-average in the regular season, and it only improved with the addition of Justin Verlander. He went 5-0 in five regular season starts with the Astros, with the following insane line: 34.0 IP, 17 H, 5 BB, 43 K, 1.06 ERA. The one-two punch of Verlander and Dallas Keuchel is among the best in the game right now, and the built-in off days ensure that both would be able to start two games if the need arises. Their starting pitching isn't flashy beyond those two, but likely starters Charlie Morton (109 ERA+) and Brad Peacock (132 ERA+ between the rotation and bullpen) are both more than adequate this season.
As a whole, Astros starters pitched to a 4.03 ERA (105 ERA+) this year, with a 24.6 K% (6th in baseball) and a 8.2 BB% (17th).
The bullpen is a bit of a different story. It was an average-ish unit on the season (4.27 ERA, 99 ERA+), but it is a bit top heavy. Closer Ken Giles (2.30 ERA, 11.9 K/9), fireman Chris Devenski (2.68 ERA, 11.2 K/9), and Will Harris (2.98 ERA, 10.3 K/9) are as dependable as they come, but the herd thins considerably after that.
The Lineup We Might See
The ridiculous depth of the Astros bench allows manager A.J. Hinch a great deal of flexibility. He doesn't use the strictest platoons, but he will shuffle the lineup against the toughest lefties – whether or not that would include CC Sabathia is up for debate, I suppose. Regardless, these are the nine men that we'll likely see in the starting lineup:
George Springer, CF – .283/.367/.522, 34 HR, 5 SB
Josh Reddick, RF – .314/.363/.484, 13 HR, 7 SB
Jose Altuve, 2B – .346.410/.547, 24 HR, 32 SB
Carlos Correa, SS – .315/.391/.550, 24 HR, 2 SB
Marwin Gonzalez, LF – .303/.377/.530, 23 HR, 8 SB
Alex Bregman, 3B – .284/.352/.475, 19 HR, 17 SB
Yulieski Gurriel, 1B – .299/.332/.486, 18 HR, 3 SB
Evan Gattis, DH – .263/.311/.457, 12 HR, 0 SB
Brian McCann, C – .241/.323/.436, 18 HR, 1 SB
Carlos Beltran struggled mightily this season, and only started one game in the ALDS. I'd be shocked, however, if he didn't start at least one of the games in Yankee Stadium.
The Starting Pitching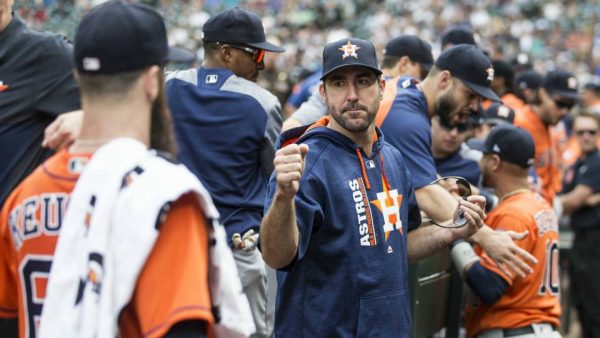 Dallas Keuchel has been confirmed as the starter for game one. He missed nearly two months with a neck injury, but was excellent when he was on the mound. He pitched to a 2.90 ERA (136 ERA+) in 145.2 IP, with slightly league-average strikeout (21.4%) and walk (8.1%) rates. Keuchel is a worm-burner extraordinaire, posting a 66.8% ground ball rate this year, which is 22.6 percentage points above league-average. He's death on LHH, who posted a .192 wOBA against him this year, but somewhere closer to mortal against righties (.293 wOBA).
Justin Verlander will start game two. He has been excellent over the last two years, leaving his awful 2014 in the rearview mirror as he re-established himself as one of the best starters in the American League. I posted his ridiculous numbers with the Astros above, but he was quite good all year, pitching to the following line: 206.0 IP, 170 H, 72 BB, 219 K, 3.36 ERA (133 ERA+). It is worth noting that he has become more flyball prone than ever the last two seasons, bottoming out with a 33.5% groundball rate this year.
If the Astros stick to their ALDS rotation, Brad Peacock would be up in game three. He spent part of the season in the bullpen, which makes his overall numbers look better, but he was very good as a starter, to wit – 111.2 IP, 90 H, 46 BB, 135 K, 3.22 ERA. He's essentially a three-pitch guy, throwing a low-90s four-seamer, a low-90s sinker, and a low-80s slider; that slider is his bread-and-butter, and he throws it just under 45% of the time, per Brooks Baseball.
And that would leave Charlie Morton for game four. Morton has been an "if he can stay healthy" guy for a half-dozen years now, and it has never quite shaken out that way. He has mostly healthy this year, though, making 25 starts and throwing 146.2 innings of 3.62 ERA (109 ERA+) ball. Morton is mostly thought of as a groundball specialist, and that's mostly true; he kept 51.8% of batted balls on the ground this season, which is 3.2 percentage points below his career norm. However, he has become something of a strikeout artist, with an even 10.0 K/9 this year, as well as an above-average 10.9% swinging strike rate.
There are some rumblings that Lance McCullers could work into the Astros plans for the series, as he's said to be back at full-strength. He hasn't looked all that good since coming off the DL, though, so I'm not sure that now is the time for Hinch to shake things up.
The Bullpen
Ken Giles is the closer, and he's probably one of the 20 or so best relievers in baseball. He pitched to a 2.30 ERA (172 ERA+) in 62.2 IP, and converted 34 of 38 save opportunities. And those impressive numbers are skewed a bit by a rough patch in June; he had a 1.11 ERA from July 1 forward, to go along with 12.3 K/9 and 2.5 BB/9. He might not be a truly elite closer, but he's not all that far off, either.
Chris Devenski fills the fireman role, and he has been a revelation in that role. He tossed 80.2 IP across 62 appearances this year, posting a 2.68 ERA (148 ERA+) and striking out 11-plus batters per nine innings. The Astros will go to him in any high-leverage situation, regardless of inning, and he has delivered more often than not. He did get rocked by the Red Sox in game three of the ALDS, though, allowing 3 runs on 3 hits without recording an out.
Will Harris is a more traditional set-up man, and he had another strong year despite missing some time with an injury. He had a 2.98 ERA (133 ERA+) to go along career bests in strikeout rate (29.4%) and walk rate (4.0%). His downfall at times has been the long ball, though, as he allowed 1.4 HR/9 and 17.1% HR/FB this year.
The bullpen deployment beyond that is anyone's guess at this juncture. Luke Gregerson, Joe Musgrove, and Francisco Liriano are all slated for regular use, but whether Hinch trusts them is another issue entirely.
Who (Or What) To Watch
The Yankees being the underdog is an interesting feeling, to say the least – but it's also exhilarating. FiveThirtyEight has the Astros with a 56% chance of winning the ALCS, and FanGraphs has them at 58.1%. Anything can happen in baseball, as evidenced by the Yankees amazing comeback against the heavily favored Indians, and this is the time to embrace that sort of chaos.