Um, yeah. Holy hell. What was that ending? Well, before that, the Yankee bats got completely owned by Justin Verlander for the entirety of nine innings. They did manage back-to-back doubles in the fourth to score a run but that was about it. After Tommy Kahnle and David Robertson put in a strong relief effort, the game unraveled in the ninth thanks to Jose Altuve's extra-hustle and, uh, what Gary Sanchez did. Let's not put the blame solely on Sanchez though. The lineup has not been… good. Not at all. Let's recap this thing.
Starting pitching duel part deux
It's Severino vs. Verlander. I don't know of any more possible matchups that could be as exciting. Two of the best fireballers in the baseball going at each other in a high-stakes playoff game. Inject it into my veins. And, of course the first few innings lived up to that hype. Both teams were scoreless for the first three innings. Luis Severino did not record any strikeouts but outs are outs. You can't be too picky about them in the postseason.
In the third inning, the Yankees bats came close to getting the big hits but were befallen. With one out, Chase Headley got a fastball down low and middle and drove it towards the right field fence. Normally, maybe 8 out of 10 times, that's a home run or a double. However, Josh Reddick had it played beautifully and robbed Headley of a big hit with a jump catch. A batter later, Brett Gardner pulled a line drive down the right field line. He got to second easily and it seemed like he had a legitimate chance to reach third. However, the Astros turned a great relay from outfield to infield to make it very close at the third base. Third base umpire initially called it safe. But… was it?
Nope. Again with the game of inches! Upon replay, the umpires determined that Alex Bregman just got Gardner. That was the third out and ended the frustrating half inning for the Yankee bats.
In the bottom of the fourth, just like yesterday, the Astros struck first. With one out, Carlos Correa hit a 99 mph fastball up and away from the zone over the right field fence. Look at the location here. The fact that he hit it squarely enough for a home run is nuts:
Or… did it actually go out? The ball bounced out of a kid's glove right above the wall and the umpires decided to see if it's a Jeffrey Maier situation. However, the ball was clearly going over the fence before it hit the kid's glove. The umpires ruled it a home run and Astros took a 1-0 lead. I thought that Aaron Judge might have had a chance to make a leaping catch to rob it but he did not get back there in time – probably because that liner was scorched.
The Yankees got one back (a run!) the next inning. With two outs, Aaron Hicks squared up a 97 mph fastball up in the zone for a double. Todd Frazier followed it up with a deep flyball to left-center. In a normal ballpark, that very well could have been a home run, but instead, it got stuck in the fencing under the seats. I don't know if that has ever happened before. The ball got stuck in there so neatly that you'd think that someone placed it by hand. The umpires ruled it a ground-rule double and that brought Hicks home for a 1-1 tie game.
Going into the bottom of the fifth, Yankees put in Tommy Kahnle to relieve Severino. Wait what? Sevy had thrown only 62 pitches but he was hit by Yulieski Gurriel's comebacker in the fourth. If there's any bright spot, he was hit on the non-throwing arm wrist. Also, prior to that, Girardi visited the mound after a pitch sailed way outside. Fortunately, Severino was only removed as a precaution. They would rather have him be 100% for the next start (if there is one). Also, because of the array of arms that they have in the 'pen, it makes it easier to chew up innings while keeping the game close.
Kahnle took care of the fifth and sixth and Robertson got the seventh and eighth – and they were masterful. Both of them combined for a 4 IP, 1 H, 0 R, 1 BB and 3 K performance to keep the game tied. Now, if only the bats could take advantage of the pitchers balling out.
However, besides that one run that they scored, the offense got manhandled by Justin Verlander. His fastball was classic Verlander, his slider and curve kept the hitters off balance all throughout the game, etc. In nine innings that he pitched today, he allowed only 5 hits, 1 earned run and struck out 13. While it's remarkable that the Yankee pitchers were able to hold the powerful 'Stros lineup to one run in the first eight innings of the game, it is very frustrating that the bat has scored only two in the first 17 innings of the series. That is not a good strategy – and they paid for it.
The bitter end
Because the Astros' best hitters were coming up, Joe Girardi decided to put in Aroldis Chapman, who has, as you may have noticed, very good for about a month and half.
Chappy struck out Reddick rather swiftly. Against Altuve, aka the human hitting machine, he allowed a single on the first pitch 100 mph fastball because it's Jose Freakin' Altuve. There's not a lot of things that you can do when the hitter is 15-for-27 in the postseason. Up came Correa, who had driven in the lone Astros run of the game. Correa hit a liner to right-center that Judge cut off and tried to take a chance to getting Reddick out at second. Meanwhile, Altuve was sprinting past third and going home. Didi Gregorius's throw to Sanchez looked like Altuve was going to be out by a mile. Take a look: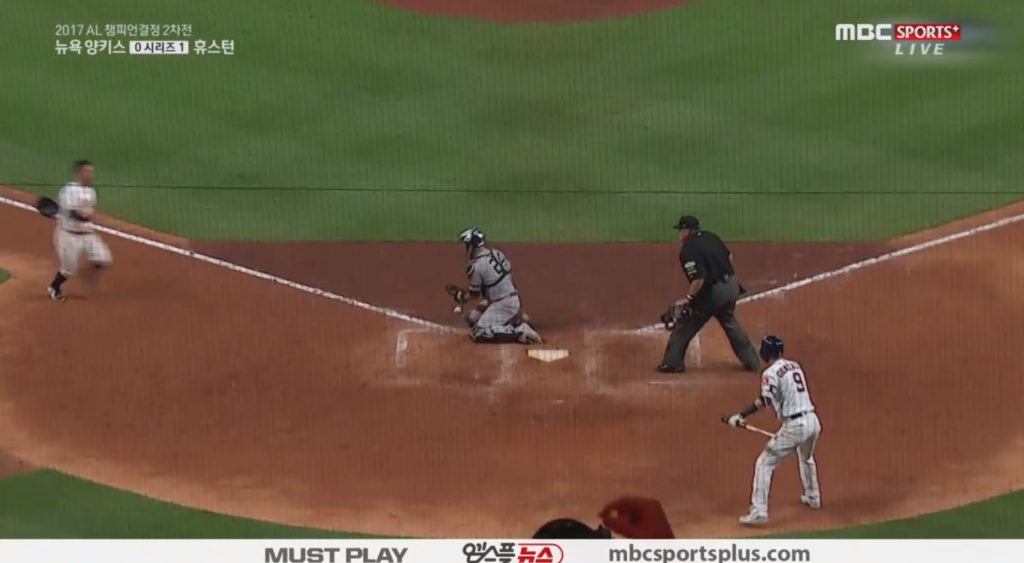 However, Sanchez could not handle the ball in time and as he tried to pick it up, Altuve slid past him to score the walk-off. I really thought he was dead meat when the throw came in but man, that was some brutal defense from Sanchez. I still believe his long-term future is at catching but that was not a good display.
Leftovers
It is really hard to win when your 2, 3, 4, 5 hitters in the lineup (Judge, Gregorius, Sanchez and Bird) combine for a 1-for-15 effort with 5 strikeouts. We all talk about how bad Judge has looked this postseason (rightfully so) but Sanchez also looks lost against the Astros pitching. Today, he went 0-for-4 with two strikeouts and, of course, was involved in the game-ending play. Gotta think that it was the worst game of his career.
Here are the box score and video highlights. Here's the win probability graph:

Source: FanGraphs
---
Up Next
The Yankees are heading back to Bronx to host at least the Games 3 and 4 of the ALCS. The streak stopper CC Sabathia will be on the mound, trying to rescue the Yankees' season, against Charlie Morton.