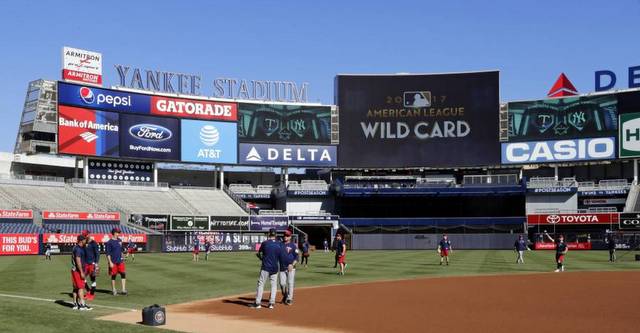 The deadline for the Yankees and Twins to submit their 25-man AL Wild Card Game rosters to the league was 10am ET today, and shortly thereafter, both teams announced their rosters. Here is the Twins' roster and here are the 25 players the Yankees will use in tonight's winner-take-all affair.
Pitchers (10)
RHP Dellin Betances
LHP Aroldis Chapman
RHP Sonny Gray
RHP Chad Green
RHP Tommy Kahnle
RHP David Robertson
LHP CC Sabathia
RHP Luis Severino
LHP Chasen Shreve
RHP Adam Warren
Catchers (2)
Austin Romine
Gary Sanchez
Infielders (7)
Greg Bird
Starlin Castro
Todd Frazier
Didi Gregorius
Chase Headley
Ronald Torreyes
Tyler Wade
Outfielders (5)
Jacoby Ellsbury
Clint Frazier
Brett Gardner
Aaron Hicks
Aaron Judge
Designated Hitters (1)
Matt Holliday
The Yankees are carrying ten pitchers, which feels like one too many, but it's not really a big deal. I'm sure Joe Girardi's master plan tonight is Severino to Green to Robertson to Chapman, and if Severino pitches well enough that they could skip Green all together, great. That works too. Look at it as a four-man pitching staff with six emergency arms.
Sabathia threw 75 pitches Saturday and is likely on the roster for one reason and one reason only: to get out Joe Mauer in a big spot. Mauer has hit .192/.259/.250 with a 34.5% strikeout rate — this is a guy with a career 12.8% strikeout rate, remember — in 58 career plate appearances against Sabathia. This is Sabathia's throw day, so he can't go very long out of the bullpen. Mauer specialist it is.
Wade and Frazier are essentially the 24th and 25th men on the roster, though both could get a chance to play as a pinch-runner. (Or if there's an injury.) Even if they don't steal a base, they're better able to score from first on a double or from second on a single than many of the veterans. That could come in handy in a close game.
Keep in mind the Wild Card Game is considered its own postseason round, so if the Yankees do win tonight's game, they will be able to set a new 25-man roster for the ALDS. And they will certainly do that to get more starting pitchers on the roster, obviously.