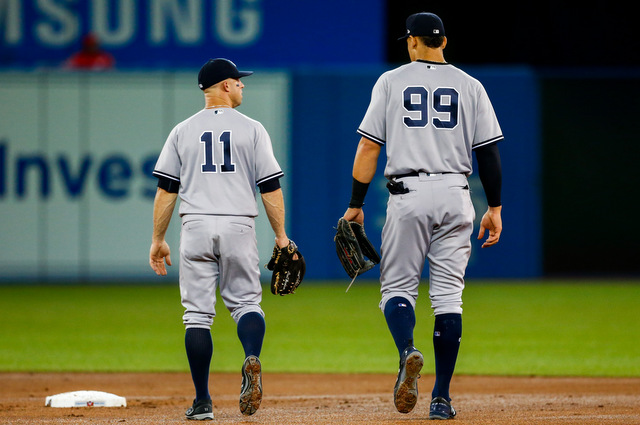 Once again, Brett Gardner is one of three finalists for the AL Gold Glove award in left field. MLB and Rawlings announced the Gold Glove finalists today, and in addition to Gardner, Aaron Judge is a finalist in right field as well. Neat. Here are all the Gold Glove finalists.
Gardner won his first Gold Glove last season and is a finalist for the fourth time in his career (2011, 2015-17). He's up against Alex Gordon and Justin Upton, and with Gordon beginning to fade and no longer getting by on reputation, Gardner has a pretty good chance to win the award for the second straight season. It certainly wouldn't be undeserved.
As for Judge, this is his first time as a Gold Glove finalist (duh), and he's up against Mookie Betts and Kole Calhoun. Betts is probably going to win, but I'm glad Judge is at least a finalist. The man is so much more than monster home runs. He's a very good defensive right fielder and I'm happy to see him get some recognition.
Didi Gregorius could've easily been a Gold Glove finalist at shortstop, though the AL shortstop crop is crowded, and he was unable to crack the top. That's not surprisingly considering he missed a month with an injury. Elvis Andrus, Francisco Lindor, and Andrelton Simmons are up for the AL Gold Glove at short. Yeah. Also, Masahiro Tanaka is a snub. He's a great fielder.
Prior to Gardner last season, the last Yankees to win a Gold Glove were Mark Teixeira and Robinson Cano, both in 2012. I think Gardner has a pretty good chance to win again this season. Judge will probably lose out to Betts, but whatever. The Gold Glove winners will be announced Tuesday, Nov. 7th.