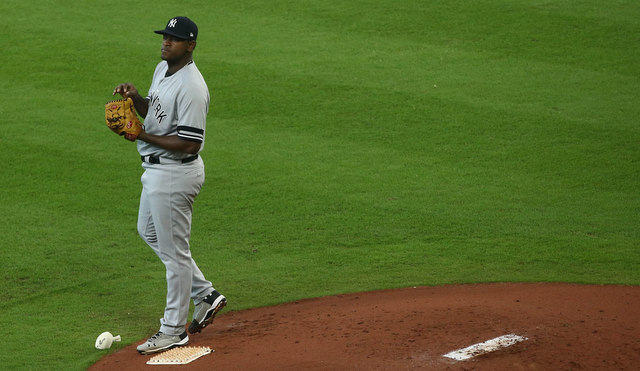 7:25pm ET: Following Game Two, Joe Girardi said Severino checked out fine. They were worried more about his shoulder than his hand following the comebacker. Severino didn't want to come out of the game, but the Yankees pulled him anyway. "I feel great. I feel 100%," he said after the game. He's going for precautionary tests anyway.
5:53pm ET: Luis Severino left Game Two of the ALCS this afternoon with a possible injury. The trainer came out to talk to him in the fourth inning after he windmilled his arm and grabbed for the rosin bag, then, later in the inning, Severino was hit in the left wrist area by a hard comeback chopper. So who knows what exactly is wrong with him.
Throughout the start, Severino's stuff look fine and there was no drop-off in velocity after the trainer came out to talk to him. I'm pretty sure it's the wrist, though. I hope it is, anyway. The comebacker got him good and Severino grimaced. He was pretty clearly in pain. Severino threw 62 pitches in four innings before exiting the game.
If the injury is anything serious, a) aw crap, and b) the Yankees can replace Severino on the ALCS roster. If they do that though, he will not be eligible for the World Series roster should the Yankees advance. The Yankees have not yet announced an update on Severino, so stay tuned.