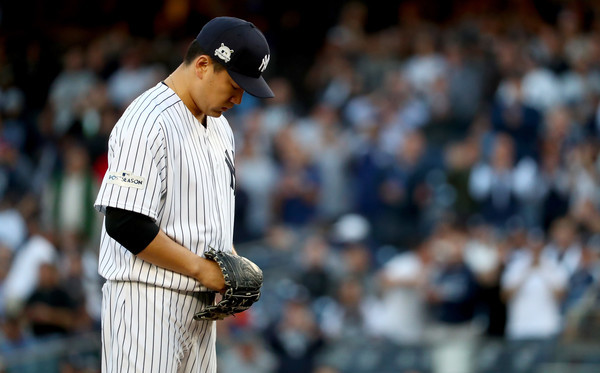 At some point in the next ten days, Masahiro Tanaka and his agent will have to make a decision about his opt-out clause. The decision is due three days after the end of the World Series, which means it could come as soon as next Tuesday (if there's a sweep) or as late as next Saturday (if it goes seven games). So far Tanaka has ducked all questions about the opt-out.
"I haven't had a chance to think about my contract," said Tanaka through his interpreter following the ALCS Game Seven loss the other day. "From a player's standpoint, you don't truly understand how you are perceived by other teams. The season really was a grind and a fight throughout the season. I can say I didn't step away from it … I don't know how it is going to work out."
Over the last four years the perception of the opt-out decision has changed dramatically. When Tanaka hurt his elbow in 2014, there was no way he'd opt-out. When he earned Cy Young votes last year, he was definitely going to opt-out. When he couldn't stop giving up homers in the first half this year, he wasn't going to opt-out. Then when he dominated in the postseason, okay, yeah, he's opting out.
Fans and analysts tend to look at this stuff too closely. On a day-to-day basis, almost. In reality, Tanaka and his agent are going to take a step back, examine the market for a free agent starting pitcher, and determine whether walking away from three years and $67M makes sense. One bad start in May or one great start in October won't have a major impact on the decision. This is a big picture decision. Let's break it down.
The Case For Not Opting Out
This is the easy one, so we'll start here. Despite his postseason exploits, Tanaka did not pitch well during the 2017 regular season. Fifty-eight pitchers threw enough innings to qualify for the ERA title this season. Here are Tanaka's ranks:
ERA: 4.74 (50th)
FIP: 4.34 (36th)
fWAR: +2.7 (33rd)
bWAR: +1.0 (51st)
Not good! Furthermore, Tanaka's elbow is widely regarded as a ticking time bomb. He had the partial ligament tear back in 2014, and while the elbow hasn't given him any problems since, most expect him to have Tommy John surgery at some point. Adam Wainwright pitched for five years with a partial tear before the ligament gave out. Tanaka just completed year three. Tanaka has also had some other nagging injury issues in recent years.
The market for a starting pitcher with a known elbow problem who was mediocre to bad overall during the 2017 regular season might not be so robust. Tanaka is a boom or bust player at this point, and there's a lot of bust potential. Even if the elbow stays intact, he showed this year he could get blasted anyway. Passing on the opt-out and taking the $67M guaranteed would be a safe bet.
The Case For Opting Out
Moreso than any other position, quality starting pitchers rarely have trouble getting paid. Jeff Samardzija led the league in hits, earned runs, and home runs allowed a few years ago, yet he still signed a five-year contract worth $90M after the season. Ian Kennedy inked a five-year deal worth $70M two offseasons ago, after he'd thrown 759 innings with a 4.19 ERA (89 ERA+) and a 4.06 FIP over the previous four seasons.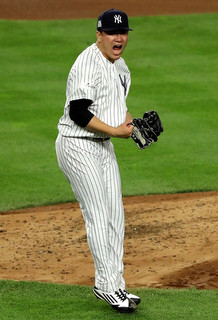 Several things make Tanaka desirable despite his poor 2017 regular season and the lingering elbow concerns. One, he has shown he can pitch at a very high level. He did it all of last season and he did it for much of the second half this season, plus again in the postseason, under the spotlight in New York. I would be careful not to overvalue those three postseason starts, but, if nothing else, they were a reminder of what he's capable of. The ability to dominate still exists.
Two, Tanaka is only 29. He's actually only 28. His 29th birthday is one week from today. Tanaka is still in what should be the prime of his career. You wouldn't be signing a guy over 30 who figures to begin succumbing to age-related decline fairly soon. And three, the free agent pitching class isn't great. Yu Darvish, who had Tommy John surgery two years ago and is now 31, is the headliner. Soon-to-be 32-year-old Jake Arrieta is next, and his command has been deteriorating for two years now.
Should he opt-out, Tanaka likely sits somewhere behind Darvish and Arrieta in the free agent pecking order, and ahead of guys like Alex Cobb, Lance Lynn, and Jason Vargas. All three of those dudes are less than two years removed from Tommy John surgery, like Darvish. You can nitpick all these guys the same way you can nitpick Tanaka and say he don't deserve a big contract.
At the end of the day, we're talking about a soon-to-be 29-year-old pitcher who owns a 3.56 ERA (118 ERA+) and a 3.75 FIP in 668.1 big league innings, all with the Yankees in the hitter friendly AL East, and has shown he won't wilt under the bright lights in the postseason. That is a mighty valuable commodity. No, Tanaka might not match the $22.3M average annual value of his current contract, but he figures to top the $67M total guarantee on the open market.
* * *
There is, potentially, a third option here. Tanaka could leverage the opt-out into a contract extension with the Yankees. That is exactly what CC Sabathia did a few years ago. I'm inclined to think the Yankees wouldn't bite and would call Tanaka's bluff and let him opt-out in that case, though an extension is worth considering. The Yankees need pitching and Tanaka has shown he can be damn good and thrive in New York. That's not nothing.
The plan to get under the $197M luxury tax threshold looms, so perhaps there's a scenario in which the Yankees sign Tanaka to an extension and lower the average annual value (and thus luxury tax hit) of his contract. If the Yankees were to tack on, say, two years and $33M to his current contract, that's essentially a five-year extension worth $100M, with a $20M luxury tax hit, saving some payroll space. Maybe an extra two years and $27M would be enough to convince Tanaka to stay? Or two years and $23M? It's worth asking.
At this point, we have all the information. We know how Tanaka pitched this year, how he pitched in the postseason, and how he pitched the last four years. We know his injury history — well, we know what the Yankees have elected to tell us about his injury history — and we know where the Yankees are as a team. They're ready to win now. They almost won this year! Re-signing Tanaka is a win-now move. Okay, time for a poll.