Last week, when the Yankees lined up their ALCS rotation, they opted to start trade deadline pickup Sonny Gray in Game Four even though he started Game One of the ALDS and could've started Game One of the ALCS. The Yankees had Gray throw an extended three-inning simulated game on Thursday to stay sharp, though he's still going 12 days between postseason appearances.
There are a few reasons the Yankees lined up their ALCS rotation the way they did. One, Masahiro Tanaka and Luis Severino are their two best pitchers — Severino because of the way he's thrown all year, Tanaka because of the way he's thrown lately — and they wanted them going up against Dallas Keuchel and Justin Verlander in Games One and Two. Two, the Yankees trust CC Sabathia in a Game Seven situation, so they lined him up for that start.
And three, Gray has simply not pitched all that well lately. His first eight starts in pinstripes went great, as he threw 50.2 innings with a 2.66 ERA (4.14 FIP). Gray's final three regular season starts did not go well (7.36 ERA and 7.38 FIP), and in his ALDS start, he allowed three runs in 3.1 innings before getting the hook. The problem, again, was his control. Gray walked four and struck out two in that ALDS start. In his last four starts, and he has 14 walks and 12 strikeouts in 18 innings. Yikes.
For the 2017 season overall, Gray had an 8.4% walk rate, which was essentially league average (8.5%) and just a tick above his career rate (7.9%). As the season progressed though, his walk rate kept climbing.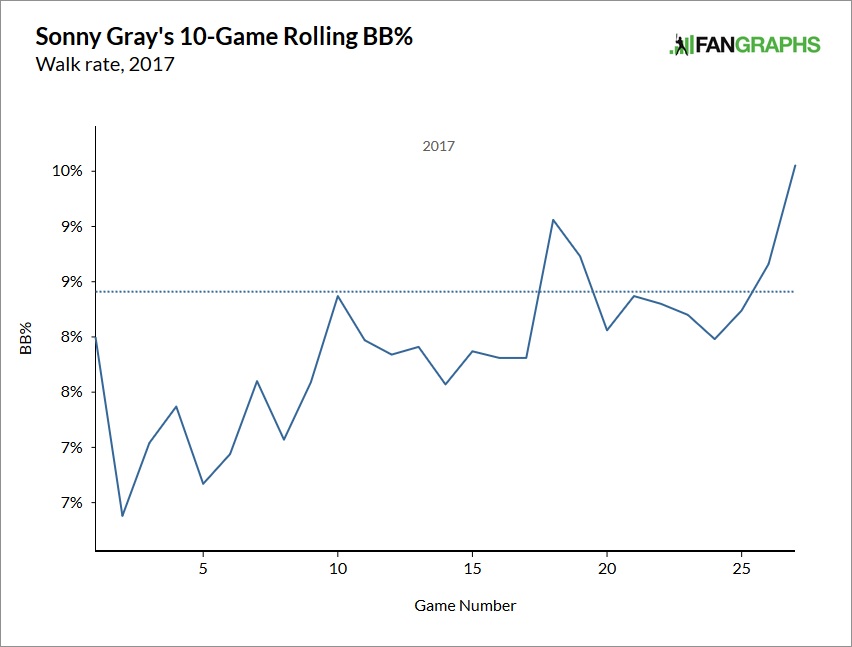 Hmmm. Why has Gray been walking more batters lately, particularly in his last four starts? That's tough to answer from here, and it could be a combination of many things. His mechanics are out of whack. He's hiding an injury. Giving up home runs at Yankee Stadium scared him out of the strike zone. He's trying to be way too precise in an effort to impress his new teammates and coaching staff and fans. Who knows?
The walks themselves aren't the only problem. Gray has been falling behind in the count a lot as well lately, which puts hitters on the advantage. During these last four starts Gray has faced 86 batters, and by my count, 21 saw a hitter friendly 2-0 or 3-1 count, and more than a few of those 21 saw a 2-0 count and a 3-1 count in the same at-bat. Gray went to a 2-0 or 3-1 count on 17.0% of batters faced during the regular season. The MLB average is 17.1%. Over these last four starts, Gray is at 24.4%.
From watching him pitch over the years — not just with the Yankees, but with the A's as well — Gray is the type of pitcher who doesn't need to hit his spots perfectly to get good results. He has good velocity and everything he throws moves, helping him avoid the barrel. Gray can aim for a quadrant of the strike zone, let it rip, and let his natural movement do the work. Being precise with all that movement can be difficult.
Whatever the cause of these walks and recent control problems, this much is clear: the Astros won't let those free baserunners go unpunished. Well, that's not necessarily true. The Yankees did walk eight batters in Game Three last night and only one scored. (For real.) I just wouldn't count on that happening again, giving the Astros so many free passes and escaping unscathed. As good as New York's pitching has been in the ALCS, Houston's lineup feels like a sleeping giant.
Now, this isn't to say Gray should just fire it in there middle-middle to avoid walks, because that'll create a completely different set of problems. But continuing to fall behind in the count and either walking people or going 2-0 and 3-1 is a recipe for trouble. We've seen it in Gray's last four starts and the stakes are a lot higher now. To keep the Astros in check, Sonny has to attack and stay in the strike zone, something he's done throughout his career, just not lately.