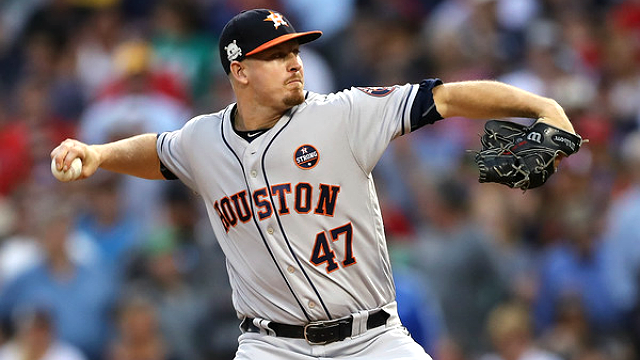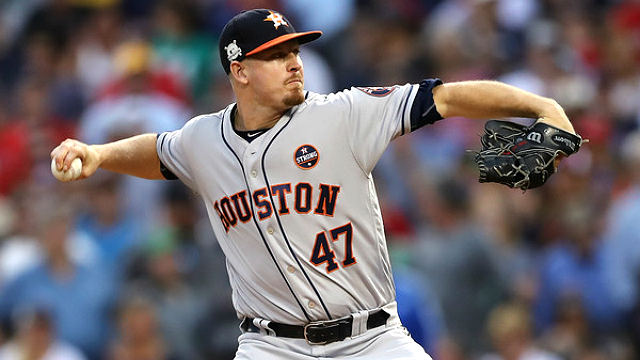 During the 2017 season, the Houston Astros' bullpen developed a strong reputation.
They posted the most fWAR in the first half of the season (4.9). For the whole season, they struck out a shade under 11 batters per nine innings and boasted five relievers who threw at least 40 innings and struck out at least 10 per nine. Ken Giles bounced back to his 2014-15 form and Chris Devenski emerged along with his signature changeup.
But when you look below the surface, the bullpen isn't nearly as intimidating as they seemed early in the year.
In the second half, the Astros produced a 4.49 bullpen ERA with an elevated home run rate and the 20th highest fWAR. Granted, they acquired Tyler Clippard in August, so that could explain some of it, but it was also about their top relievers letting them down.
Giles was just as dominant, perhaps more so, down the stretch, so he should be exempted from this conversation. But batters seemed to adjust to Devenski somewhat as his K/9 fell by more than four Ks and his walks rose. He still held batters to a .198 average (38 points higher than the first half), but his ISO against rose from .134 to .232. Yikes.
But their reliable back-end of the bullpen from 2015 is no longer quite so usable. Luke Gregerson still strikes out a batter an inning, but he allowed 13 home runs, more than all but one MLB reliever this season. Devenski gave up 11 yet threw nearly 20 more innings than Gregerson. His walk rate is nearly a career-worst and was only used in the eighth inning of blowouts during the ALDS.
Will Harris has similarly been relegated to a lesser role despite having a solid season. He still sports a K-BB rate of over 25 percent and a 2.98 ERA. Yet A.J. Hinch refused to use him in big situations against the Red Sox in the ALDS. He got the eighth inning of Game 1 with a six-run lead and couldn't even finish the inning after giving up back-to-back singles. He could have been part of the bridge to Giles in Game 4, but Hinch eschewed Harris for Justin Verlander.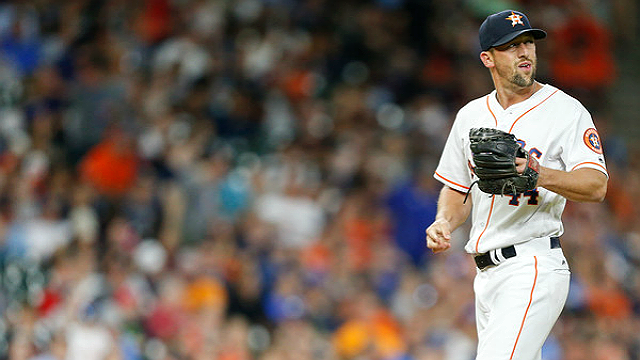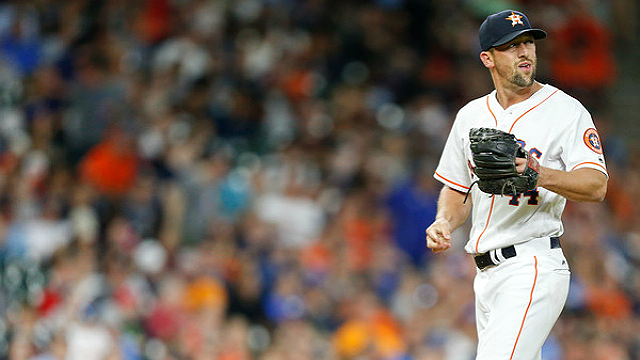 Beyond those four, the Astros used just two other relievers beyond the Brad Peacock-Lance McCullers Jr. piggyback start in Game 3 and that was Joe Musgrove and Francisco Liriano. Liriano is just a matchup lefty for them and Musgrove is mostly a long man.
Hinch will simply have to go to Harris or others in key situations against the Yankees or keep his starters in, perhaps past their breaking points. He can't use Verlander or Keuchel in relief until a winner-take-all situation in a seven-game series. Perhaps the Astros can out-hit the Yankees to the point where there aren't too many high leverage innings for their middle relievers. However, I'd bet that we'll see Hinch have to go to a reliever he doesn't quite trust with a game on the line.
And that's before you dissect the ALDS performance of the two relievers he does trust. Devenski and Giles combined for 5 1/3 innings and allowed five runs on seven hits. They struck out five and walked none. The latter part is encouraging yet they didn't shut the door.
Terry Francona relied upon more relievers than Hinch and he was still stretched thin at times by the Yankees' offense. As evidenced by Todd Frazier and Brett Gardner in the ninth on Wednesday, the Bombers will take every pitch and wait out mistakes. They were able to get the Indians' starters out after an average of 12 outs. The Astros won't have the luxury of going to a deep bullpen for long innings and will need their rotation to go long, thus emphasizing the importance of the Yankees' long at-bats against the starters.
A key to look for: Devenski's reverse split. Thanks to his changeup, he holds lefties to a .110/.178/.236 line compared to righties batting .238/.314/.448 against him. If he comes in against a lefty/switch-hitter heavy part of the lineup, he's more likely to excel. If he's asked to face one or two of Gary Sanchez, Aaron Judge and co., he could be in for trouble.
If the Yankees can't hit Keuchel, Verlander and the other Astros starters, the potentially soft underbelly of the Houston bullpen won't matter. But if this series goes anything like the Indians series, this series might come down to a few at-bats from relievers who haven't seen high leverage outings recently … and for good reason.