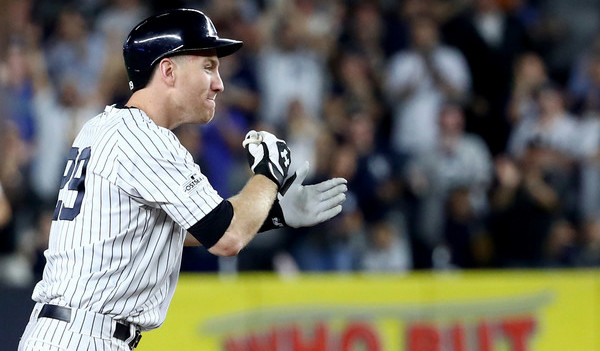 Later tonight, the Yankees will again play another elimination game as they meet the Indians in Game Five of the ALDS. The Yankees were down 0-2 in this series once upon a time. They won Games Three and Four at home to force tonight's winner-take-all Game Five. I'm sure the Indians are feeling some pressure right now. The Yankees? No one expected them to win anyway. This is all gravy.
The Yankees are one win away from the ALCS for many reasons, including their starting pitching performances in Games Three and Four. Greg Bird has been especially productive so far this postseason, ditto Aroldis Chapman out of the bullpen. You don't get to where the Yankees are right now by leaning or one or two guys. It takes a team effort to get here and the many folks have contributed to the team's success.
Through five postseason games so far, one thing is pretty clear: the Yankees don't get to Game Five of the ALDS without making that big trade with the White Sox in July. The trade that sent Tyler Clippard and three prospects, most notably 2016 first rounder Blake Rutherford, to Chicago's south side for Todd Frazier, David Robertson, and Tommy Kahnle. That was a pretty fun night. The news of the trade broke, and we all waited for the games to end so it could be made official. Remember that?
Immediately after the trade, Robertson rejoined the bullpen Circle of Trust™ and Frazier stepped in as the everyday third baseman, pushing Chase Headley to first. Kahnle never really had a set role during the regular season aside from the guy who pitches when the top relievers aren't available for whatever reason. All three guys helped the Yankees get to the playoffs, and they've all contributed in the postseason, especially Robertson and Kahnle.
Frazier: Had three hits in ALDS Game Two and also opened the scoring with a double against Trevor Bauer in Game Four on Monday.
Kahnle: Five innings of no effs given relief. 15 up, 15 down. That includes 2.1 innings in the Wild Card Game and a two-inning save in ALDS Game Four.
Robertson: He's allowed one run in 5.1 innings so far. Most notably, Robertson threw 3.1 innings of hero ball in the Wild Card Game last week.
When the Yankees acquired Robertson and Kahnle, they brought them in to supplement what was already a strong bullpen … on paper. Chapman struggled basically all year prior to September, and Dellin Betances hasn't been able to stop walking people. Robertson and Kahnle went from luxury pieces — as if there is such a thing as too many good relievers — too essentials, Robertson in particular.
Frazier is, quite clearly, a flawed hitter. He hits for a low average and pops up a lot — those two things are very related — but he also draws walks and can hit for power, and he improved the third base defense as well. And, on top of that, Frazier has been a Grade-A clubhouse dude. He seems to genuinely love playing in New York and everyone with the team seems to love having him around. Frazier joined the Yankees and fit right in.
To me, the key to the White Sox trade was the fact the Yankees gave up basically nothing off their big league roster. Moving Clippard in the trade was essentially addition by subtraction because he was so bad. These were three immediate upgrades to the roster. Robertson replaced Clippard. Kahnle replaced Chasen Shreve, who was sent to Triple-A. Frazier replaced Ji-Man Choi, who was designated for assignment and eventually sent to Triple-A.
For all intents and purposes, the Yankees turned three revolving door roster spots into quality MLB players with this one trade. They also told the guys who were already here that hey, we believe in you, you're good enough to win, and we're going to get you the help we need. First base was a problem, so they got Frazier and moved Headley to first. The bullpen was a problem, so they got two high-strikeout arms. All without moving a player who was helping them win games.
Sure, Rutherford could rebound from his down season and become a future All-Star and No. 3 hitter. Ian Clarkin could develop into a mid-rotation starter and Tito Polo could stick in the league for a decade as a fourth outfielder. There's always the risk that you're trading away a quality player(s) and end up regretting up. Every trade is a calculated risk. The Yankees were willing risk Rutherford's long-term potential for the immediate impact of Frazier, Kahnle, and Robertson, and there's zero chance they regret it right now.
Keep in mind the big trade with the White Sox was not a pure rental deal. Frazier will be a free agent after the season, but Robertson is under contract next year and Kahnle is under team control as an arbitration-eligible player through 2020. That was part of the appeal. The trade helps now and later. And right now, the three players acquired in the trade are having an impact in the postseason, especially Robertson and Kahnle. This deal is a major reason why the Yankees are one win away from the ALCS.