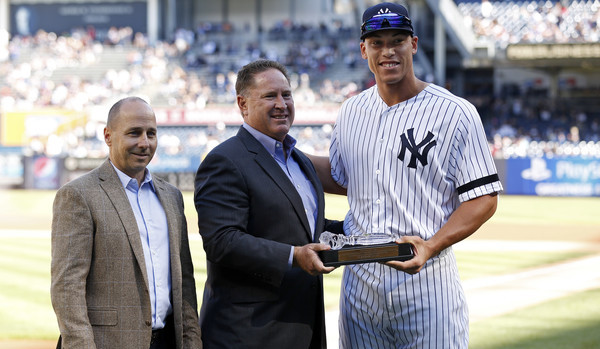 I think the most impressive thing about Aaron Judge's rookie season is the way he rebounded from a deep slump not once, but twice. Sure, the massive dingers were cool — no one loves dingers like I do — but the league tested Judge and he passed with flying colors. He adjusted following his MLB debut last year and he adjusted again following his midseason slump. It was quite impressive for a rookie.
Judge finished the 2017 regular season with a .284/.422/.627 (172 wRC+) batting line and a rookie record 52 home runs, and in September he authored a .311/.463/.889 (223 wRC+) batting line with 15 homers. He was a force as the Yankees pushed for a postseason spot and hung around the AL East race far longer than anyone expected. Judge will win Rookie of the Year. It should be unanimous. Will he win MVP? Eh, maybe. The fact he is in the conversation is pretty cool.
Tomorrow night the season will be on the line in the Wild Card Game, and of course the Yankees are hoping Judge helps them to a victory. He's the centerpiece of their offense and he's almost certainly going to bat second, nice and high up in the order. Here's the thing though: the Twins won't let Judge beat them. I assume that's their plan going into the Wild Card Game. Don't give Judge anything to hit.
When the Twins visited Yankee Stadium two weeks ago, they did pitch to Judge, and he burned them over and over and over again. Judge went 4-for-11 (.364) with two homers, two sac flies, one walk, and two strikeouts in the three-game sweep. The Twins pitched to him in every single situation:
Bases empty: 3-for-3 with two singles and a homer
Men on with first base occupied: 0-for-2 with a sac fly
Men on with first base open: 1-6 with a homer, a walk, and a sac fly
Perhaps the Twins will take their chances and hope Judge saves all his hits for when the bases are empty tomorrow night. Something tells me that will not be the case. In a close game, they're probably going to take the bat right out of his hands because he can change the game with one swing. That's what I would want the Twins to do if I were a Twins fans, anyway. This isn't a normal hitter here. Judge might get the Barry Bonds treatment.
What does this mean? This means it'll be up to the other guys in the lineup to lead the charge offensively, because Judge might not even get a chance to have an impact. Gary Sanchez and Didi Gregorius, the guys hitting behind Judge, will have to make the Twins pay for pitching around him. The No. 9 hitter and Brett Gardner will have to get on base to force the Twins to pitch to Judge. Clog those bases and make pitching around Judge a non-option.
Fortunately the Yankees have a deep lineup, one in which Todd Frazier and Jacoby Ellsbury figure to hit in the bottom third tomorrow night. Frazier hits for a low average, sure, but he can get on base and hit for power. Ellsbury makes an awful lot of contact and can create havoc with his legs. From 2013-15, guys like that were hitting much higher in the lineup for the Yankees. Now they're hitting eighth and ninth. The lineup depth is there to supplement Judge.
With any luck, the Yankees will back the Twins into a corner and force them to pitch to Judge several times. Runners on first and second with no outs, or men on the corners with one out, that sort of thing. Otherwise I just can't see him getting much to hit — other than mistakes, of course — and Judge is more than disciplined enough to take those walks. Getting on base is good! But it would also be nice to see Judge get some chances to swing the bat.
Can the Yankees win without Judge contributing offensively? Of course. They did it a bunch of times this season. It sure does make life easier when he contributes though, and the Twins are very aware of this. Maybe Minnesota will trust their game plan and go after Judge all night, like they did two weeks ago. That'd be cool. I'd welcome that. I trust Judge to do damage. If they don't pitch to him, it'll be up to everyone else to carry the load offensively, and the Yankees have the firepower to do exactly that.