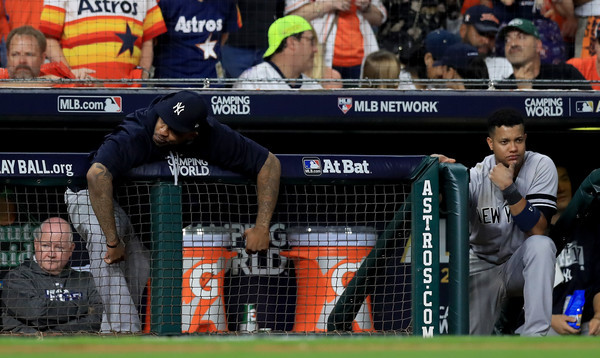 Later tonight the Astros will attempt to clinch the first World Series championship in franchise history while the Dodgers look to force a Game Seven. As a baseball fan, I'm rooting for Game Seven. This has been a very fun series and I'm not ready for baseball to go away yet. Either way, Game Seven or no Game Seven, the cold embrace of the offseason is right around the corner, and I have some thoughts.
1. Both Jon Heyman and Joel Sherman have reported the Yankees are likely to replace Joe Girardi with someone from outside the organization, which leads me to believe Brian Cashman & Co. want to start fresh with a new voice and not stick with the status quo (so to speak) by promoting from within. That could mean the entire coaching staff gets overhauled. The Yankees have already given the coaches permission to interview elsewhere, though that doesn't mean anything in and of itself. That's a professional courtesy every team grants their coaches when they change managers. When the Yankees decided to move on from Joe Torre, it was an open secret they wanted Girardi to take over. This time around it feels like things are more wide open, that Cashman isn't going into the managerial search with a replacement in mind. It's a pretty bold decision. Given how much success the Yankees had this season, especially the young players, rocking the boat with a new manager and coaching staff is surely not a decision Cashman took lightly. The managerial search might be a little longer than usual just to ensure thoroughness.
2. We will know no later than Saturday whether Masahiro Tanaka is opting out of his contract. If the Astros win tonight, we'll know Friday. If the Dodgers win tonight, we'll know Saturday regardless of what happens in Game Seven. I think he's opting out. So do most RAB readers. I would be surprised if the Yankees and Tanaka work out an extension beforehand. I think it's more likely the Yankees call his bluff and let him opt-out rather than let him leverage the opt-out into an extension. As far as I'm concerned, the best possible thing is Tanaka not opting out, and sticking to original terms of his contract. Getting his age 29-31 seasons at $67M sounds pretty great to me. I know Tanaka had a rough season overall, especially the first half, though I still believe he has several great seasons to offer. Tanaka reminded everyone just how good he can be in the postseason. So I guess my preferred outcome rankings are 1) Tanaka doesn't opt-out, 2) the Yankees and Tanaka agree to an extension, and 3) Tanaka opts out.
3. For the first time, I feel like there's an honest to goodness chance the Yankees move Jacoby Ellsbury this offseason. It's going to hurt, don't get me wrong. They're going to have to eat a lot of money — Ellsbury has three years and $68M guaranteed left on his deal — to make it happen, but that's the price you pay when you make an ill-advised free agent signing. I think Ellsbury moves because a) the Yankees have three better outfielders on the MLB roster (Brett Gardner, Aaron Hicks, Aaron Judge) plus Clint Frazier knocking the door, and b) he was flat out benched in the postseason. The Yankees played 13 postseason games and Ellsbury appeared in only six. He started only four times. Ellsbury has been pushed aside. The Yankees will have to navigate his no-trade clause to get rid of him, but the writing is on the wall, and I think Ellsbury knows he's the odd man out. That could push him to accept a trade. Where? I'm not sure. Seattle is always mentioned as a possibility because Ellsbury grew up in Oregon, but his hometown is 300 miles from Seattle. That's like saying the Yankees should sign a free agent because he'll be close to his home in Richmond. Anyway, I wouldn't say Ellsbury will definitely be moved this winter. But I do think the Yankees are more open to eating (significant) salary to make it happen than they have been at any point previously.
4. In hindsight, the Adam Warren injury really hurt the Yankees in the postseason. He missed the final few weeks of the regular season with a back problem, and while he was able to make one appearance before the playoffs, it wasn't enough to know where he stood in terms of effectiveness. Warren was great this year. He had a 2.35 ERA (3.02 FIP) in 57.1 innings and he was, at best, the fourth best reliever in the bullpen. But going into the postseason, it was Aroldis Chapman and David Robertson in the late innings, and Chad Green in the middle. Tommy Kahnle then emerged as another setup option. Dellin Betances couldn't be trusted given his ongoing walk problems. Given how little length the Yankees got from their starters in the postseason — they played 13 postseason games and only seven times did the starter complete five innings — having that one extra multi-inning reliever could've come in handy. That's normally Warren's role. But it wasn't clear he was 100% healthy and effective, and given the magnitude of each game in the postseason, Girardi relied on his top three guys and Kahnle heavily. Maybe it wouldn't have mattered. The Yankees lost Games Six and Seven of the ALCS because they didn't hit. But having that one extra reliable reliever couldn't made a difference along the way.
5. Boy, MLB is really squeezing every dime out of this postseason, huh? FOX is showing quick seven-second commercials between at-bats and during mound visits now. Both FOX and TBS green-screened advertisements on the batter's eye during the previous postseason rounds: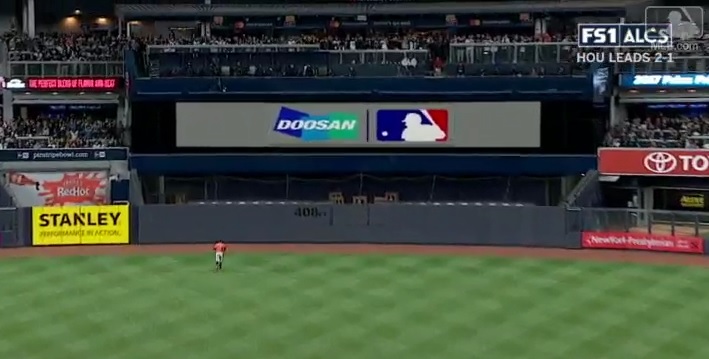 Commercial breaks between innings are longer too. I timed one at three minutes a week or two ago, after talking to a few people who felt the breaks were longer this postseason. Commercial breaks are two minutes and 25 seconds during the regular season, and two minutes and 45 seconds for national broadcasts. Now they're three minutes for the postseason. Geez. I mean, MLB has every right to make money. The ads are just so in your face now, whether it's plastered on the batter's eye or taking over the screen during the mound visit or making you wait longer between innings. It won't be long before advertisements are on uniforms. Get ready for them. They're coming. It seems MLB has managed to monetize every other inch of real estate and airtime available.