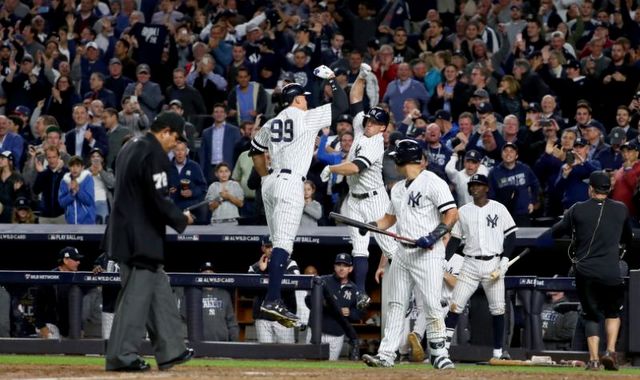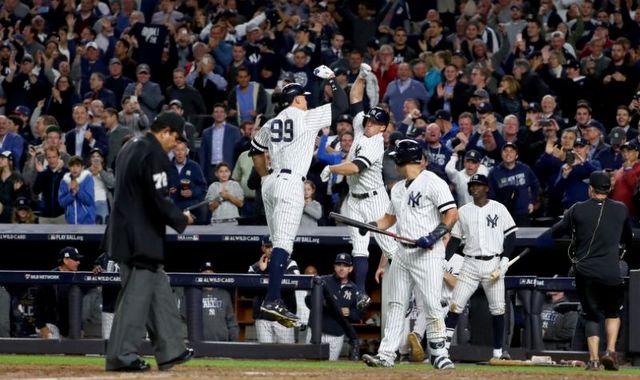 Hey, did I call a comeback win yesterday or what? I even called the Yankees coming back from an early Eddie Rosario two-run home run. Yeah the inning was wrong and the final score was wrong and all that, but I was close! Anyway, the Yankees won last night's thrilling Wild Card Game and will now take on the Indians in the ALDS. That series starts Thursday. I have some thoughts on last night and things going forward.
1. Man, what a stinker by Luis Severino. I still love the kid, but damn. That was bad, Sevy. Bad bad bad. He was pretty clearly amped up. The sky high velocity and big time missed location tell us he was overthrowing. That kinda stuff can happen when you throw a 23-year-old kid into a pressure packed situation. That's baseball. I didn't like the boos though. I mean, I get it, but the Yankees aren't in the postseason without Severino. No doubt about that. Hopefully Severino got those postseason jitters out of the way last night, learns from the whole experience, and is better for it moving forward. He learned from his struggles last season, remember. This isn't a guy who struggles and lets it snowball. Severino has had a tough time and rebounded before. Now the Yankees need him to do it again.
2. Speaking of Severino, when does he pitch in the ALDS? He threw only 29 pitches last night. I don't think the Yankees would bring him back for Game One tomorrow. That's a little too quick of a turnaround. Could he start Game Two though? That'd be pretty huge, because then he could start Game Two and a potential Game Five on normal rest. Had he thrown a full start last night, Severino would've been out of action until Game Three of the ALDS, meaning he could only make one start in the series. Now there's at least a chance he makes two. Maybe, instead of starting him in Game Two, the Yankees use Severino in relief in Game One? Joe Girardi said last night Chad Green and David Robertson probably won't be available Thursday following their extended outings in the Wild Card Game. Severino could instead throw an inning or two out of the bullpen tomorrow, then start Game Three as scheduled. I dunno, they'd be jerking the kid around quite a bit. We'll see. Starting Severino in Game Two seems like a possibility now though.
3. How locked in is Aaron Judge? He singled in the first inning last night, hit a two-run home run in the fourth, just missed another home run — he pulled it foul — before drawing a walk in the seventh, and crushed a loud fly ball to center field in the eighth. Judge was on everything. Even his two outs, a ground out in the second and the fly out in the eighth, were hard-hit. He finished the regular season strong — Judge hit .311/.463/.889 (233 wRC+) with 15 freaking home runs in September — and it sure looks like it carried over into the postseason. It is really, really impressive how he bounced back from that ugly six or seven week slump after the All-Star break. Judge doesn't get enough credit for being such a smart natural hitter. That was always the book on him in the minors. He had good pure hitting ability but no one knew whether his body would allow that ability to shine. Well, it is shining, and holy crap is it fun. This guy is a superstar in every way. We saw it again last night.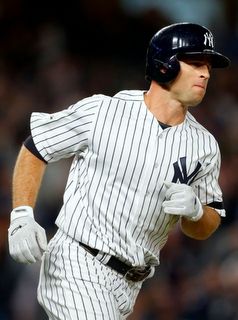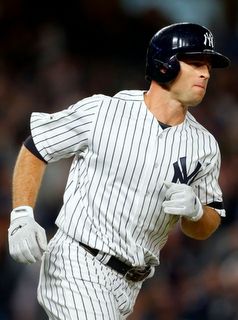 4. Can we talk about Brett Gardner for a bit? What a ballplayer that guy is. The three-run first inning rally started with a Gardner walk, then he hit a solo homer in the second, then he singled in front of Judge's two-run home run in the fourth. Plus he made that great running catch on Joe Mauer's deep fly ball to end the sixth inning. Gardner went 2-for-4 with a walk, a homer, and three runs scored last night, and he saw 25 total pitches. And he made that catch. He hit .264/.350/.428 (109 wRC+) and went 20-20 while again playing great defense during the regular season, meaning he was yet again a +3 WAR player. The bullpen and the Didi Gregorius and Judge home runs are going to get all the attention and deservedly so. But Gardner had a huge impact on last night's game, on both sides of the ball. Do not overlook his importance to the team. He's a heart and soul player for the Yankees.
5. If there was any question as to whether Joe Girardi trusts Dellin Betances right now, it was answered emphatically last night. The Yankees rolled through Green and Robertson and Tommy Kahnle, and Betances never even warmed up in a winner-take-all game. That never would've happened from 2014-16. Heck, Chasen Shreve even warmed up last night. In the eighth inning! Dellin is that far out of the Circle of Trust™ right now. And he deserves to be. Betances finished the regular season with a 16.9% walk rate and 55 walks plus hit batsmen in 59.2 innings. Unacceptable. I hate using that word, but 55 free baserunners in 59.2 innings from a high-leverage reliever is unacceptable. If at all possible, Girardi should avoid Dellin in high-leverage situations. I have no trouble with how he handled things last night. The thing is, the Yankees are going to need Betances at some point this postseason, maybe tomorrow with Green and Robertson presumably unavailable. They can't avoid him forever, and they can't let him sit too long between appearances either. My guess is Betances will throw a bullpen session or simulated game during today's workout to stay sharp, but nothing heavy enough that it'll take him out of action tomorrow.
6. I'm curious to see what happens with the DH spot going forward. The Indians do not have any lefties in the rotation, so I have to think Matt Holliday will remain glued to the bench. He can't face righties, especially righties with good velocity, and the Indians have plenty of those guys. Righties chewed him up in the second half. I don't think Girardi wants to leave Chase Headley sitting around too long. The Indians have some very good individual baserunners (Francisco Lindor, Jose Ramirez), but overall, they are not an aggressive baserunning team and they don't take the extra base a whole lot. Perhaps it's not imperative to have Aaron Hicks and his arm in center field. So then Headley at DH and Jacoby Ellsbury in center field? I dunno. I'd rather keep Hicks in center and in the lineup, and let Headley and Ellsbury split time at DH. That'd be my ideal situation.
7. Last but not least, I don't want to hear anything about the new Yankee Stadium lacking energy after last night. That place was rockin'. The stands were shaking and the crowd was electric. The old Yankee Stadium has been romanticized into something it never was. It was never packed with a postseason atmosphere with regularity during the regular season. That game last night was as loud as any postseason game I've ever attended at the old ballpark. Turns out you just need a good and fun team to liven the place up.