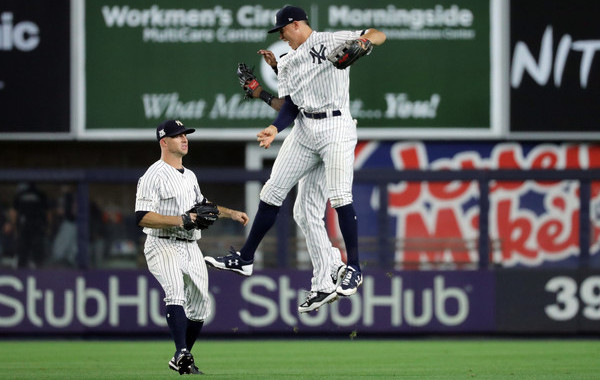 The Yankees aren't done just yet. Last night the Yankees earned a thrilling 1-0 win over the Indians to force Game Four of the ALDS later tonight. Game Three is one of those games I will remember for a very long time. I have some thoughts on Game Three and also some thoughts looking ahead to Game Four, so let's get to 'em.
1. Really can't say enough about Masahiro Tanaka's performance last night. I know he's had his troubles at times this season, especially early in the season, but that was as clutch as it gets. Seven shutout innings against the best team in the league in an elimination game? Good gravy. Pretty much the only path to victory last night involved a dominant start from Tanaka. Had he been just okay, the Yankees would've been packing up for the winter right now. And that was the case going into the game too, I'm not just saying that because of the outcome. The Yankees needed Tanaka to go out and shut the Indians down so the offense could go to the work and the bullpen could get a breather. Tanaka did exactly that. What a performance. I really hope that wasn't his final start in pinstripes. If it is, boy did Tanaka go out with a bang.
2. Speaking of the bullpen, tonight will surely be another all hands on deck game, but realistically, how much can David Robertson and Aroldis Chapman give the Yankees tonight? Robertson has thrown a ton lately and he looked completely gassed after nine pitches last night. Can he even give them an inning tonight? What about one batter in a strikeout spot? Chapman threw two innings and 27 pitches Friday and then 1.2 innings and 34 pitches Sunday. You know he's feeling it. For what it's worth, Chapman said he'll be ready to pitch tonight, but you can't trust relievers. They always say they're available. Larry Rothschild told Brendan Kuty that if the Yankees do use Chapman tonight, it'll be "fairly brief." So again, does that mean one inning? One batter? Who knows. Tommy Kahnle and Adam Warren should be fine for tonight, and Dellin Betances has now had two days to rest after his extended outing Friday, so I imagine he'll be available in some capacity. I get the sense that Joe Girardi will lean on Kahnle and Betances tonight — Chad Green is another dude who's worked a ton the last week and looked worn down last time out — and, if necessary, Chapman will get the ninth and only the ninth.
3. I know he got hammered in the Wild Card Game last week, but I am expecting big things from Luis Severino tonight. I think he's mad at himself for that performance against the Twins and I think he's been champing at the bit the last few days to get back out there. Severino was amped up in that Wild Card Game and I think he knows that and understands it, and will be better off for that experience going forward. Given the state of the bullpen, the Yankees will need Severino to do basically what Tanaka did last night, and based on what we saw pretty much all season, Severino is absolutely capable of providing that type of performance. I'm excited. The Yankees are still alive in the series and now they have one of the three best pitchers in the American League ready to go in Game Four tonight. What more could you want?
4. The Indians announced last night that Trevor Bauer, not Josh Tomlin, will start Game Four tonight. Bauer will be on short rest following his Game One start. I think that is advantage Yankees. That isn't to say Bauer will stink and the Yankees will knock him all around the park, though I would welcome that outcome. I think it's advantage Yankees because they've seen him once already and because going on short rest inevitably means his stuff will be a little short. There's more fatigue and that usually manifests itself somehow. It could be missing velocity or poor location. In most cases, a pitcher on short rest also tends to start to lose it a little earlier than usual. Instead of getting 100 good pitches from a guy you might only get 75 before the tank hits empty on short rest. Bauer dominated the Yankees with his curveball last time out and it worked so well I have to think he's going to try it again. Make the Yankees show they can hit it before making an adjustment, you know? Hopefully the Yankees are ready for it, and hopefully the pitch isn't as crisp as it was in Game One.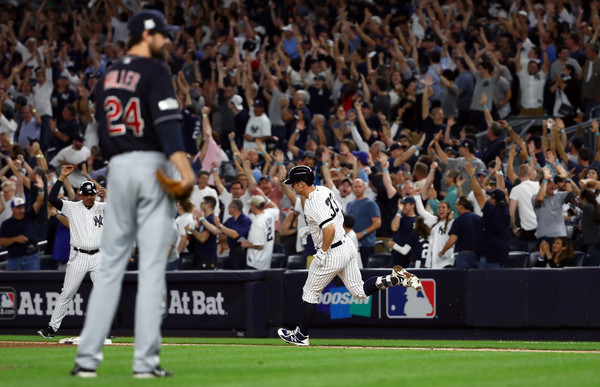 5. All things considered, the Yankees have done a nice job against Andrew Miller this series. He's appeared in every game so far. His line: 3 IP, 2 H, 1 R, 1 ER, 2 BB, 3 K on 57 pitches. That works out to 4.38 pitches per batter. The one run is obviously Greg Bird's home run last night. Overall though, the Yankees have been able to work deep counts against Miller, which has prevented Terry Francona from using him for multiple innings. Last postseason Miller was going two innings on the regular. The Yankees have worked him hard enough that Francona hasn't allowed Miller to pitch that long. Perhaps that'll change tonight if the Indians have a lead with a chance to clinch. Through three games though, I'm very pleased with how the Yankees have handled Miller. He's so damn good and can be so overwhelmingly dominant, but the Yankees are making him work for outs.
6. Brett Gardner, Aaron Judge, and Didi Gregorius in the ALDS: 2-for-33 (.061). Gardner had a Jason Kipnis aided bloop double last night and Gregorius had a solid single. Judge has drawn four walks in the series, so combined, that's a .244 OBP for those three. Ouch. They're the leadoff, two-hole, and cleanup hitters. Basically the three most important lineup spots. The good news? Those guys are still having an impact on defense, so it's not like they've been zeroes all series. But the Yankees need a lot more from them at the plate though. The fact of the matter is the Yankees have scored three runs total in 27.1 offensive innings against Not Corey Kluber this series, and all three runs scored on Bird home runs. For the Yankees to force Game Five, they're going to need Gardner, Judge, and Gregorius to contribute something at the plate. It's a short series and sometimes guys don't hit in a short series. That's baseball. But those three are too important to the offense for the Yankees to continue getting so little and expecting to win.
7. I have no idea what the Yankees should do at DH at this point. Jacoby Ellsbury and Chase Headley are a combined 0-for-10 with two walks in the ALDS, and if you include the Wild Card Game, the DH spot is 0-for-14 this postseason. In those 14 at-bats, they've hit three balls out of the infield. Is it time to just stick Matt Holliday in the lineup and hope for the best? Holliday has not been good at all since mid-June — he hit .170/.236/.313 (42 wRC+) in his final 195 plate appearances of the regular season — so I'm not sure why we would expect Holliday to be an upgrade at DH other than the dubious "he can't be worse" logic. It is entirely possible New York's best DH options at this very moment are Tyler Austin, Clint Frazier, and Miguel Andujar, and none of them are on the roster. I think I'd go with Holliday at DH in Game Four because he will work the count — Headley is still doing that, to be fair — and there's at least a chance he'll run into a fastball and pop a homer. Even when Ellsbury and Headley are at their best, homers are few and far between.
8. I expected Girardi to get booed last night because that's how these things go, but I still think it's really unfortunate. Joe screwed up by not challenging the hit-by-pitch. He screwed up bad. Everyone knows it. And when you screw up that bad, the fans are going to let you hear about it. I just think that given his overall body of work with the Yankees, including his time as a player, hearing boos like that — Girardi was booed louder than any Indians player during pregame intros — in his possible final game as a manager was a bit of a bummer. Joe makes mistakes like everyone else, he just makes higher profile mistakes, but I've never doubted for one second that he cares deeply about the Yankees and wants to win, or thought he isn't doing what he feels is best for the team. Hopefully the Yankees complete this comeback and we can all move on from the non-challenge, and Joe can get a great big cheer during pregame intros in the ALCS.