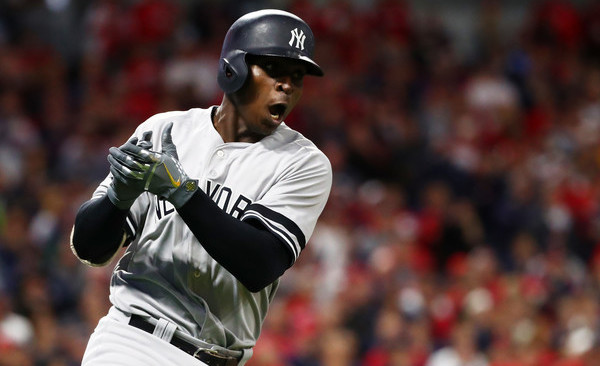 It feels like the ALDS just ended (well, it kinda did) and already the ALCS is about to begin. Such is life when you go the full five games in a best-of-five series. The Yankees and Astros open their ALCS matchup tonight (8pm ET on FOX Sports 1) in Houston. Can you believe this team is in the ALCS? What a fun year. Anyway, let's get to today's thoughts.
1. When the Yankees announced their ALCS rotation yesterday, it was exactly how I expected. Pushing Masahiro Tanaka all the way back to Game Three just because of his home/road splits would be overthinking it. Tanaka is a very good pitcher who can pitch well anywhere. We've seen him do it. So he had more success at home this year. Big deal. I don't think there's anything that fundamentally makes Tanaka pitch better at home. It's just one of those things. Luis Severino follows naturally in Game Two, and with the Game Three starter also set to start Game Seven, I figured CC Sabathia would get the ball. Sonny Gray's control has been an issue the last few starts and it makes sense to push him back. (Gray threw a three-inning simulated game yesterday to stay sharp.) It doesn't mean the Yankees have soured on Gray or that they regret the trade or anything like that. It means they made a rational decision. Gray has been walking too many hitters lately and is the current weak link in the rotation. That's all. Sonny Gray is good! When he's your fourth starter in the postseason, you're doing pretty damn good. Right now though, the Yankees' best path to victory involves getting the other guys on the mound as soon and as often as possible.
2. I have to think the bullpen will be a little short tonight. Both Aroldis Chapman and David Robertson threw multiple innings in Game Five, and Chapman did it two days after throwing multiple innings in Game Three. I can't imagine either guy will be available for multiple innings again tonight. Maybe the Yankees can squeeze one inning out of Chapman and Robertson each tonight if they have a lead? And if they do that, what's their status for Game Two? You can't really worry about that though, I guess. You have to worry about the game you're playing, and if you have a chance to win, you have to go for it. I suppose the good news is the backup relievers are Chad Green, Tommy Kahnle, Dellin Betances, and Adam Warren. It's not like the Yankees would be turning the game over to Jose Veras and Edwar Ramirez. Green hasn't pitched in a week now, since giving up the grand slam to Francisco Lindor in Game Two, so he should be well-rested. Joe Girardi did what he had to do to win Game Five. No complaints about the bullpen usage here. That usage has consequences though, and that could mean a limited or even unavailable Robertson and Chapman tonight.
3. The Yankees and Astros finished first and second in home runs this season. They're the two most prolific power-hitting teams in baseball, and when you look at their lineups and ballparks, it's easy to understand why. The key difference between the two offenses is their strikeout rate. The Yankees collectively struck out in 21.8% of their plate appearances this season, which is basically identical to the 21.6% league average. The Astros on the other hand, had the lowest strikeout rate in baseball this season at 17.3%. Hot damn. Combining the second most home runs with the lowest strikeout rate is a great recipe for offense. Now, before you freak out, keep in mind the Indians had the second lowest strikeout rate at 18.5%, and the Yankees did a fine job keeping their offense in check. Cleveland only ranked 15th in homers, however. The Astros make contact better than anyone and they hit the ball out of the park better than anyone other than the Yankees. The pitching staff is going to have their hands full. Strikeout pitchers against contact hitters with power.
4. A very big #thingtowatch this series: the Yankees on the bases. The Astros were, by frickin' far, the worst team at throwing out baserunners this season. They threw out 12% of basestealers this season. Can you imagine? Austin Romine is a terrible thrower and he had a 10% caught stealing rate this year. That's basically the Astros. They throw like Romine. Generally speaking, I am not a big stolen base guy. Given the current makeup of the Yankees, I think stolen bases are worthwhile in the late innings of a close game only, when one run means so much. Otherwise, just let this power-laden lineup in a home run friendly home ballpark take their swings with men on base. In the ALCS though, Brian McCann (13% caught stealing) and Evan Gattis (10% caught stealing) are such awful throwers that it makes sense to push the envelope. That doesn't mean Gary Sanchez and Matt Holliday should try to steal, of course. But give Brett Gardner, Jacoby Ellsbury, Aaron Hicks, and basically anyone who can steal a base the perpetual green light. Throwing out basestealers is a glaring weakness for the Astros and the Yankees should attack it relentlessly. Don't stop running until the Astros show they can throw you out consistently.
5. So I guess this means it's prediction time, eh? I've done well so far. I had the Yankees coming back from an early Eddie Rosario two-run home run to win the Wild Card Game, and coming back to win the ALDS in five after falling behind 1-2, which they technically did. My official ALCS prediction: Yankees in six. I have the Yankees dropping Game One, winning Games Two, Three, and Four, losing Game Five to create mass panic, then winning Game Six. Severino wins ALCS MVP after two brilliant starts. The big hero on offense? Eh, I'll say Starlin Castro, who drives in the go-ahead runs in Games Two and Six. Also, Sonny shoves in Game Four. I thought the Indians were the best team in the American League pretty much all season and the Yankees could've won that series 4-1. That doesn't mean the Astros are a pushover, of course. That team can score runs in a hurry.