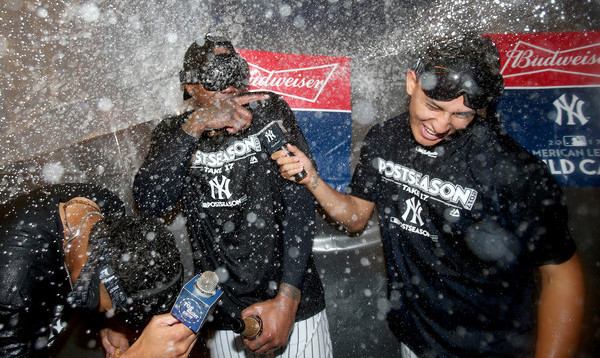 For the first time since 2012, the Yankees are playing a full postseason series. They beat the Twins in the Wild Card Game two days ago and now get to face the defending AL champion Indians in the best-of-five ALDS. Game One is tonight at 7:30pm ET. Sonny Gray and Trevor Bauer are the scheduled starters. I have some thoughts going into the series, so let's get to 'em.
1. The Yankees will be at a disadvantage tonight because neither Chad Green nor David Robertson will be available, which is a consequence of Luis Severino getting one out in the Wild Card Game. Joe Girardi did what he had to do to win that game and advance. No complaints here. Girardi did shoot down the idea of using Severino in relief in Game One and I tend to believe him, though I wonder if it's truly off the table. It might be one of those never say never situations. (I guess that could also apply to Green and Robertson?) Either way, the rotation order isn't terribly surprising to me. I had a feeling they would push Masahiro Tanaka back to Game Three (or Game Four) given his home/road splits. CC Sabathia figures to be pretty pumped up in Game Two now that he gets to go toe-to-toe with Corey Kluber in his old stomping grounds. I feel pretty good about the rotation. Just about everyone pitched well in the second half. Hopefully it carries over into the postseason.
2. I get the feeling Matt Holliday is going to be involved in a huge moment at some point this series. The Indians have all right-handers in the rotation, so Holliday shouldn't start a single game, meaning he'll be relegated to pinch-hitting duty. I can absolutely see Girardi using Holliday to pinch-hit for, say, Jacoby Ellsbury against Andrew Miller in a big spot. Maybe multiple times this series. Holliday could be their Miller specialist. When a lefty is up against Miller in a big spot, Holliday goes to the plate instead. I dunno. I'm not terribly confident in Holliday producing at this point — to be fair, I don't feel all that confident in anyone producing against Miller — but I'm not sure how else the Yankees could use him otherwise. I'd be surprised if they leave him off the roster entirely, though it might be the right move. Anyway, like I said, something tells me we're going to see Holliday at the plate in a big moment at some point during the ALDS. I feel it in my bones.
3. There are an awful lot of former Yankees on the Indians. More than I realized. Players change teams so often these days that you're always bound to run into some ex-Yankees each series, but this is more than usual. Miller is the obvious headliner here, though other former Yankees currently with Cleveland include Abe Almonte, Nick Goody, Austin Jackson, Boone Logan, Zach McAllister, Tyler Olson, and Dan Otero. Geez. Not all of those guys will be on the postseason roster — Logan is out with a lat injury and Joe Noga reports Goody, McAllister, and Otero will not be on the ALDS roster — but still. That's a lot of ex-Yankees! The Yankees had three former Indians play for them this season: Clint Frazier, Erik Kratz, and Sabathia. The Indians had eight and none of them were up and down guys. They were on the roster most of the season. Huh.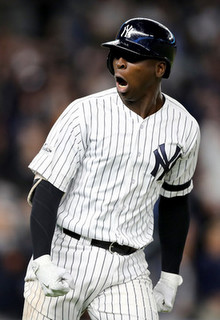 4. Seems like tomorrow's weather is going to throw a wrench into things. There's rain in the forecast pretty much all day in Cleveland, and in the postseason, they tend to call games quickly rather than wait things out and potentially start the game only to have it interrupted. There's an off-day Saturday and they'd just slide Game Two back to that day. If that happens, it means Games Two, Three, and Four will be played three consecutive days, which will obviously impact bullpen usage. Going from a "two games, off-day, two games, off-day, one game" series to a "one game, off-day, three games, off-day, one-game" series means you can't lean on your top relievers quite as much those middle three games. I think that would mean advantage Indians, who are set to carry starters Danny Salazar and Mike Clevinger in their bullpen, two power strikeout arms. That's two guys Terry Francona can bring in and use for three or four innings, if necessary, so there could be a scenario where Salazar gets one of those games, Clevinger gets another, and the rest of the relievers get the third. I dunno. We'll see. A rainout would screw up Cleveland's plan to potentially start Corey Kluber on normal rest in Game Five. It would also screw up Girardi's ability to lean on his top relievers as heavily as possible.
5. Maybe I'm just a raging homer and overrating the Indians, but I can't help but feel like whoever wins this ALDS is going to end up representing the AL in the World Series. The Astros are really good! So are the Red Sox, to a lesser extent. I just feel the Yankees and Indians have the best postseason rosters, meaning the teams with the deepest bullpens and the most diverse offenses. We all think of the Yankees as a home run hitting team because they are — they led baseball with 241 home runs this season, which I did not realize until I looked it up right now — but they don't get enough credit for being a good baserunning team, hitting for average (.262 AVG was third best in the AL), and working the count. Also, the Yankees are pretty darn good defensively too, so they take away runs in the field. The Indians are built the same way, and I think in a short postseason series, these two teams can best leverage their rosters into wins. I'm not sure the Red Sox or Indians can do that to the same degree. Every team in the postseason is good and no series will be easy. To me, the Indians seem like the most imposing matchup. Get by them in the ALDS, and the ALCS could be (slightly) easier.
6. So I guess I need to make a prediction, huh? My Wild Card Game prediction was kinda close, you know. I called a comeback win after an early two-run homer by Eddie Rosario. I'm going to predict a Yankees series win, of course, and I think this one is going the full five games for sure. The Yankees win Game One, the Indians win Game Two and Three, then the Yankees win Game Four and Five. Aaron Judge drives in the game-winning run against Miller in Game Five. Why the hell not? The Indians are ridiculously good though. The Yankees will have their hands full. This season has been insanely fun and I don't want it to end.