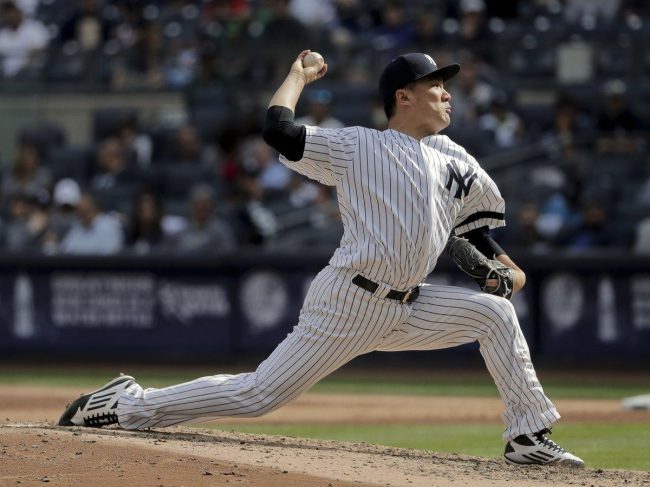 Terrific Tanaka
The Yankees opened their final regular-season series with a 4-0 shutout of the Blue Jays, reaching the 90-win plateau for the first time since 2012 and the 61st time in team history. That's 19(!) more 90-win seasons than any other franchise (Giants have 42).
Masahiro Tanaka was absolutely dominant as he carved up Toronto's lineup, retiring the first 14 batters – including 10 via strike three – en route to one of the most spectacular outings of his pinstriped career. He finished with a career-best 15 strikeouts and no walks in seven scoreless innings. Let's recap this historic gem:
First Yankee ever to strike out at least 15 guys, walk none and allow no runs in a game.
Second pitcher in major-league history with 15-plus strikeouts, no walks and no runs in an outing of seven innings or fewer. Mike Mussina also did it on September 24, 2000 against the Red Sox.
It was his third start this year with 13 or more strikeouts – he's the only pitcher in franchise history to have a trio of games like that in one season.
In all three of those 13-strikeout, zero-walk games he also gave up no more than one run. Tanaka is one of two pitchers in the history of baseball to have three games with at least 13 strikeouts, no walks and one run or fewer allowed in a single season. The other guy you might have heard of, Pedro Martinez, in 2000.
Tanaka's first and last starts of the regular season perfectly encapsulate the bizarre and confounding campaign he's had this year. In his first start, he tossed a clunker (7 runs, 2 2/3 innings vs. Rays), which was one of five games he allowed at least seven earned runs. In his final start, he authored a 15-strikeout, no-walk gem, which was one of three games with at least 13 strikeouts and zero walks.
Putting those two bizarro notes together, we get this head-scratching factoid for Tanaka:
Five starts allowing at least seven earned runs are the most in the American League this year.
Three 13-strikeout, no-walk games are the most in MLB this year. In fact, the rest of the pitchers in the majors combined for four such starts!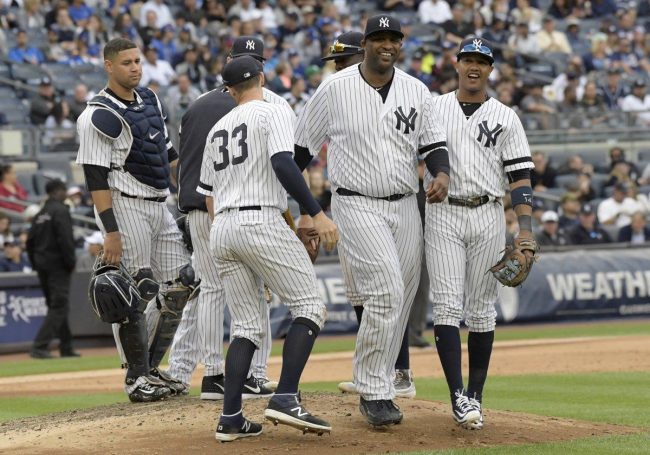 Vintage Sabathia, Record-breaking Judge
The Yankees extended their win streak on Saturday with a narrow 2-1 victory, but their chase for the division crown ended as the Red Sox beat the Astros to secure first place in the AL East. Still, the Yankees have made a strong push towards postseason these past few weeks, and finished up the month with a 20-8 record, their most September wins since 1995.
CC Sabathia – in possibly his last start as a Yankee – delivered yet another vintage performance, scattering four hits across 5 2/3 scoreless innings, while lowering his ERA to 3.69. He is the third Yankee southpaw to start at least 25 games in his age-36 season or older and finish with an ERA that low, along with Tommy John (1979, 1980, 1982) and Whitey Ford (1965).
Sabathia gave up one run or fewer in nearly half (12) of his 27 starts this season, which gives us to a notable #FunFact for the large lefty: Only one other Yankee pitcher as old as Sabathia (age 36+) compiled 12 or more starts with one run or fewer allowed in a season – Spud Chandler had 14 in 1946.
In the least surprising news of the day, Aaron Judge broke another record. He destroyed a 2-0 fastball from Marcus Stroman in the fourth inning, clearing the bleachers in left-center with a blast that Statcast measured at 484 feet, the second-longest homer of his career. Since Statcast began tracking distance in 2015, Judge is the only player to hit multiple homers of 480-plus feet in one season.
It was also the 33rd time he went deep in the Bronx and the 15th time he cleared the fences in September. Seems good, right?
33 homers are the most ever by a Yankee at home, one more than Ruth in 1921 at the Polo Grounds. Ruth played 78 home games that year; this was Judge's 77th game at the Stadium.
15 homers are the most in a calendar month by a Yankee since Roger Maris had 15 in June 1961.
He joined Babe Ruth as the only guys in franchise history with at least 15 homers and 25 walks in a calendar month (Ruth did it in May 1928 and June 1930).
The 25-year-old is the youngest player in Major-league history to hit 15-plus homers and walk more than 25 times in any calendar month.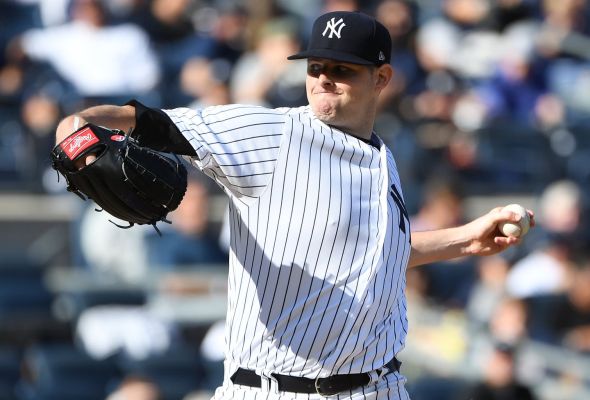 Bring on the Twins
The Yankees wrapped up the regular season with a meaningless loss to the Blue Jays on Sunday afternoon, a game in which the biggest takeaway is that everyone stayed healthy. Well, it was meaningless in terms of the standings and playoff implications. But, this is Yankeemetrics so let's dig into the best stats and numbers from Game No. 162.
With Sunday's 2-1 loss, the Yankees finished the season with an 18-26 record in games decided by one run. It's their most one-run losses since 1990 (29) and their worst record in one-run games since 1981 (21-32). What does that mean? The 1990 club was one of the worst in franchise history — their 95 losses are the third-most by a Yankee team, and their .414 is the fourth-worst; the 1981 club went to the World Series (lost in six games to the Dodgers). So it means … nothing?!
The most encouraging performance in this game was delivered by Jordan Montgomery, who capped off his terrific rookie campaign with another impressive outing (1 run, 2 hits, 5 2/3 innings). He finished with 144 strikeouts, the seventh-most by a Yankee rookie and the most since Ron Guidry had 176 in 1977.
The bullpen didn't allow another hit, but still coughed up a run on a groundout, resulting in #weirdbaseball loss. It was the first time in nearly four decades the Yankees lost a home game in which they gave up no more than two hits. That last time it happened was August 3, 1979 against the Orioles — the first game following Thurman Munson's tragic death.
Finally, let's end on a positive note with an #AaronJudgeFact that sums up his elite combo of patience (127 walks) and power (52 homers). Just three other players* in Major-League history have reached those homer and walk totals in a season: Barry Bonds (2001), Mark McGwire (1999, 1998) and Babe Ruth (1928, 1927, 1921, 1920).