The 2017 New York Baseball Yankees are one win away from going to the World Series. What a time to be alive. The Yankees finally — finally! — solved Dallas Keuchel in ALCS Game Five on Wednesday night, en route to a 5-0 win and a 3-2 series lead. Hell of a rebuilding year, eh?
The 'Hiro We Need, Not The 'Hiro We Deserve
So does everyone still want Masahiro Tanaka to opt-out of his contract after the season, or no? Yeah, I thought so. Tanaka made his third start of the postseason Wednesday night and it was another gem, a seven-shutout inning masterpiece against a lineup that has looked more punch-and-Judy than power-and-contact this series.
Only twice during Game Five did Tanaka face a real jam. Yulieski Gurriel, who is pretty much the Astro hitting the ball hard right now, roped a double to left field to start the second inning. Three ground outs later, including one to Starlin Castro with the infield in and one to Tanaka himself, put an end to that threat. That the Yankees had the infield in in the second inning tells you important this game was.
Then, in the fifth, a single by No. 8 hitter Marwin Gonzalez and a walk to No. 9 hitter Brian McCann put two men on base for the Astros with one out. Trouble was brewing and Tommy Kahnle started warming up in the bullpen. Eight pitches later, the inning was over. Tanaka struck out George Springer and Josh Reddick on four pitches each. Only three of those eight pitches were no-doubt strikes. He got Springer and Reddick to chase out of the zone, which Tanaka does better than anyone.
Game Five started when Springer lifted a fly ball to right field that carried and carried and carried to the wall before settling into Aaron Judge's glove. I thought it was a routine fly ball off the bat, but it very nearly went out. That was ominous. From that point on though, Tanaka faced 25 batters and only seven hit the ball out of the infield. His seven innings of no effs given pitching featured eight strikeouts and ten ground ball outs. Three hits and one walk, scattered.
Through three postseason starts Tanaka has allowed two runs on ten hits and three walks in 20 innings. He's struck out 18. That includes his seven shutout innings in Game Three of the ALDS — an elimination game, of course — and two excellent starts against the Astros in the ALCS, a lineup that was baseball's most fearsome in the regular season given how much power and contact ability they have. Tanaka is not impressed, however. The man is stone cold killer on the mound.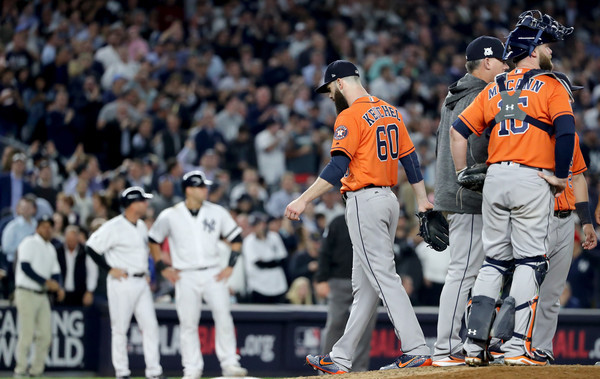 Beat Up Dallas Before Going To Houston
Dallas Keuchel has earned the Yankees Killer™ tag throughout his career. He went into Game Five with a 1.09 ERA in 57.2 career innings against the Yankees in the regular season and postseason. That includes six shutout innings (on short rest!) in the 2015 Wild Card Game and seven shutout innings in Game One of the ALCS last week. Keuchel has crushed the Yankees. No doubt about that.
And that's why it felt so damn good to watch the Yankees crush Keuchel in Game Five. He didn't make it out of the fifth! Never before had he thrown fewer than six innings against the Yankees. Only once before had he thrown fewer than seven innings. The Yankees got on the board quick, with a two-out run in the second inning. Castro banged a double to left-center and Greg Bird hooked a single to right field for a 1-0 lead. Perfect.
One inning later, the suddenly unstoppable Chase Headley led off with a single, then was erased on Brett Gardner's fielder's choice. That turned out to be significant though, because now the Yankees had a faster runner at first base. Judge then brought Gardner home with a rocket double down the left field line and into the corner. See? Faster runner scores from first. Judge is really starting to feel it huh? It's hard to believe, but at this point, he has to be considered one of the front-runners for the ALCS MVP award.
Anyway, this game turned in the fifth. Turned into the best way to put it. The Yankees went into the inning with a 2-0 lead and that's great, but it didn't feel particularly safe. They scored two big insurance runs in that inning and chased Keuchel from the game, giving the offense a few cracks at the bullpen. And it all started with an error. Headley hit a soft grounder to third and Gurriel missed Alex Bregman's throw at first, allowing Chase to get to second. Hooray.
With two outs and Headley on second, Judge worked a walk in which is seemed like Keuchel was going to give him nothing to hit. If he was willing to chase out of the zone, great. But he wasn't getting anything in the zone. Judge took the walk, and Gary Sanchez took a hanging slider for a ride to left field for a run-scoring single. Sir Didi Gregorius then found a hole up the middle with a ground ball single to score Judge and give the Yankees a 4-0 lead.
The Didi single ended Keuchel's night. His final line: 4.2 IP, 7 H, 4 R, 4 ER, 1 BB, 8 K on 86 pitches. Satisfying. Very satisfying. What was the difference between Game One and Game Five? The Yankees refused to chase down below the strike zone. Check it out: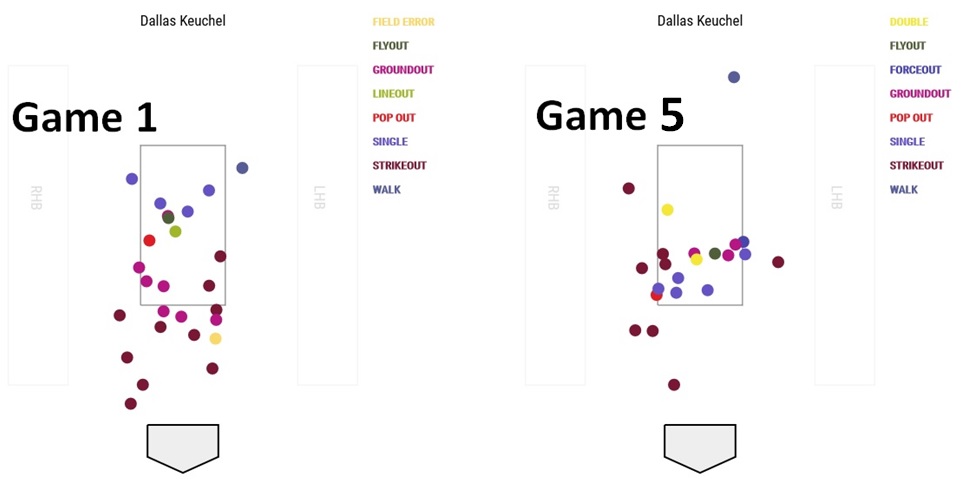 I count eight strikeouts and three ground ball outs on pitches below the strike zone in Game One. In Game Five, I count three strikeouts and nothing else. No ground balls. The Yankees made Keuchel get the ball up, which is baseball speak for don't give him any gifts by chasing down. If he wanted a swing, he'd have to get the ball up in the zone. The Yankees laid off those pitches down and it made all the difference in Game Five.
Leftovers
Further evidence Sanchez is getting locked in: he clocked a solo home run off Brad Peacock in the seventh inning for a 5-0 lead. Gary went 1-for-3 with the go-ahead double in Game Four and 2-for-4 with the run-scoring single and solo homer in Game Five. He's driven in five of the team's eleven runs the last two games. Judge and Sanchez are really starting to do damage, folks. That sure is exciting.
Shout out to Kahnle for two stress-free innings to close out the game. He did allow a ninth inning double to Carlos Correa, which had Aroldis Chapman stirring in the bullpen, but there was no drama after that. Seven up, six down on 20 pitches for Kahnle in Game Five. He's scattered two hits and two walks in ten scoreless innings this postseason. Sure, why not? David Robertson and Chapman will go into Game Six having had two straight days off. Huge.
The DH spot lives! Headley went 3-for-4 and is 5-for-7 over the last three games. Thank goodness for that. The Designated Out-Makers act was no fun. Gregorius had two hits as well. The Astros? They had four hits in the game. The Yankees have held them to nine runs and 22 hits in five games. That'll work.
Bird went 1-for-2 with two walks in Game Five and is now 4-for-13 (.308) with seven walks and six strikeouts in the series. That's a .308/.550/.615 line. Aaron Judge, have you been impressed by Bird's big series? "I'm not impressed. That's Greg Bird," said Judge after the game. Hell yeah it is.
Box Score, WPA Graph & Standings
Head on over to ESPN for the box score and MLB.com for the video highlights. We have a Bullpen Workload page. Here's the win probability graph:

Source: FanGraphs
Up Next
A chance to clinch the American League pennant. That's what's up next. The ALCS is heading back to Houston for Game Six. A win sends the Yankees to the World Series. A loss means they'll play a Game Seven. Thursday is an off-day, then Justin Verlander and Luis Severino will be on the mound for Game Six on Friday night. Fun fun fun.