Guys. GUYS. The Yankees are going to the ALCS. For real. They are going to the damn ALCS. After dropping Games One and Two of the ALDS, the Yankees officially completed the comeback to beat the best team in the AL in five games. Talk about Fighting Spirit, eh? The final score in Game Five was 5-2 on Wednesday night. Smell ya later, Indians.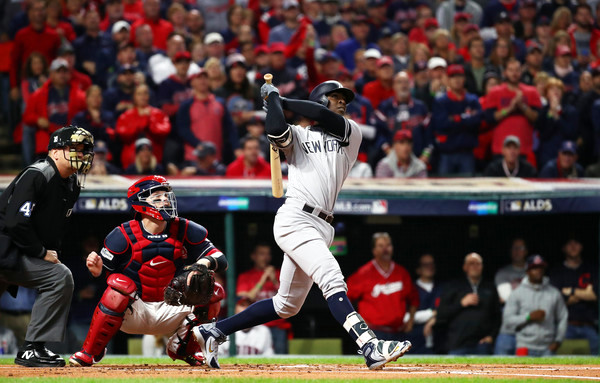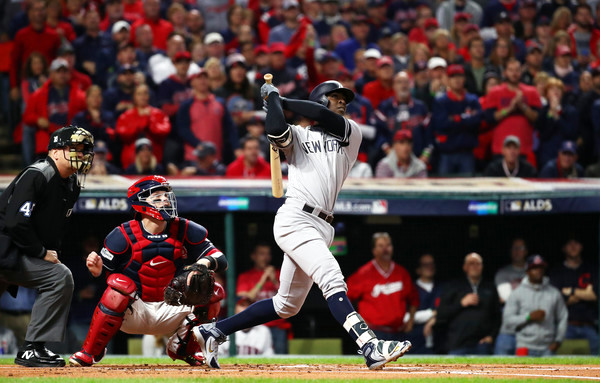 Sir October
I've said this more times than I care to count over the years: I love first inning runs on the road. Score nice and early, force the other team to play catch-up right from the get-go. It's great. In a game of this magnitude, scoring first felt that much more imperative. You don't want to fall behind on the scoreboard against a guy like Corey Kluber.
Wednesday, the Yankees did score in the top of the first, and it was Sir Didi Gregorius who came through. Kluber missed badly with a fastball — catcher Roberto Perez was set up outside and Kluber missed way inside — and Gregorius hooked it into the right field seats for a solo home run and a quick 1-0 lead. Scoring first in this game felt so good. So good. Took the crowd right out of it.
Two innings later, Didi did it again. Brett Gardner started the inning with a leadoff single, then Kluber missed his location again badly, this time with a breaking ball. It hung up out over the plate and Gregorius again hammered it to right field, this time for a two-run home run. Through three innings, the Yankees led 3-0. Couldn't have asked for a better start.
The Yankees chased Kluber in the fourth inning, which is ridiculous. That's after chasing him in the third inning in Game Two. Kluber's line for the series: 6.1 IP, 10 H, 9 R, 9 ER, 3 BB, 10 K, 4 HR. Four homers in 6.1 innings! You'll never hit home runs against great pitchers in the postseason, they said. If you'd have told me Kluber would throw 6.1 innings in the series, I would've guessed the Indians won in three or four games. Instead, the Yankees knocked him around twice, and Gregorius gave his team a 3-0 lead.
Carsten Charles In Charge
As soon as Gregorius hit that first inning home run, we were all thinking the same thing. Shut it down, CC Sabathia. Have a quick first inning and get the offense right back on the field. Sabathia did that and more. He retired the side in order in the first on 14 pitches, and went on to retire the first nine batters he faced, and 13 of the first 14 batters he faced. Nine of those 13 batters struck out. Nine!
I get the sense Joe Girardi was ready to pull Sabathia at the first sign of trouble Wednesday night. It just so happens the first sign of trouble did not come until the fifth inning. Go figure. Austin Jackson, Jay Bruce, Roberto Perez, and Giovanny Urshela strung together four straight singles to put two quick runs on the board. Just like that it was 3-2. We've seen that a few times this year. Sabathia cruises for a few innings, then hits a wall and it unravels.
As I sat at home watching on television, I thought Sabathia should've been out after the Perez single. The Yankees had a 3-1 lead at the time, but the Indians had the tying run on base, and the bullpen was locked and loaded. Girardi decided to stick with Sabathia against Urshela, the No. 9 hitter, and it came back to bite him. The four straight singles ended Sabathia's evening. His line: 4.1 IP, 5 H, 2 R, 2 ER, 0 BB, 9 K. Go CC. He's still the man. The Man.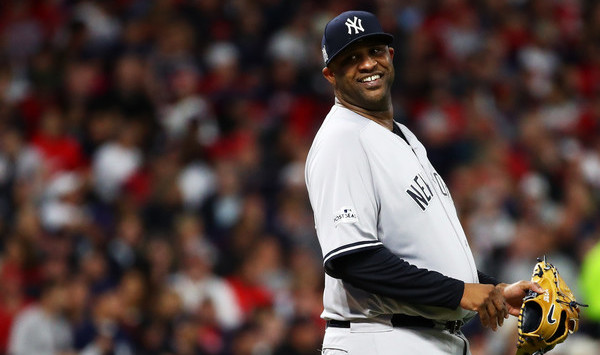 Hold On Tight
I love that Girardi went to David Robertson as the first guy out of the bullpen. He didn't try to mess around with Chad Green or Tommy Kahnle because Robertson usually pitches late in the game. Girardi went to his best reliever right away, and Robertson replaced Sabathia with two runners on base and one out in that fifth inning. Two pitches later, Francisco Lindor banged into an inning-ending double play. Didi turned it beautifully.
Those two fifth inning runs got the Indians to within 3-2, which was uncomfortably close. Especially with four innings still to go. Andrew Miller and Bryan Shaw were keeping the bats quiet, and it wasn't all that clear the Yankees would score again. They were going to have to make that one-run lead stand up. Robertson once again went multiple innings, tossing scoreless sixth and seventh innings following that fifth inning escape.
The 2.2 inning outing was made possible by a very low pitch count. Robertson got the inning-ending double play on his second pitch in the fifth, and he needed only seven pitches to cut through the 2-3-4 hitters in the sixth. He finished the outing having thrown only 29 pitches in those 2.2 innings. That was huge. Had the Indians run up Robertson pitch count, the Yankees might've had some trouble in the sixth or seventh inning.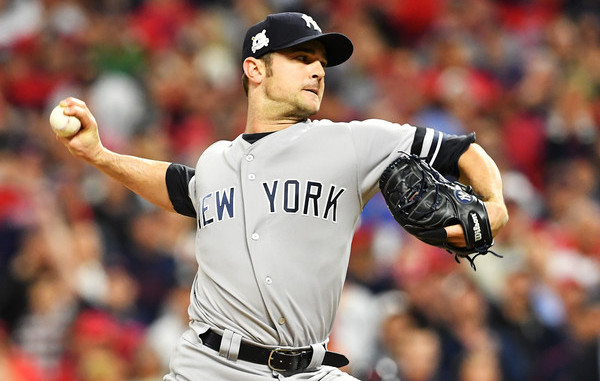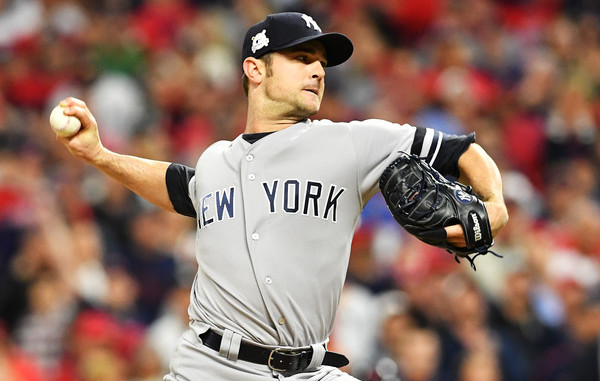 That 3-2 lead was still intact in the eighth inning. I thought maybe Girardi would send Robertson back out and have him go batter-to-batter, but no, he went right to Aroldis Chapman for the six-out save. And I thought it was absolutely the right move. It was a one-run game and the top of the order was due up. That's when you use your best reliever. The Yankees gave Chapman that $86M contract for that exact situation. One-run lead, meat of the order coming up in an elimination game. Those are the outs he was signed to get.
Fortunately, Chapman was able to keep his pitch count down like Robertson. He needed only 13 pitches in the 1-2-3 eighth inning. Three outs to go! Chapman would have to sit in the dugout for a while between the top and bottom of the ninth, however. The offense went out and scored him some insurance runs. Hooray for that. Aaron Hicks started the rally with a single to left, a single Jackson bobbled and turned into a double.
With Hicks on second and two outs, Todd Frazier worked a monster — and yet completely forgotten, it seems — at-bat against Cody Allen for a walk. He fouled away three two-strike pitches as part of a nine-inning at-bat to reach base and put two men on. Frazier's at-bat was child's play compared to what Gardner did next. Gardner, who was 2-for-4 up to that point, battled Allen for 12 pitches. 12 pitches! Look at this damn at-bat:
Best at-bat of the season? Best at-bat of the season. Best at-bat of Brett's career, maybe. Gardner isn't the greatest hitter, but that dude never gives an at-bat away, and with two outs in the ninth inning of Game Five in the AL-freaking-DS, Brett ground Allen into a pump. The single scored two runs — shout out to Lindor's defense — and broke Allen's spirit. "Every team in baseball could use a Brett Gardner," Allen told
David Waldstein
after the game. Too bad. Gardner is ours and you can't have him.
The two-run single gave the Yankees a more comfortable — but hardly safe, I'd say — 5-2 lead going into the bottom of the ninth. Chapman sat in the dugout a long time and coming out of that ninth inning with zero runs would've stunk. Thankful Gardner cashed in two. Chapman did walk the leadoff hitter in the ninth — that's why sitting so long between innings was such a big deal — but otherwise got the final three outs without incident. Six-inning save to clinch the ALDS. Go Chappy.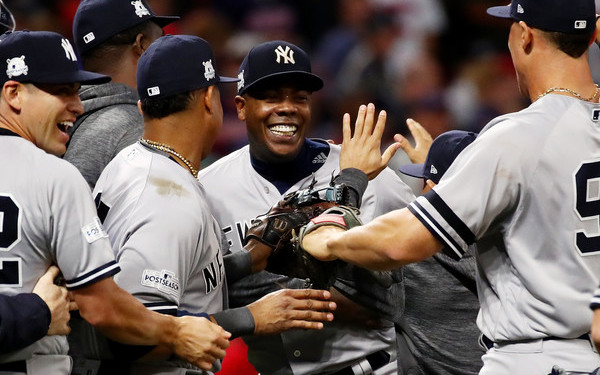 Leftovers
Gregorius joined Yogi Berra (Game Seven of 1956 World Series) and Jason Giambi (Game Seven of 2003 ALCS) as the only Yankees to hit two home runs in an elimination game, if you can believe that. It was Didi's third home run of the postseason too. Don't forget that big three-run home run in the Wild Card Game either. I gotta say, I never expected Didi to develop into a legitimate middle of the order hitter on an ALCS bound team. What a trade.
More history: the Yankees are the first team in history to win a postseason game while striking out 16 times. Aaron Judge had four of those 16 strikeouts. He went 1-for-20 with 16 strikeouts in the ALDS. Yikes! Those are the most strikeouts in a postseason series in history, including seven-game series. Also, he's the only player in history with three four-strikeout games in the postseason in his career. I still love ya, Aaron. He'll snap out of it.
The Yankees had eight hits total. Three by Gardner, three by Gregorius, and one each by Starlin Castro and Hicks. Hicks, Frazier, and Jacoby Ellsbury drew walks. And! And Ellsbury reached on a catcher interference. How about that? Ellsbury is now the all-time leader with two career postseason catcher interferences. He holds the regular season and postseason records. Hey, the Yankees signed him to break records.
And finally, Gardner saw 34 pitches in his five plate appearances, and that includes a one-pitch at-bat in the first inning. So that's 33 pitches in his final four plate appearances, or 8.25 pitcher per plate appearances. What a beast.
Box Score, WPA Graph & Standings
Go to ESPN for the box score and MLB.com for the video highlights. Here's out Bullpen Workload page and here's the win probability graph:

Source: FanGraphs
Up Next
What's next? An ALCS date with the high-flying Astros. That series begins Friday night in Houston. Dallas Keuchel is starting Game One for the Astros. No word on who will start for the Yankees yet. I imagine it'll be Sonny Gray. We'll see. Thursday is an off-day, thankfully. I want to enjoy the hell out of this game and series for little while, and also maybe see my cardiologist.