You didn't doubt the Fighting Spirit, did you? The October ghosts have returned to Yankees baseball. I've missed them. The Yankees mounted a remarkable comeback in Game Four of the ALCS on Tuesday night to even the series at 2-2. The final score: 6-4. This team, man. I never want this to end.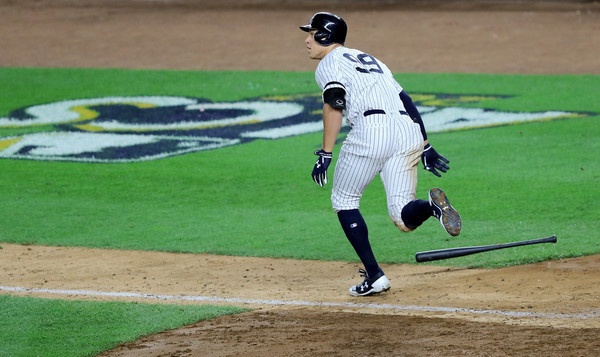 Welcome To October In The Bronx, Kids
We have to start at the end with this game. We just have to. The Yankees were down 4-0 after six and a half innings — we'll get to that in a bit — and Lance McCullers Jr. was razor sharp. He held the Yankees to one hit, a bloop single, through six innings. The Yankees were completely overmatched by that mid-80s curveball and mid-90s fastball. Just about everything they hit was on the ground. McCullers mowed them down.
It was until the seventh inning, with his 81st and final pitch, that McCullers made his first real mistake. He hung a first pitch curveball to Aaron Judge, and Aaron Judge did what Aaron Judge does to hanging curveballs. Long dinger into Monument Park. His previous two postseason homers were pulled to left and only a row or two back. This was a true Aaron Judge shot. Gone off the bat, the whole nine. We hadn't seen a swing like that since September.
The Judge home run got the fans back into the game. They'd been silenced by McCullers and the dread of falling behind in the series 3-1 with Dallas Keuchel and Justin Verlander looming. The Judge home run energized the crowd. Then, when Didi Gregorius followed with a triple into the left-center field gap, the ballpark was back to life. Everyone was on their feet. Gary Sanchez plated Didi with a sac fly to cut the deficit to 4-2. Progress.
The eighth inning … that's when the magic happened. The Yankees had one of their best offensive innings of the season that inning, and I don't mean in terms of total runs scored. I'm just talking about quality at-bats, big hits, that sorta stuff. There's a lot to go through here, so let's recap with an annotated play-by-play.
(1) So Todd Frazier is involved in pretty much every rally these days, right? Right. That dude is in the middle of everything. I know he's a flawed hitter because of his low average and all the pop-ups, but man, the big spot just seems to find that dude, and so far this postseason, he's come up pretty damn big. In the eighth inning, the Yankees needed him to be a leadoff hitter, and he hooked a sinker into left field for a leadoff single. Just like that, the tying run was at the plate.
(2) Chase. Dude. Chase Headley pinch-hit for Austin Romine, swung through two Joe Musgrove fastballs for a quick two-strike count, then stroked a double into the left-center field gap. See? I told you the hits would start to fall as long as Headley keeps making quality contact. On this double, Headley slipped on the first base bag and stumbled between first and second. He was toast. The Astros had him. Carlos Correa, the relay man, took a little too long to make a throwing decision, allowing Headley to recover and make it to second base safely. It was one of those "no no no yes yes yes!" plays. Everything was going wrong, yet it all worked out. Replay confirmed Headley was safe. The tying run was in scoring position with no outs and the lineup was about to turn over.
(3) I know a run-scoring ground out is boring as hell, but during a series in which contact has been hard to come by, Brett Gardner getting that run in felt big. Ken Giles has nasty, nasty stuff, and he got ahead in the count 1-2 on Gardner. Brett was in battle mode, and he was able to pull a slider to second base to score the run and advance Headley to third. Now the deficit was only 4-3, and a fly ball would've tied the game.
(4) For the first time in a while, Aaron Judge had an Aaron Judge at-bat. Giles has a wicked slider and Judge spit on two of them down-and-away. He's been chasing sliders off the plate since the start of the ALDS. Judge fouled off a fastball for a 2-2 count, and given his postseason to date, it was easy to fear the unproductive strikeout. I know I did. Instead, Giles left a slider up juuust enough, and Judge went down and hammered it off the left field wall to tie the game. To the action footage:
Man, what a moment. I thought it was gone off the bat — it certainly looked like a Judge homer off the bat — but a game-tying double off the wall works just as well. It was so great to see Judge take two sliders out of the zone, then go down to hammer the mistake slider for a game-changing hit. He's been missing that pitch or taking it for strike three for a few games now. What a huge hit. One of the biggest of the season, hands down.
(5) Sometimes, you just need a little luck. The Gregorius single was a solidly hit ground ball that, more than anything, was well-placed. It was deep enough in the shortstop hole that Correa couldn't reach it, and, even if it had, he wouldn't have thrown out Gregorius. Judge was able to advance to third after freezing on the ground ball in front of him. Now the Yankees had the go-ahead run at third base with one out.
(6) Going into this eighth inning at-bat, Sanchez was riding an 0-for-18 slump that dated back to the ALDS. There were signs he was starting to snap out of it though. Last night he ripped a 98.1 mph line drive in his final at-bat that I thought was gone, but didn't carry in the cold air. Gary's at-bats have been progressing from ugly strikeout to weak contact to solid contact. It was progress. Giles started him with two sliders and hey, why not? I would've done the same thing. Sanchez can get antsy at times and chase out of the zone. Gary took both sliders for a 2-0 count, and, to my surprise, Giles gave him a 2-0 fastball. Didn't expect that. It was 98.6 mph coming into and 113.1 mph going out.
Gregorius was running on the pitch but I'm sure he was going to score from first base anyway. What a rocket. What a huge hit. Sanchez had been fighting it all series. The Astros have pitched him really well. The Yankees aren't going anywhere without Judge and Sanchez contributing. Judge had the home run and the game-tying double. When it was Sanchez's turn, he doubled into the right-center field gap to give the Yankees a 6-4 lead. Shooting a 98.6 mph heater the other way. Beautiful. Just beautiful. I've never heard the new Yankee Stadium louder than it was at the moment.
(7) You know things are going well when Starlin Castro works a work. The Astros were on their third pitcher of the inning at this point, and the Castro walk loaded the bases. I was ready for Aaron Hicks to do the damn thing. Or at least hit a fly ball to get an insurance run in, you know? Luke Gregerson fed Hicksie a steady diet of sinkers, which is unusual. He's an extreme slider guy. Hicks was down in the count 1-2 when he hit a weak tapper to first base, allowing Yulieski Gurriel to throw home for the force out. Blah. No more runs. But you know what? That's okay. The Yankees had the lead.
Houston's bullpen in Game Four: 2 IP, 6 H, 5 R, 3 ER, 3 BB, 0 K on 54 pitches. Their bullpen had the second highest strikeout rate during the regular season, behind the Yankees. They faced 15 batters and struck out zero Tuesday. The Yankees put together some high-quality at-bats in the seventh and eighth innings, got the big hits, and got a little lucky as well (Headley's stumble, most notably). At one point in the seventh inning, the Astros had a 94.2% chance to win the game. Then the Yankees went to work against their bullpen.
Sonny Gray-t
Get it? Sonny Gray-t, like Sonny Great? Yes? No? I might break that one out again. You are forewarned. Anyway, Sonny's last few starts have not gone all that well, mostly because he couldn't stop walking people. And while he walked only two batters in his five innings in Game Four, he was hardly precise. Gray battled through the first two innings before setting down for his final three frames.
Through five innings, Gray held the 'Stros to one hit and one walk, and he recorded nine of his 12 ball-in-play outs on the ground. That works. With the game still scoreless in the sixth, Sonny walked George Springer on four pitches to start the inning, then threw a first pitch ball to Josh Reddick. And that was it. His afternoon was over. Joe Girardi went right to David Robertson, which warmed my heart. Scoreless game with the middle of the order coming up? Give me the best reliever regardless of inning.
Unfortunately, things didn't go as planned. Reddick reached on a catcher interference — other teams are allowed to do that against the Yankees? rude — and Robertson walked Altuve to load the bases. Bases loaded with no outs without no balls in play. Walk, catcher interference, walk. Yuck. Robertson did strike out Correa for the first out, so that was cool, but then he hung the hell out of the curveball to Gurriel. Look where Romine wanted it and where Robertson threw it: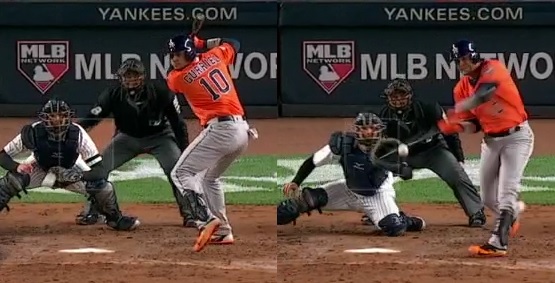 Romine set up down-and-away and Robertson left the pitch way up in the zone inside. Pretty impressive that Gurriel was able to keep that fair. A lot of times pulling a pitch like that equals a foul ball. Instead, the ball shot down the left field line and beyond the reach of a diving Frazier at third base. All three runners scored and Gurriel was thrown out after being caught in a rundown, though that didn't mean much. The damage had been done.
Gray's final line: 5 IP, 1 H, 2 R, 1 ER, 2 BB, 4 K on 85 pitches. He labored a bit in the first two innings before finding a groove in the third. Gray had struck out four of the last seven me he faced heading into that sixth inning, so there was no real reason think he'd run into trouble that inning other than baseball being baseball. The Yankees were going to need a good start from Gray and they got it, as far as I'm concerned.
The Astros scored an insurance run in the seventh inning against Chad Green thanks in large part to a Castro error. He had two of them in Game Four, both pretty bad. Marwin Gonzalez looped a double into the gap, then scored when Brian McCann's grounder into the shift hopped up on Castro and he muffed it completely. McCann was safe and Gonzalez raced all the way around from second. Pretty terrible.
For real though, Green is the game's unsung hero. That insurance run stunk, but, in the eighth inning, Green cut through the middle of Houston's lineup to keep the Yankees to within 4-2. The Yankees managed to win a battle of the bullpen because their bullpen allowed only four runs. Go figure.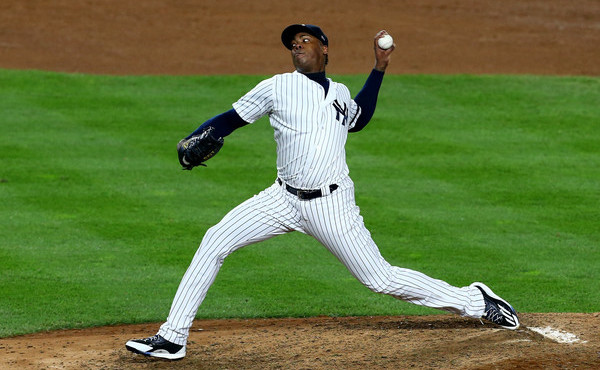 Leftovers
Judge had maybe the most complicated caught stealing in baseball history in the fourth inning. He drew a leadoff walk, then he didn't pick up the ball on Sanchez's one-out weak pop-up, and got doubled off first base. HowEVA, replay overturned the call and Judge was safe at first. HowEVA again, replay showed Judge did not retouch second base. D'oh. The Astros appealed, and rather than let them do it uncontested, Judge took off from first and basically tried to steal second. His only hope there was the throw from McCullers going into center field. Alas.
Tough game for Castro, who kinda sorta redeemed himself with that eighth inning walk. He went 0-for-3 with the walk and two he shoulda had it errors. Yuck. Also, Romine went 0-for-2 at the plate and saw four pitches. He also allowed a wild pitch — Sanchez gets killed for those, so it's only fair Romine does as well — and committed the catcher interference. Sigh.
Two hits for Judge, Gregorius, and Frazier. One each for Sanchez and Headley. Greg Bird quietly drew three walks. Judge and Castro had walks as well. By the way, Judge is now hitting .308/.438/.846 in the ALCS. He might be series MVP if the Yankees win! Gotta love small sample size stats. The Yankees went 3-for-8 with runners in scoring position. That feels wrong. Whatever.
The Astros scored four runs in the game, but they only had three hits. The Yankees have held them to nine runs on 18 hits in four games so far. Too bad the series is only tied. The Gurriel double felt like it might open the floodgates, though Green shut that down. Aroldis Chapman gave us a nice and easy 1-2-3 ninth inning. Thank goodness for that.
Box Score, WPA Graph & Standings
Head on over to ESPN for the box score and MLB.com for the video highlights. Don't miss our Bullpen Workload page either. Here's the win probability graph:

Source: FanGraphs
Up Next
Now that the series is back even, it means a) this is now a best-of-three, and b) the Yankees are going back to Houston for at least one more game. But first, the Yankees and Astros will play Game Five on Wednesday afternoon. That's another 5pm ET start. Dallas Keuchel and Masahiro Tanaka are the scheduled starting pitchers.