Alright alright alright. Now we have a series. After getting stifled by Dallas Keuchel and Justin Verlander in Games One and Two of the ALCS, the Yankees bounced back with a big 8-1 win in Game Three on Monday night. Good hitting, good pitching, good defense. This one had it all and the Yankees needed every bit of it. The Astros still lead the best-of-seven series 2-1.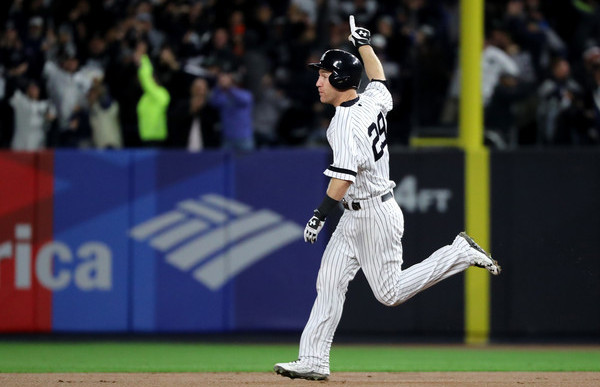 Three Early Runs
With one swing of the bat, the Yankees scored more runs in the second inning of Game Three than they did in Games One and Two combined. Man did that Todd Frazier home run feel good. The rally started with two outs too. Line out by Gary Sanchez and strikeout by Greg Bird. It looked like another quick 1-2-3 inning for an offense that hadn't done much in the series up to that point.
Things turned when Starlin Castro beat out an infield single and the pretty much unstoppable Aaron Hicks looped a single to shallow left field. Hicks has been so good this postseason. On both sides of the ball. Frazier's three-run home run was one of those home runs that left you wondering how the hell it was a home run. Look at the point of contact: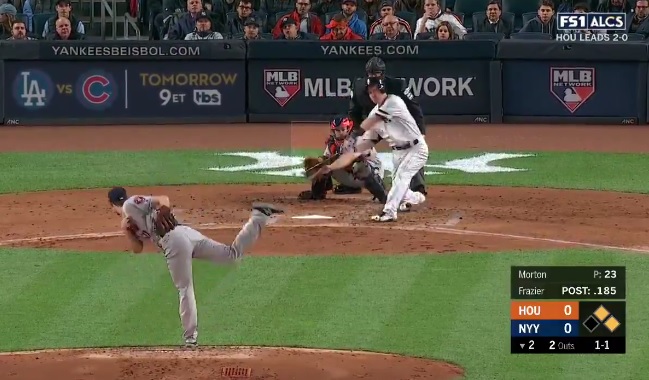 What the what. First of all, that's a 95 mph fastball dotting the down-and-away corner perfectly. A great pitch, that was. Somehow Frazier reached out and one-armed the ball into the short porch for a three-run home run. A Yankee Stadium cheapie? Yeah, it sure looked like it. But the ball left his bat at 100.5 mph, so Frazier made great contact. And as he rounded first base, he pumped his fist has hard as I've ever seen a player pump his fist on a homer. Todd was pumped the hell up.
The Judge Game
There's no way to sugarcoat it: Aaron Judge has had a brutal postseason to date. He went into Game Four with a 4-for-31 (.129) line and 19 strikeouts — 19 strikeouts! — in eight postseason games. And, in the first inning, Judge struck out again. On three pitches! That wasn't good.
Fortunately, things started to turn after that. Judge worked a one-out walk in the third inning, and while it didn't lead to a run, he finally got a favorable call on a pitch at the knees. He's been getting hose on those all series. All season, really. The call went in his favor and, if nothing else, maybe that boosted his confidence a bit.
Also a confidence boost: robbing Yulieski Gurriel of extra bases in the fourth inning. Judge made a tremendous leaping catch — it wouldn't have been a home run, but it definitely would've gone for a double without the catch — and crashed hard into the wall with his left shoulder, the shoulder he's been icing basically the entire second half. Great catch! But I'd be lying if I said I wasn't a little worried about the shoulder.
Judge showed the shoulder was fine in the next half-inning. He somehow pulled his hands in and yanked a 93 mph Will Harris fastball to left field for a big three-run home run that turned a too close for comfort 5-0 lead into an okay you gave unclench now 8-0 lead. It was a very similar pitch to the high fastball he hit for a two-run double against Trevor Bauer in ALCS Game Four.
That five-run fourth inning rally was set up Cameron Maybin forgetting how to play defense. For whatever reason, he pulled up in left field and let Bird's bloop dunk in for a ground-rule double. I have no idea. Not complaining though. Bird moved to third on Hicks' fly ball to the warning track, then scored when Chase Headley perfectly placed a weak ground ball back up the middle. First DH hit of the postseason!
Headley's two-out infield single gave the Yankees a 4-0 lead. It became 5-0 after Brett Gardner was hit by a pitch to load the bases, and Harris spiked a curveball that bounced away from Evan Gattis for a wild pitch. Not the best effort by Gattis to catch that ball. He just kinda watched it hit his mitt and did nothing else. Considering Judge's strikeout issues, getting a run on the wild pitch felt big. He was definitely a candidate for an inning-ending strikeout. Instead, dinger time.
But wait! That wasn't all for Judge. In the next half-inning he made a tremendous diving catch in shallow right field to take away a bloop single. And! And he made another nice running catch on a pop-up near the foul line. In the span of three half-innings, Judge made two excellent catches in right field and crushing a home run. That is how you impact a damn baseball game. What a game for Judge.
I Love It When You Call Me Big Stoppa
No, he is no longer the pitcher he was in his prime, but damn does CC Sabathia know how to come through in big spots. He's stopped losing streaks all season, and with Game Three a must-win for all intents and purposes, Sabathia went out shut the Astros down across six innings. Three singles, four walks, five strikeouts, no runs. With a big 8-0 lead, Joe Girardi let the big man air it out for 99 pitches.
The biggest moment of the game for Sabathia came in the top of third, immediately after Frazier's homer. After two quick outs, Sabathia walked George Springer, gave up a single to left to Alex Bregman, and walked Jose Altuve to load the bases. For Carlos Correa, no less. That's not good. Sabathia stuck to the game plan, busted Correa in on the hands with a cutter, and got him to pop-up harmlessly on the infield. Ex-friggin-hale.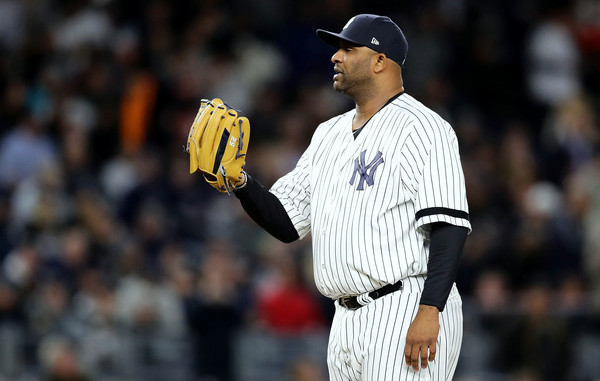 Sabathia, who had the fifth highest soft contact rate and the sixth lowest hard contact rate in baseball this season, held the Astros to a 73.7 mph average exit velocity in Game Three. It was the lowest for any pitcher against the 'Stros this season, according to James Smyth. In a way, Sabathia was the perfect pitcher to send out there against the Astros. They're going to put the ball in play, but CC knows how to use their aggressiveness against them, and seemingly nothing he gives up is hard-hit.
Once upon a time, when the Yankees first signed Sabathia, there was a lot of ink spilled about his lack of postseason success. Now? Now he's 37 years old and still slingin' like a champ in the postseason. He's the guy the Yankees want on the mound in a big game and I feel exactly the same way. There's something to be said for not being overwhelmed by the moment and knowing how to pitch rather than overpower. Late career Sabathia is awfully fun.
Close It Out
I have zero complaints about Girardi's bullpen usage in Game Three. With the 8-0 lead, he went to Adam Warren for the seventh and eighth innings, and it was only the third time Warren has seen game action since coming off the disabled list. Correa and Gurriel both his balls that I thought were gone off the bat in the eighth, but they just died in the cold night air. Two quick, scoreless innings for Warren.
Girardi went to Dellin Betances with the 8-0 lead because, well, if you're not going use Dellin up 8-0, when will you? Bad Betances showed up and walked the first two — and only two — batters he faced. His pitch locations:
Poor Dellin. Can't help but feel terrible for the guy. His body language tells you his confidence is completely shot. How could it not be? The two walks ended the night Betances, and in came Tommy Kahnle to wrap things up. He allowed a single and walked in a run, which is mildly annoying, but whatever. It was 8-0. Altuve banged into a game-ending double play with the bases. Not very MVP like, if you ask me.
Leftovers
The Yankees had six hits in 3.2 innings against Charlie Morton, but don't confuse that for crushing him. Frazier hit the home run, yes, but two of those six hits were infield singles — really three if you include Headley's well-placed grounder against the shift — another was the Bird bloop double Maybin should've caught, and another was the Hicks flare single. Hey, I'll take it. The Yankees hadn't been getting those weak hits lately.
Everyone in the lineup reached base at least once except Sanchez, who crushed a fly ball in the eighth inning. Like Correa and Gurriel against Warren, I thought it was gone off the bat, but it just didn't carry. Not a good night for fly balls. Gardner and Sanchez were the only starters without a hit. Gardner did get hit by a pitch to reach base. The Yankees went 3-for-6 with runners in scoring position.
Box Score, WPA Graph & Standings
Head on over to ESPN for the box score and MLB.com for the video highlights. Here is our Bullpen Workload page and here is the win probability graph:

Source: FanGraphs
Up Next
The Game Three win means there will be at least two more games at Yankee Stadium this season. The Yankees will look to even the series 2-2 in Game Four on Tuesday. That is a 5pm ET start, not an 8pm ET start. The Astros haven't announced their starter yet, though I get the sense it'll be Dallas Keuchel on short rest. We'll see. The Astros are starting Lance McCullers Jr., surprisingly. Sonny Gray will be on the bump for the good guys.