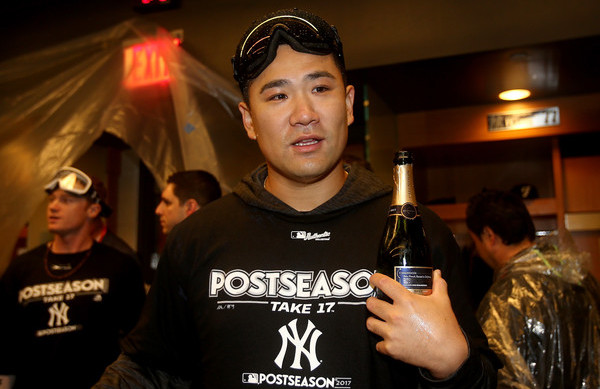 Earlier this morning was the deadline for the Yankees and Indians to set their rosters for the ALDS, and soon thereafter, both teams announced their 25-man rosters for the best-of-five series. Here is the Indians' roster and here are the 25 players the Yankees will use in the ALDS:
Pitchers (12)
RHP Dellin Betances
LHP Aroldis Chapman
LHP Jaime Garcia
RHP Sonny Gray
RHP Chad Green
RHP Tommy Kahnle
LHP Jordan Montgomery
RHP David Robertson
LHP CC Sabathia
RHP Luis Severino
RHP Masahiro Tanaka
RHP Adam Warren
Catchers (2)
Austin Romine
Gary Sanchez
Infielders (6)
Greg Bird
Starlin Castro
Todd Frazier
Didi Gregorius
Chase Headley
Ronald Torreyes
Outfielders (4)
Jacoby Ellsbury
Brett Gardner
Aaron Hicks
Aaron Judge
Designated Hitters (1)
Matt Holliday
There are some slight changes to the pitching staff from the Wild Card Game roster, as expected. Tanaka, Garcia, and Montgomery join the ALDS roster with Chasen Shreve, Tyler Wade, and Clint Frazier being swapped off. Tanaka is starting Game Three of the series Sunday. Montgomery and Garcia give the Yankees a pair of long relievers, which could come in handy with Green and Robertson unlikely to be available in Game One today.
Twelve pitchers seems like overkill in a best-of-five series with two off-days, though with no Green and Robertson today, I guess the Yankees decided to play it safe. Also, with no Wade or Frazier, the Yankees lack a pinch-running option. I suppose it could be Ellsbury when he is out of the starting lineup. Otherwise, the ALDS roster is pretty straight forward.