You know, it's too bad the Yankees lost Sunday's season finale, only because 92-70 looks so much better than 91-71. They dropped Sunday's meaningless game 2-1 to the Blue Jays to wrap up their most fun season in recent memory. The final record: 91-71 with a +198 run differential. Only the Indians, who have a +254 run differential, outscored their opponents by more runs in 2017. The Yankees had their best record since going 95-67 in 2012.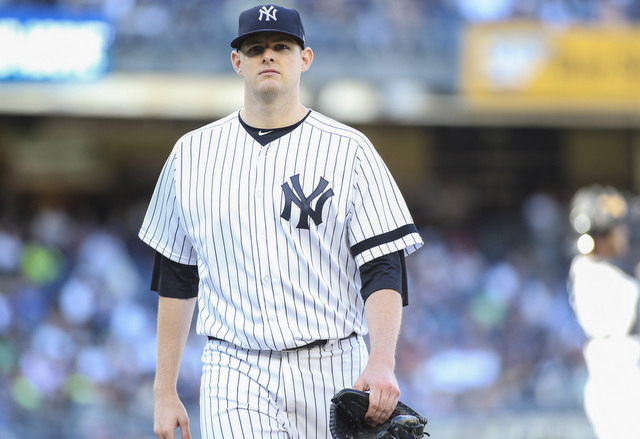 Montgomery's Final Start
Jordan Montgomery's fine rookie season came to an end Sunday afternoon with yet another rock solid start. He held the Blue Jays to one run on two hits and a walk in five innings plus one batter, giving him a 3.88 ERA (4.06 FIP) in 155.1 innings. His +2.8 fWAR led all rookie pitchers in baseball this season. AL and NL, starters and relievers. Quite a season for the young man.
Montgomery needed only 62 pitches to record his 16 outs, though, to be fair, a lot of that was the Blue Jays swinging at everything in classic Game 162 style. He was pretty sharp otherwise, burying his curveball in the dirt and elevating the fastball when necessary. The run was aided by a grounder getting under Tyler Wade's glove at second base — Jose Bautista got the run home with a sac fly — but who really cares. This was a "get your work in start" and Montgomery did exactly that. Well done this year, Monty.
Let's Go Home Offense
I wrote up this whole section expecting the Yankees to basically shut things down after the Blue Jays took the lead so they could get this game over with. Then Matt Holliday had to go out and hit a game-tying solo home run in the seventh inning. Dude. Uncalled for. Had this game gone to extra innings, I reckon Holliday would've been buying all his teammates dinner.
Fortunately, the Blue Jays let Holliday off the hook by scoring a run in the eighth inning. Rob Refsnyder reached on a strikeout/wild pitch, Ezequiel Carrera walked, Darwin Barney bunted them over, and Ryan Goins got the run in with a ground ball tapper that went maybe ten feet. All of that happened against Domingo German, who was otherwise throwing fire. Little Sunday is going to contribute quite a bit next season. You watch.
Let it be known Austin Romine, who some people truly believe should start the Wild Card Game, could not get a runner in from third base with less than two outs in the bottom of the seventh (he grounded out to third base), then couldn't block a ball in the dirt on the strikeout/wild pitch that led to the go-ahead run scoring in the eighth. Gary Sanchez gets killed for any pitch that gets by him, wild pitch or passed ball. Only fair the same happens to Romine.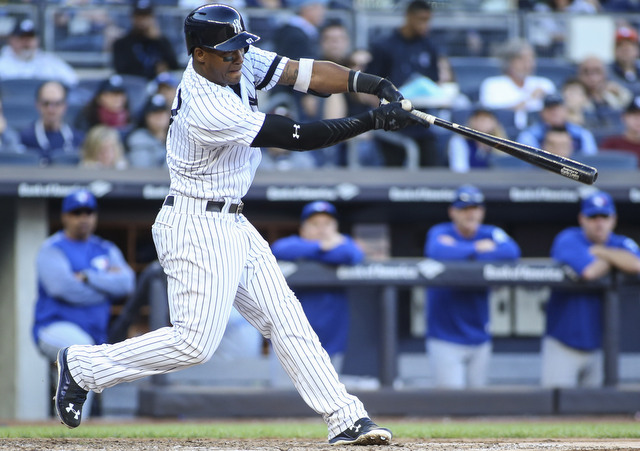 In a meaningless game, the Yankees did exactly what they were supposed to do Sunday: swing early and often. No need to prolong at-bats on such a nice day. The Yankees forced Blue Jays pitchers to throw 136 pitches in nine innings, so 15.1 pitches per inning. They sent 32 men to the plate and eleven saw no more than three pitches in their at-bat. Greg Bird drew the team's only walk because Danny Barnes didn't give him a choice. The four balls were well wide.
The Yankees had five hits on the afternoon, most notably Holliday's dinger, the final dinger of the club's 2017 regular season. Aaron Hicks, Chase Headley, and Wade had singles while Miguel Andujar lined a generously scored double. It was hard-hit, but center fielder Teoscar Hernandez let it go in and out of his glove on the slide. Wade was thrown out trying to steal second following his single — the shortstop Richard Urena blocked the base with his foot and took a hell of a spiking to keep Wade from being safe — as he prepares for a potential postseason pinch-runner role.
What did the regulars do? Well, Holliday played the entire game and hit the home run. Starlin Castro grounded out in the first inning, then was yanked to preserve his .300 average. Todd Frazier lined out in the second, then got the rest of the afternoon off. Headley lined out in the second and singled in the fifth, then his day was done. Bird replaced Headley at first base and drew a walk. Nice, easy game. Everyone made it out healthy, and that's the most important thing.
Leftovers
Welcome back, Adam Warren. He replaced Montgomery in the sixth inning, recorded the final two outs, then went back out to get the first out of the seventh. I'm glad Joe Girardi had him pitch in two different innings so he could go in, pitch, sit down for a bit, warm back up, and pitch more. Warren has done it a zillion times before, but it's good to have him do it once before a potential multi-innings appearance in the postseason.
I'm a bit surprised Dellin Betances did not pitch Sunday. Girardi said earlier this week they were going to use him a bunch to try to get him right, and that didn't really happen. Last time out Girardi pulled the plug after two batters. Hmmm. German allowed that stupid run in his 1.2 innings of work, and Ben Heller went three up, three down in the ninth. He is: good. Should've used him more this year.
Box Score, WPA Graph & Standings
Head over to ESPN for the box score and the final regular season standings, and MLB.com for the video highlights. Here's our Bullpen Workload page and here's the win probability graph:

Source: FanGraphs
Up Next
The postseason. I've missed it even though it'll undoubtedly put me on the brink of a heart attack multiple times. Monday is an off-day throughout baseball, then the postseason kicks off with the AL Wild Card Game at Yankee Stadium on Tuesday night. The Yankees are hosting the Twins and it'll be Luis Severino against Ervin Santana. Loser goes home, winner will face the Indians in the ALDS.