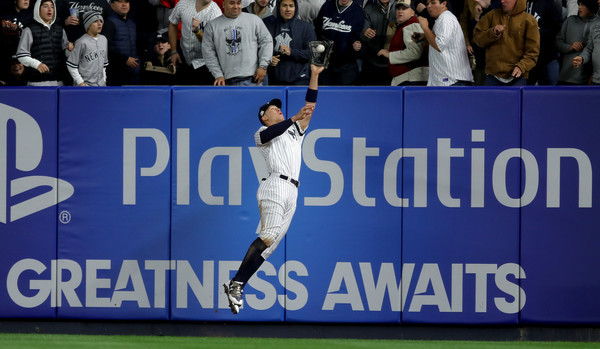 Alas, Aaron Judge did not become only the third player in history to win Rookie of the Year and MVP in the same season. Astros second baseman Jose Altuve was predictably named the 2017 AL Most Valuable Player by MLB and the BBWAA on Thursday night. Congrats to him. Judge finished second in the voting and Indians infielder Jose Ramirez finished third.
Earlier this week Judge was named the AL Rookie of the Year unanimously, which is the kinda thing that happens when you hit .284/.422/.627 (173 wRC+) with 52 homers. Judge is the second rookie ever to finish runner-up in the MVP voting, joining Mike Trout in 2012. Fred Lynn (1975) and Ichiro Suzuki (2001) are still the only players to win Rookie of the Year and MVP in the same season.
Altuve of course had a fantastic season, hitting .346/.410/.547 (160 wRC+) with 24 home runs and 32 stolen bases. The Baseball Reference version of WAR says he was the best player in baseball this season, AL or NL. The FanGraphs version of WAR says Judge was the best player in baseball. Hmmm. Ultimately, Altuve won because Judge went through that six-week slump after the All-Star break. That's the difference right there.
At the same time, you could easily argue the Yankees would not have made the postseason without Judge. Would the Astros have made the postseason without Altuve? Yeah, probably. They won the AL West by 21 games. Same deal with Ramirez. The Indians won the AL Central by 17 games. So many MVP voters still consider the postseason situation when filling out their ballots, though not enough to give Judge the award this year.
Judge's second place finish is the highest a Yankee has finished in the MVP voting since Mark Teixeira was the runner-up to Joe Mauer in 2009. Derek Jeter was third in the voting that year, and Robinson Cano finished third in the voting in 2011. The last Yankee to win the AL MVP award is Alex Rodriguez back in 2007.
The full voting results are available at the BBWAA's site. Altuve received 27 of the 30 first place votes while Judge received two. Judge also received 27 second place votes and one third place vote. He was on all 30 ballots. In other MVP voting news, Didi Gregorius received one eighth and one tenth place vote, and Gary Sanchez received one tenth place vote. Pretty awesome. Congrats guys. What a fun season this was.