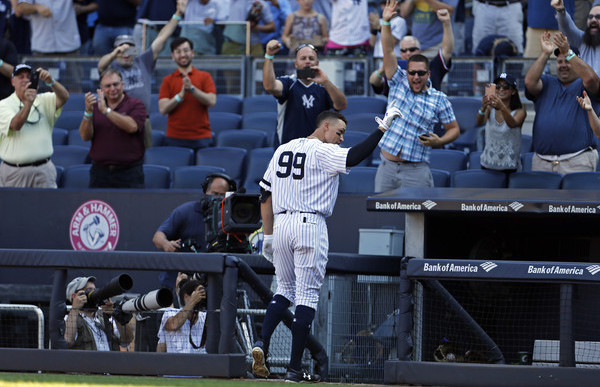 In the least surprising news ever, Aaron Judge was named the 2017 American League Rookie of the Year tonight. It was unanimous. Judge received all 30 first place votes. Andrew Benintendi finished second and Trey Mancini finished third. The full voting results are available at the BBWAA's site.
"It means everything. It's quite an honor," said Judge after the announcement. "It's an honor and a privilege. I'm just one piece in an organization. The impact my teammates, family, and friends have had on me this year have been huge. I can't thank them enough."
Judge is the first Yankee to be named Rookie of the Year since Derek Jeter in 1996, and he's the ninth Yankee to win the award overall. Judge joins Jeter, Dave Righetti (1981), Thurman Munson (1970), Stan Bahnsen (1968), Tom Tresh (1962), Tony Kubek (1957), Bob Grim (1954), and Gil McDougald (1951). Only the Dodgers have more Rookie of the Year winners than the Yankees.
Overall, Judge authored a .284/.422/.627 (173 wRC+) batting line this season, and he set new rookie records in home runs (52) and walks (127) and, yes, strikeouts (208). His +8.2 fWAR led all players in 2017. Rookies and veterans, position players and pitchers. That's why Judge is also a finalist for the AL MVP award. That'll be announced later this week.
I was a big Judge fan throughout his time in the minors, even when others jumped off the bandwagon following his strikeout filled MLB debut last year. Never in a million years did I expect a season like this though. Judge was historically great for a rookie and one of the best players in the game. What a remarkable season. The Rookie of the Year award is very well deserved.
Elsewhere in Rookie of the Year news, Jordan Montgomery finished sixth in the voting and received one second place and one third place vote. Montgomery threw 155.1 innings with a 3.88 ERA (4.07 FIP) this season, and his +2.7 fWAR led all rookie pitchers. Chad Green did not receive any Rookie of the Year votes because he wasn't rookie eligible. He accrued too much service time last year.
Judge and Montgomery are the first set of Yankees teammates to receive Rookie of the Year votes in the same season since Dellin Betances and Masahiro Tanaka in 2014. Betances finished third in the voting and Tanaka finished fifth. Congrats to both Judge and Montgomery. They had tremendous seasons and are big parts of the future.