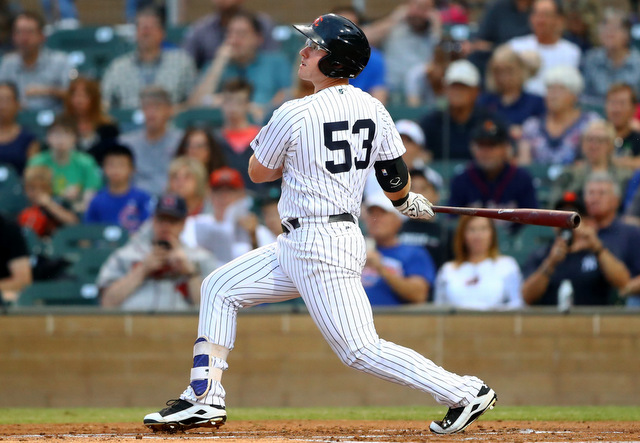 Last week, prior to the Rule 5 Draft protection deadline, the Yankees added three recently acquired prospects to the 40-man roster. The first and most notable is Gleyber Torres, who came over in the Aroldis Chapman trade and is arguably the best prospect in the minors. Albert Abreu, who has a case for being the top right-handed pitching prospect in the system, came over in the Brian McCann trade and was added the 40-man as well.
The third recently acquired prospect is outfielder Billy McKinney, a 2013 first round pick — he was the 24th overall selection, taken two picks before Eric Jagielo — who went from the Athletics to the Cubs in the Jeff Samardzija trade, then from the Cubs to the Yankees in the Chapman trade. A knee injury sabotaged his 2016 season, though this year, McKinney bounced back with a .277/.338/.483 (124 wRC+) line and a career high 16 homers in 124 games at Double-A and Triple-A.
The Yankees like McKinney enough to bring him to Spring Training as a non-roster player earlier this year — he had a knack for hitting homers in the middle of mid-game interviews — and before adding him to the 40-man roster last week, they had him spend time at first base in the Arizona Fall League. They're looking for a way to get his left-handed bat into the lineup. Maybe not right away, but down the road at some point. The more positions he can play, the better.
McKinney, who turned 23 in August, is never going to be much of a defender. He's a bat-first prospect whose innate hitting ability got him drafted in the first round and earned him a $1.8M signing bonus. A bat-first prospect who doesn't hit gets thrown into a trade as the third piece for a guy like Chapman. A bat-first prospect who does hit works on a new position in the Arizona Fall League and gets added to the 40-man after the season.
In McKinney, the Yankees added a prospect who very well might have a swing tailor made for Yankee Stadium. I have no doubt that was a consideration when asking for him in the trade. McKinney's a lefty hitter who has not only shown a tendency to pull the ball, but pull the ball in the air. Here's one of the ten home runs he hit for Triple-A Scranton this summer:
McKinney opened his hips and looked to yank that ball to right field. He wasn't trying to filet a single over the shortstop's head or find a gap. That was a swing designed to do exactly what McKinney did, and that's hit the ball out of the park.
Perhaps the home run and the swing in the video was a function of the game situation. The RailRiders were already up 10-4 in the fifth inning and had the bases loaded with one out. If there was ever a time to get a little selfish and swing for the fences, that's it. Then again, look at this home run swing from Spring Training:
See? I told you McKinney had a knack for mid-interview home runs during the spring. He hit like three of them.
Anyway, yeah, that's the same type of swing from the previous video. McKinney opened up …
… and was looking to get around quick on the ball and drive it to right field. That is not a man trying to stay inside the ball, let it travel deep in the strike zone, then slap it the other way. McKinney wants to pull the ball with authority. And that is completely cool with me. I know people freak out these days when a left-handed hitter pulls the ball because of the shift, but it's okay. I promise.
McKinney's tendency to pull the ball has existed throughout his minor league career. And again, it's not just pulling the ball. It's pulling the ball in the air. The easiest way to hit a home run, basically. Some quick numbers:
| | Levels | Pull % | Middle % | Oppo % | Ground Ball % |
| --- | --- | --- | --- | --- | --- |
| 2014 | A+ | 44.2% | 24.3% | 31.5% | 41.1% |
| 2015 | A+ & AA | 46.2% | 23.4% | 30.4% | 44.4% |
| 2016 | AA | 43.7% | 25.3% | 31.0% | 43.4% |
| 2017 |  AA & AAA | 46.3% | 25.4% | 28.3% | 35.0% |
That is a lot of balls hit in the air and a lot of balls hit to the pull field. And this season, his big breakout year, McKinney posted the highest pull rate (barely) and the lowest ground ball rate (by a lot) in his four full minor league seasons. Not coincidentally, he shattered his previous career high in homers. His previous career high was eleven dingers in 126 games in 2014. This year he hit 16 in 124 games at higher levels.
Yankee Stadium of course rewards left-handed hitters who pull the ball in the air with regularity, and that's something McKinney has done very well in his career to date. Will he be able to do it against Major League pitching? Well, no one knows. That's the mystery. We're not going to know until McKinney gets an extended audition at the big league level. Life would be pretty boring if we could predict prospects and baseball.
The Yankees do not appear to have an opening for McKinney. They're five deep in the outfield (Jacoby Ellsbury, Clint Frazier, Brett Gardner, Aaron Hicks, Aaron Judge) and two deep at first base (Greg Bird, Tyler Austin), not that McKinney has much experience at first. He played only eleven games at first in the AzFL. The lack of an obvious opening doesn't matter though. Injuries happen, and if you perform, they'll make room for you. It's that simple.
For now, McKinney bounced back from his knee injury and down 2016 season — he fouled a pitch into the knee and suffered a small fracture, similar to Mark Teixeira's shin three years ago — and earned a spot on the 40-man roster. He's forcing the Yankees to make room for him. And his ability to drive the ball to right field as a left-handed hitter is well-suited for Yankee Stadium, so even if he settles in as a platoon bat long-term, he could do real damage in the Bronx.