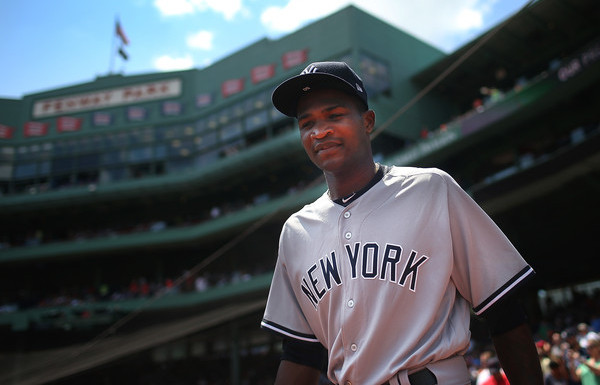 Three offseasons ago the Yankees swung a five-player trade with the Marlins that, very clearly, they lost. David Phelps out-pitched Nathan Eovaldi and Martin Prado out-position playered Garrett Jones (by a lot). In extremely oversimplified terms, the Yankees traded away +6.4 WAR and received +3.2 WAR. It happens. You win some and you lose some.
The fifth player in that five-player trade was right-hander Domingo German, a then borderline top 100 prospect and a 2014 Futures Gamer who needed Tommy John surgery in his very first Spring Training with the Yankees. He missed the entire 2015 season and the first half of the 2016 season. Not great. Phelps and Prado outplayed Eovaldi and Jones, and the prospect the Yankees received blew out his elbow immediately.
German, now 25, returned with his new elbow last June and threw 49.2 minor league innings with a 3.08 ERA (3.43 FIP). The Yankees saw enough to re-add German to the 40-man roster last offseason — they pulled the non-tender/re-sign trick with him two offseasons ago to clear a 40-man spot while he rehabbed — and this season he threw 109.1 minor league innings with a 2.88 ERA (3.29 FIP). New elbow test: passed.
The Yankees shuttled German in and out of the bullpen several times this year — he also spent a lot of time on the roster as the seldom used eighth reliever, so much so that he accrued 71 days of service time while making only seven appearances — and in those stints he allowed six runs (five earned) in 14 innings. German threw 2.2 scoreless innings in his big league debut on June 11th …
… and he also struck out four in two dominant innings against the Twins on September 20th. The good news: German struck out 18 of 62 batters faced (29.0%) and generated a ground ball on 18 of 33 balls in play (54.5%). The bad news: he walked nine of those 62 batters (14.5%). Young pitchers walk guys. It's what they do. Rookie jitters are real.
The 29.0% strikeout rate and 54.5% ground ball rate come in a super small sample size, of course, though they do fit German's profile. He was touted as a potential strikeout/ground ball guy while in the minors thanks to a lively fastball, a quality changeup, and an improving curveball. From Baseball America's pre-2015 scouting report (subs. req'd):
He has an easy delivery he repeats well to go with a loose, live arm that produces above average life on a heavy sinking fastball that sits in the 91-96 mph range and touches 97. He got his share of ground balls with his fastball and with his low-80s changeup, a pitch he's shown he knows how to use and that flashes average potential. German throws his slurvy curveball with low-80s power and 10-to-4 break.
That is more or less what we saw this summer, except German's fastball averaged 95.9 mph and topped out at 99.5 mph, so he's throwing harder now than he did prior to Tommy John surgery. That's not that uncommon. The Tommy John rehab is often more intense than the pitcher's usual workout routine, so they come back throwing harder. Also, the Yankees have a thing for getting guys to add velocity.
Moreso than the velocity, German stood out for his spin rates this season, particularly with his fastball. Nearly 600 pitchers (576, to be exact) threw at least 50 fastballs in 2017. Here is the average fastball spin rate leaderboard:
Carl Edwards Jr., Cubs: 2,677 rpm
Jose Leclerc, Rangers: 2,629 rpm
Nik Turley, Twins: 2,614 rpm
Mike Minor, Royals: 2,604 rpm
Domingo German, Yankees: 2,590 rpm
(MLB average: 2,255 rpm)
Now, spin rate is not everything. It's not the secret to getting outs. It's one tool in the shed. It's like velocity. You can't succeed on it alone, but having it sure helps. And you know whether someone has it relatively quickly. You know whether someone has big time velocity after only a few innings. Same with spin rate. You don't need a big sample to know it's in there.
German showed great velocity and elite spin with his fastball during his brief MLB cameo, and that's a good thing. A great fastball can take you a long way. Just look at Chad Green. If nothing else, the fastball is a reason to give German a longer look going forward. Add in the promising curveball and changeup — German had the highest average changeup spin rate in baseball this season (2,447 rpm), which is theoretically a bad thing because it means less sink — and minor league performance, and you've got an interesting pitching prospect.
The Yankees only have one open bullpen spot as things stand. Aroldis Chapman, David Robertson, and Green are the late inning guys. Tommy Kahnle is the fourth option, Adam Warren fills the Adam Warren role, and Dellin Betances is the reclamation project. There is nearly an entire offseason to go, so of course things can change, but I get the sense the bullpen will not be a priority this winter. The Yankees are set with their primary relief crew.
That final bullpen spot figures to be up for grabs in Spring Training, and, truth be told, it'll be up for grabs all season. Guys will shuttle in and out as necessary, and if someone pitches well enough to keep that spot, great! Having lots of options and lots of internal competition is a good thing as far as I'm concerned. German figures to be in the mix for that bullpen spot, though he could also get a look in the rotation at some point, if necessary. The ability to start could work against him, in fact. The Yankees could decide to leave him in Triple-A as a rotation option rather than pitch him in relief, though they tend to take the best arms and figure out the rest later.
When the Yankees traded for German, I imagine they were hoping he'd emerge as a big league option at some point in 2016 considering he'd spent the entire 2014 season in Low-A. That didn't happen. Tommy John surgery threw a wrench into things. German now appears poised to help next season though, mostly because he dominated in the minors this year and flashed quality stuff during his big league cameo, especially with his fastball. While it would be unfair to expect German to be the next Chad Green, the tools are there for him to have success and be an out-of-nowhere contributor in 2018.