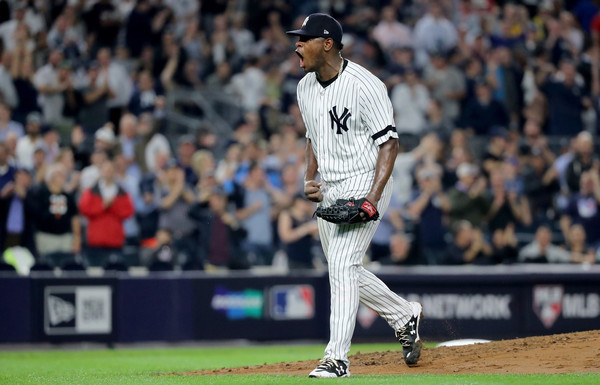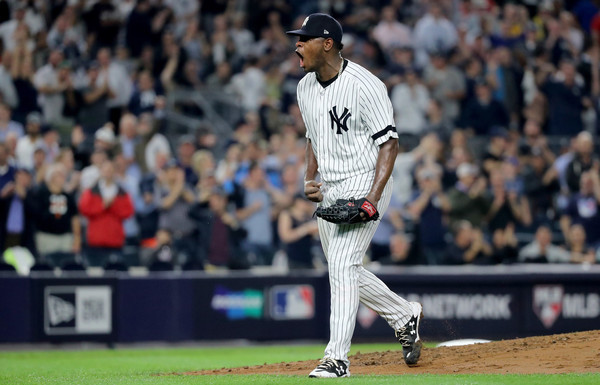 Luis Severino's first full Major League season has resulted in a third place finish in the American League Cy Young voting. How about that? Not too bad for a guy who didn't have a rotation spot locked down going into Spring Training.
Wednesday night, MLB and the BBWAA announced Indians ace Corey Kluber has won the 2017 AL Cy Young, with Red Sox lefty Chris Sale placing second. It is Kluber's second career Cy Young. He won back in 2014 as well. The Yankees scored nine run in 6.1 innings against Kluber in his two ALDS starts. Just thought I should mention that.
For most of the season Sale was the overwhelming favorite to win the Cy Young, but he slumped down the stretch — Sale had a 4.30 ERA (4.33 FIP) in his final eight starts and 46 innings of the year — while Kluber surged, so Kluber won the award. He led MLB in wins (18), ERA (2.25), ERA+ (202), WHIP (0.87), K/BB (7.36), and WAR (+8.3). That'll do it.
As for Severino, he broke out in a big way this season, throwing 193.1 innings with a 2.98 ERA (3.07 FIP) and excellent strikeout (29.4%), walk (6.5)%, and ground ball (50.6%) rates. Pretty awesome. Severino was the only pitcher in baseball to finish in the top ten in both strikeout and grounder rate this year, and his 230 strikeouts are tied for third most in franchise history.
1978 Rob Guidry: 248
1904 Jack Chesbro: 239 (in 454.2 innings!)
2017 Luis Severino & 2011 CC Sabathia: 230
Furthermore, Severino is the first Yankees starter to post a sub-3.00 ERA since Andy Pettitte and David Cone both did it back in 1997. This is the highest a Yankee has finished in the AL Cy Young voting since Sabathia placed third behind Felix Hernandez and David Price in 2010.
The full voting results are available at the BBWAA's site. No other Yankees received votes. Congrats, Luis. There's no shame in finished third behind Kluber and Sale. Go win it next year.