No, it's not Friday, but it is Thanksgiving week and I have family obligations the next few days. It was either post the mailbag today or not at all this week, so today it is. We've got eleven questions this week. RABmailbag (at) gmail (dot) com is the mailbag email address.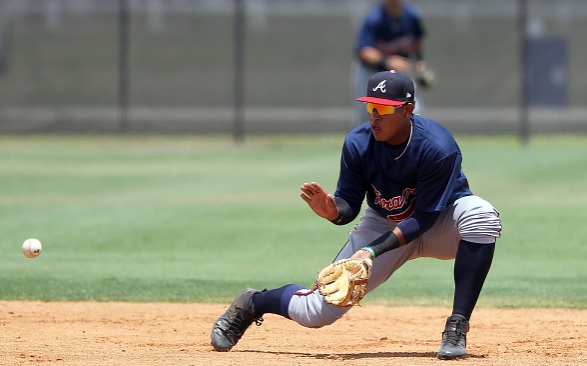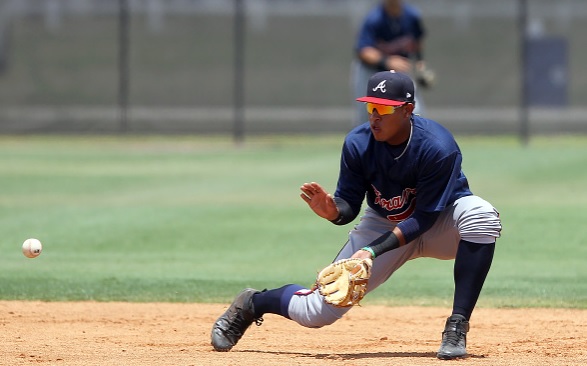 Many asked: Will the Yankees sign any of the international prospects the Braves just lost?
MLB wrapped up their investigation into the Braves and their shady international dealings under former GM John Coppolella yesterday, and they hammered them. Absolutely hammered them. Among other things, the Braves will be limited to $10,000 bonuses during the 2019-20 international signing period, and their 2020-21 signing period hard cap will be reduced by 50%. Oh, and a dozen players they signed last year are now free agents. Among them:
SS Kevin Maitan (No. 2 international prospect per MLB.com)
C Abraham Gutierrez (No. 25)
SS Yunior Severino (No. 26)
3B Yenci Pena (No. 29)
All told, the 12 players who became free agents yesterday cost the Braves around $20M, and they're gone now. (The players get to keep the money.) Commissioner Rob Manfred's statement said "the signing process (for these players) will be communicated to MLB Clubs under separate cover," and there are some restrictions. Ben Badler has the details:
The players will have restrictions on their free agency. They will be eligible to sign with another club for another signing bonus beginning on Dec. 5 up until Jan. 15. After Jan. 15, the player is still allowed to sign but cannot receive an additional signing bonus. Only the amount of the signing bonus beyond $200,000 will count toward a team's signing bonus pool. Players are allowed to re-sign with the Braves, but if they choose to do so, they must wait until May 1 to sign with them and can't receive an additional signing bonus.
Maitan is the big name here. MLB.com currently ranks him as the 38th best prospect in baseball and their scouting report says "his ceiling has been put side-by-side with the likes of Miguel Cabrera and Chipper Jones." Maitan is only 17, and he didn't exactly tear the cover off the ball during his pro debut this summer — he hit .241/.290/.340 (72 wRC+) with a 27.8% strikeout rate in 42 rookie ball games — but still, talent is talent.
There are conflicting reports out there, though it seems the Yankees have somewhere between $3.5M and $3.7M in international bonus money available right now. That's after getting another $250,000 in the Marlins trade the other day. As far I'm concerned, the Yankees should prioritize Shohei Ohtani with that money, because he's a potential impact player who is ready to help the Yankees win right now. These international kids are all teenagers.
Now, if the Yankees don't land Ohtani, they should absolutely turn around and try to sign Maitan and any other top international prospects still on the market. (Raimfer Salinas and Antonio Cabello are the top two 2017-18 kids still available.) The Yankees traded for all that international bonus money for a reason. They're going to spend it. Hopefully on Ohtani or Maitan. Or Ohtani and Maitan! That'd be cool. I'd focus on Ohtani, and if that doesn't happen, shift gears to Maitan and everyone else.
Paul asks: Who do you think the Yankees are likely to lose in next month's Rule 5 draft? And, if it was up to you, are there any changes you would make regarding who the Yankees did and did not protect?
They'll likely lose some pitchers, with J.P. Feyereisen, Anyelo Gomez, and Nestor Cortes the top candidates to get picked. Feyereisen and Gomez can bring it in relief, and at some point Nasty Nestor's numbers will earn him a look. I could see him throwing like 120 innings for his hometown Marlins next year. I would be surprised if Mike Ford got popped. Only three first basemen have been picked in the Rule 5 Draft the last 20 years and none stuck. Teams stick to pitching and the skill positions in the Rule 5 Draft. Heck, established big league first basemen have a hard time finding jobs in free agency (Chris Carter last year, etc.). Ford has only played 25 games at Triple-A. I wouldn't change anything the Yankees did as far as their protection. I didn't expect them to protect Jonathan Loaisiga given his injury history and general lack of experience, but hey, if they think he would've been taken, it's worth trading Garrett Cooper or Ronald Herrera or whoever to make room for him.
Paul asks: Following up on your "Thoughts Following the Rule 5 Protection Day Deadline" article, what changes would you make to the Rule 5 Draft to prevent teams from selecting talented players who are clearly not ready for MLB and then hanging onto them all season (i.e., Cordoba and Torrens)? It doesn't seem right that teams can do this. It surely can't be the best option for the player to ride the bench much of the season when they are in their peak development period.
To me, the biggest issue with the Rule 5 Draft is the way it sets different deadlines for "readiness" based on the way the player was acquired. Drafted out of college? You'll be Rule 5 Draft eligible at 24. Drafted out of high school? Rule 5 Draft eligible at 22. Sign as an international free agent? Rule 5 Draft eligible at 21. How is that fair? It's not only unfair, it actively hurts players who turn pro as a teenager by expecting to be MLB ready at such a young age. Gleyber Torres will be out of minor league options by time he's 24. A college draftee won't run out of options until he's 27. I'd like to see a uniform Rule 5 Draft eligibility age. Set it at 23. If you're not on the 40-man roster by time your age 23 season comes around, you're Rule 5 Draft eligible, no matter how or when you're acquired. That ensures players who turn pro as a teenager have plenty of time to develop. That'll lead to fewer Luis Torrens and Allen Cordoba (and Loaisiga) situations.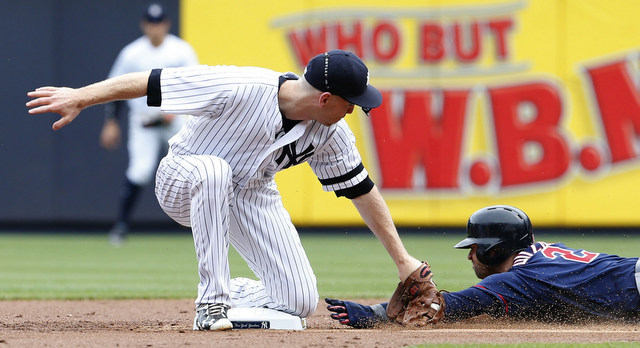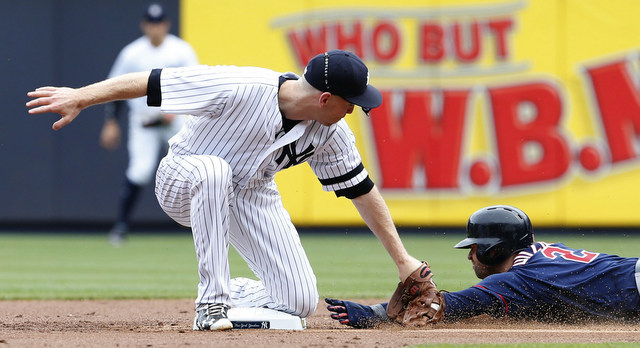 Alex asks: Why when employing the shift would DiDi and Frazier swap positions with 2 strikes? I noticed this during the playoffs, not sure if the same was true during the regular season.
The Yankees have been doing that for years. They did it when Chase Headley was playing third base as well. When the Yankees employ the infield shift, Gregorius stays on the shortstop side of the second base and the third baseman moves over to the second base side. With two strikes, they switch. Girardi explained that's because of the bunt. Hitters are less likely to bunt against the shift with two strikes. When the hitter does not have two strikes, the Yankees want Gregorius on the left side of the infield because he can cover more ground and is better able to come in on the bunt. When the batter has two strikes, they put the third baseman over there because the hitter is going to swing away, and is more likely to pull it to the right side of the infield (given his hitting tendencies), so they want Gregorius over there. Got all that?
Jason asks: Are we moving towards a time where a Manager and GM are the same person, a la Bill Parcells wanting to buy the groceries and cook the dinner? It feels like this Yankees manager search is simply finding a mouthpiece for Cashman's voice.
No way. Each job is too big of a commitment and comes with too much responsibility to give it to one person. There's a reason GMs have multiple assistants and managers have all sorts of coaches. It's impossible for one person to do the job. One person doing both jobs? No. And I wouldn't want that even if it were possible. Managers and players can get pretty close, and that emotional tie can skew decisions. It's good to have the GM at a distance making decisions without any personal relationships getting in the way. All this stuff about Brian Cashman wanting a manager who will be his mouthpiece is really overblown. Every front office gives the manager information and expects him to digest it and disseminate it to the players in a way they can understand. The Yankees want someone who can do it better than Joe Girardi.
Eric asks: What would you say the new bottom 5 or so players of the 40 man roster are? Based on your thoughts column are Mitchell and Shreve the first two to go should the Yankees make a move?
Hmmm. Right now, I'd say Gio Gallegos, Bryan Mitchell, Chasen Shreve, Austin Romine, and Jake Cave are the bottom five players on the 40-man roster, in some order. I'd unload Romine first, though I suspect Gallegos would be the first to go given the team's right-handed pitching depth. Mitchell or Shreve could be traded before then. The Yankees could get something for them, I'm sure. They got something for Herrera. They'll get something for Mitchell or Shreve. Also, I'm not sure how eager the Yankees are to find a new backup catcher. Romine's chances of sticking on the 40-man roster all winter and coming to camp as the favorite to back up Gary Sanchez are annoyingly high.
Robert asks: Any interest in Ian Kinsler for Yankees?
Nah. Not now. Kinsler is 35 and he just had the worst offensive season of his career, which is usually a bad combination. Could he bounce back next season? Sure. Am I willing to take on his $11M salary and trade a prospect(s) to find out if he'll bounce back? Nope. Kinsler has played second base his entire career aside from an emergency two-inning stint at third base back in 2012, so I don't think you can expect him to step right into a utility role and thrive. Maybe DH? Okay, but I'd want more than a .236/.313/.412 (91 wRC+) line from my DH. I don't see a fit here.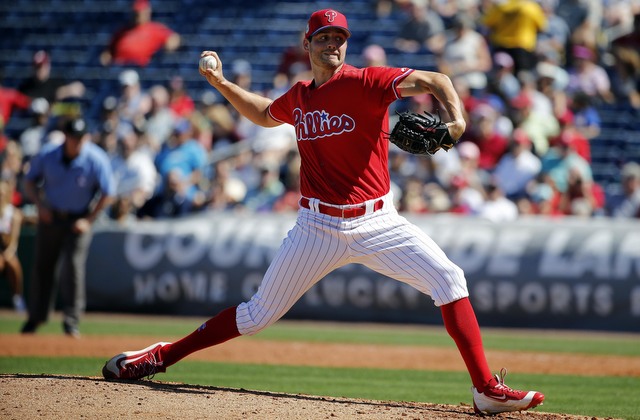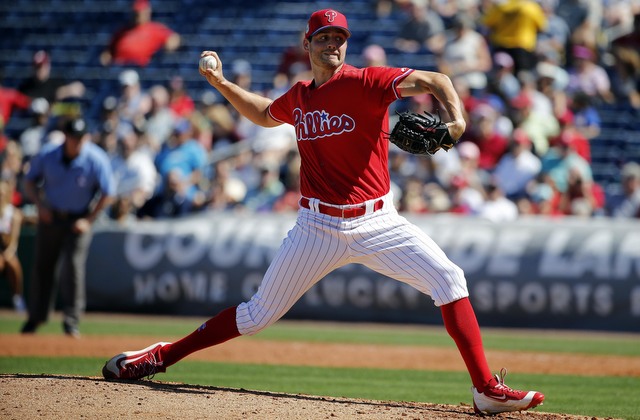 John asks: Mark Appel, worth a minor league deal or even a 40-man spot?
Minor league deal? Yes. A 40-man roster spot? No. Should the Phillies put Mark Appel on waivers, I'd claim him and then immediately designate him for assignment, hoping he'd clear waivers and stay in the organization as a non-40-man player. Appel was terrible again this past season, throwing 82 Triple-A innings with a 5.27 ERA (5.42 FIP) around a shoulder injury. He has a career 5.06 ERA (4.41 FIP) in 375.1 career minor league innings. Yuck.
I know Appel was the No. 1 pick in 2013 — and the No. 8 pick in 2012! — but he is not that guy anymore. Hasn't been for a while. His stuff has taken a step back and his command just isn't good. You're banking on the pedigree, basically. Who will be a more valuable player the next five years, Appel or Bryan Mitchell? I'd take Mitchell. If you can stash Appel in the system as a non-40-man roster player, great. I wouldn't sweat missing out on him at all.
Dana asks: Some Yankees offseason previews are saying they need to replace Holliday at DH. With Clint Frazier and possibly Andujar and even Ellsbury fighting for at-bats, can't they just leave the DH spot open and rotate guys into it?
I think that's where the Yankees are heading. A rotating DH. That allows them to get their fourth outfielder regular playing time, which will come in handy if they trade Jacoby Ellsbury and carry Frazier on the roster. Also, a rotating DH potentially opens playing time for Miguel Andujar and Torres down the line. And regular rest for Aaron Judge (and his surgically repaired shoulder) and Sanchez and Greg Bird. There is definitely value in having that big bat and a set DH, and that's what I'd prefer, honestly. I think the Yankees are going for a rotating DH, however, at least next year, when they're still looking to get their young guys regular at-bats.
Sam asks: I'm curious your thoughts on what would've happened if Judge played in the NL. Do you think he would've won MVP over Stanton? He is still on the Yankees, but imagine if they played in the NL. I've never been a big believer in the anti-Yankee bias when it comes to awards, but as you've said a few times, this year more than ever it seemed like writers were finding reasons not to vote for Judge.
Interesting! The NL MVP race was extremely close. Giancarlo Stanton edged out Joey Votto by two points. Two points! Paul Goldschmidt was a distant third. Their seasons head-to-head, with Jose Altuve added for good measure:


Both Judge and Altuve were quite a bit better than any of the three NL MVP finalists, plus their teams made the postseason. Goldschmidt was only NL MVP finalist from a postseason team.
I think, with Altuve out of the way, Judge would've beat out the three NL MVP finalists to win the award. No, he didn't chase 60 homers like Stanton, but going deep 52 times is nothing to sneeze at either. I think Judge's advantage in OBP and the fact he played for a postseason team would overcome his slump, and land him the NL MVP award.
Jerome asks: What would be a reasonable leash for the new manager in regards to job security? Now that expectations are raised, how many years will he last without bringing home a World Series title?
It's difficult to say. Are the Yankees not winning the World Series because winning the World Series is hard, or are they underperforming each year with certain players falling short of expectations? There's a big difference between underperforming and just getting beat in a short series. I mean, yes, at some point the new manager has to win. But if the Yankees are competitive each year and falling short, it'll probably buy him more time than a disappointing team with young players going backwards, that sort of thing. I don't think Cashman and the Yankees want to get in the habit of changing managers every two or three years if they're not winning the World Series. I think the new manager gets at least four years as long as the Yankees are a great team that isn't winning the World Series because weird stuff happens in short playoff series.