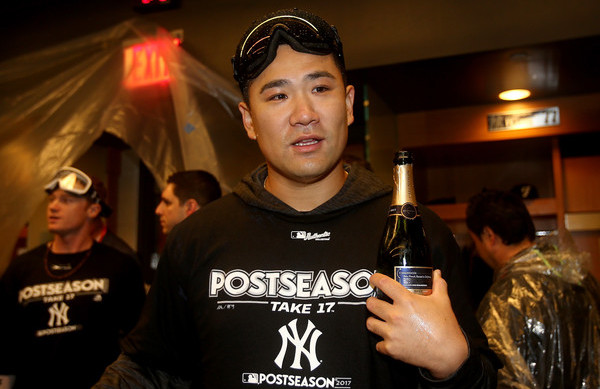 The biggest question of the offseason has been answered. Masahiro Tanaka is staying in New York.
Friday night Tanaka announced he will not opt out of the final three years and $67M remaining on his contract with the Yankees. The deadline to opt-out was Saturday night. Here is Tanaka's statement:
"I have decided to stay with the Yankees for the next three seasons. It was a simple decision for me as I have truly enjoyed the past four years playing for this organization and for the wonderful fans of New York.

"I'm excited to continue to be a part of this team, and I'm committed to our goal of bringing a World Series Championship back to the Steinbrenner family, the Yankees organization, and the great fans of New York."
This really surprises me. I've been saying that, as long as he's healthy, Tanaka would opt-out basically since the day the Yankees signed him. And I know I'm not the only one who felt that way. Most RAB readers expected him to opt-out. My guess is either Tanaka really loves New York, the Yankees took a hard line and said they wouldn't re-sign him if he opts out, or Tanaka is really worried about The Elbow™. Maybe some combination of all three.
So, rather than worry about finding another starting pitcher this offseason, the Yankees will get Tanaka's age 29-31 seasons for $67M total. That is a pretty great deal. Any contender would've signed him to that this offseason, preferring to trade the higher average annual value for fewer years. Based on my rough numbers, the Yankees still have roughly $33M to spend this winter before hitting the $197M luxury tax threshold.
Tanaka, who turned 29 this past Wednesday, had his worst season with the Yankees in 2017. He had a 4.74 ERA (4.34 FIP) in 178.1 innings, though he was much better in the second half (3.77 ERA and 3.41 FIP) than the first (5.47 ERA and 5.04 FIP). And, of course, Tanaka was brilliant in the postseason, allowing two runs in 20 total innings in his three starts. That includes seven shutout innings against the Indians with the season on the line in Game Three of the ALDS.
The Yankees now know they'll go into next season with Tanaka, Luis Severino, Sonny Gray, and Jordan Montgomery in their starting rotation. CC Sabathia is a free agent and it stands to reason the team will try to bring him back on a short-term contract. The Yankees don't figure to spend much on a fifth starter either way, Sabathia or no Sabathia. Luis Cessa, Domingo German, and Chance Adams are then the Triple-A depth arms.
For now, the Yankees don't have to worry about re-signing or replacing Tanaka. They've got the real thing. The Yankees are ready to win right now, they showed it this season, and getting the 2014-16 versions of Tanaka will make this club that much more dangerous in 2018. Welcome back, Masahiro.