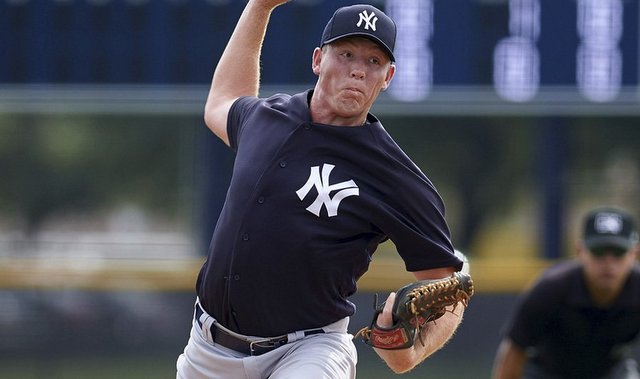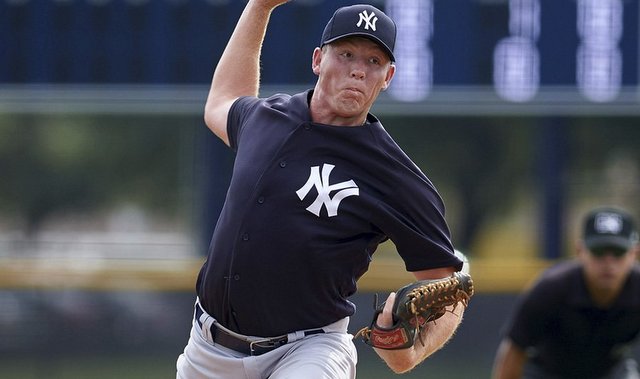 Matt Sauer | RHP
Background
Sauer, 18, grew up in Southern California and attended Righetti High School in Santa Maria. (It's named after Ernest, not Dave.) This spring he had a 0.98 ERA with 142 strikeouts in 78.1 innings, plus he hit .427/.504/.555 in 135 plate appearances. Sauer was more of an interesting sleeper than a bonafide prospect on the summer showcase circuit in 2016, then a breakout senior year put him in the conversation as a potential first round pick.
Prior to the 2017 draft both Baseball America and MLB.com ranked Sauer as the 28th best prospect in the draft class, while Keith Law (subs. req'd) had him a little lower on his board at 67th. The Yankees selected Sauer with their second round pick, the 54th overall selection, and signed him to an above-slot $2,497,500 bonus. They gave Sauer the savings from first rounder Clarke Schmidt's below-slot bonus to keep him away from Arizona, where he would have had a chance to be a two-way player.
Pro Debut
The Yankees assigned Sauer to one of their rookie level Gulf Coast League affiliates after signing. He made six starts, allowing nine runs (seven earned) in 11.2 innings with 12 strikeouts and eight walks. That works out to a 5.40 ERA (3.68 FIP) with 21.1% strikeouts and 14.0% walks. The Yankees had Sauer participate in Instructional League after the season, which is standard protocol for new draftees.
Scouting Report
Sauer is very much an arm strength/raw stuff prospect right now, not a polished pitcher. He stands 6-foot-4 and 195 lbs., and his fastball sits mostly 92-95 mph and will touch 97 mph. The pitch has some run back in on right-handed hitters. Last summer Sauer was throwing 88-91 mph in showcase events. His velocity blew up this spring after he bulked up over the winter, with the help of former pro pitcher John Thomas, as Josh Norris explained.
A low-to-mid-80s slider is Sauer's primary secondary pitch, and he also has a power overhand curveball that shows promise, but lags behind the slider. Sauer doesn't have much of a changeup, which isn't uncommon for top high school arms. They never need a changeup to dominate prep competition.
The biggest knock on Sauer is his stiff delivery and long arm action, which hinders his command and has some projecting him as a reliever long-term. He strikes me as a candidate to pitch from the stretch full-time, even as a starter, a la Stephen Strasburg and Yu Darvish. An abbreviated stretch-like windup could work too, similar to Noah Syndergaard and Jon Gray (and Bryan Mitchell).
The Yankees drafted Sauer based on his raw tools, namely his arm strength, his athleticism, and his slider and curveball. Now they have to develop him into a pitcher. Someone who can repeat his delivery, locate consistently, and throw a reliable changeup to keep left-handed hitters off balance.
2018 Outlook
I think it's pretty obvious Sauer will be held back in Extended Spring Training next year before joining one of the short season leagues when their seasons begin in late-June. Rookie level Pulaski seems like the most likely destination, though Short Season Staten Island is another possibility if the Yankees are willing to let Sauer play against mostly college kids. Either way, I do not expect him to jump right into full season ball next season. There is too much mechanical work to be done right now.
My Take
As risky as he is, I think Sauer is the best prospect the Yankees drafted this year, and one of the five or six best pitching prospects in their pitching rich system. The delivery and command issues are very real, but this is a young pitcher who needs to figure some things out, not an older guy who had it and lost it. He's a prospect, not a finished product. If the Yankees can iron out his mechanics — a big IF, obviously — Sauer could rocket up prospect rankings in the near future. If it clicks, it'll click big.