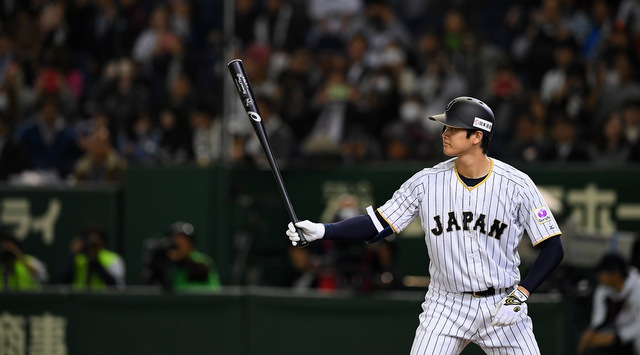 Free agency is now underway. The five-day exclusive negotiating period is over and, as of 12:01am ET this morning, free agents are free to negotiate and sign with any team. MLB isn't the NFL, NBA, or NHL though. There aren't a flurry of Day One signings because there's no salary cap. MLB free agency, like the regular season, is a marathon rather than a sprint.
Although the free agent signing period has opened, the No. 1 offseason target on every team's list is still not available. Nippon Ham Fighters righty/slugger Shohei Otani has not yet been posted for MLB teams, and depending who you ask, he might not be posted at all this winter. MLB, MLBPA, and NPB are haggling over the posting system. It's clear Otani wants to come over this winter. Now he just needs all parties involved to let him.
The 23-year-old Otani is basically the coolest baseball player on Earth. He's a 100 mph throwing starter with wicked breaking stuff who also socks dingers on the days between starts. Otani hit .332/.403/.540 in 231 plate appearances with a 3.20 ERA and 29 strikeouts in 25.1 innings around ankle and quad injuries in 2017. Last year, when fully healthy, he hit .322/.416/.588 with 22 homers and had a 1.86 ERA and 174 strikeouts in 140 innings.
Otani's appeal is obvious. He's young and he has a chance to not only contribute on both sides of the ball, but be an impact player both on the mound and at the plate. The consensus is Otani has more potential as a pitcher, but at this point, it makes sense to see whether he can hit and pitch. There is so much value to be gained. And if you have to pull the plug as a hitter or pitcher at some point, so be it.
The Yankees scouted Otani during the season (duh) and they're expected to pursue him aggressively this offseason — Joel Sherman recently reported "they plan to push as hard as possible" to land Otani — which makes perfect sense. They have a fun up-and-coming team and Otani would fit right in with the exciting young core. He's five months younger than Luis Severino! Of course this guy should be their No. 1 offseason target.
At the same time, the Yankees can't — and shouldn't — focus on Otani this winter. They need to proceed with their offseason as if they won't sign Otani. That means filling out the rotation and coming up with a solution for the designated hitter spot (one set player? revolving door?), among other things. There are two reasons for this.
1. Otani might not come over. Back when Masahiro Tanaka was coming over, there were weeks and weeks of "he's coming over/he's not coming over/posting system negotiations could hold it up" talk. The same thing is happening here. I expect everyone to come to their senses and to get it worked out in time. But, until it happens, there's always a chance Otani won't be posted this winter. You can plan your offseason around a No. 1 target who might not actually be available. The Yankees don't want to miss out on other players because they're waiting for Otani.
2. It's a minimal financial investment. This is the big one to me. Unless MLB, MLBPA, and NPB completely rewrite the international hard cap rules, which is possible but extremely unlikely, signing Otani will involved three financial commitments:
The release fee paid to the (Ham) Fighters.
His signing bonus.
His 2018 salary.
MLB and the NPB already agreed Otani would be grandfathered in under the old posting agreement, meaning the (Ham) Fighters will set the maximum $20M release fee. Whichever team signs him, pays it. Every single MLB team can cut a $20M release fee check for Otani right now. Don't let the owners trick you into thinking otherwise.
The signing bonus is a relatively small investment. Otani is subject to the international hard cap and teams only have so much international bonus money left to spend. Mark Feinsand says the Yankees have as much available international money as any team.
Eight teams have the ability to pay Ohtani a signing bonus of more than $1 million: the Rangers ($3.535M), Yankees ($3.5M), Pirates ($2.27M), Twins ($1.895M), D-Backs ($1.87M), Marlins ($1.74M), Tigers ($1.072M) and Mariners ($1.056M).

Conversely, 12 teams are prohibited from giving a signing bonus of more than $300,000 as a penalty for exceeding their bonus pools under the previous Collective Bargaining Agreement: the A's, Astros, Braves, Cardinals, Cubs, Dodgers, Giants, Nationals, Padres, Reds, Royals and White Sox.
Otani's salary next season is an important consideration for the Yankees given their luxury tax plan. Because of the international hard cap rules, Otani can only sign a minor league deal, and he has to be treated like any other rookie. That means three pre-arbitration seasons and three arbitration seasons before qualifying for free agency. Otani will earn the $545,000 minimum salary in 2018. That's nothing. It won't complicate the luxury tax plan at all.
So the financial investment boils down to the league minimum salary that is a drop in the bucket for every club, international bonus money every team is planning to spend one way or another, and the $20M release fee every team can afford. The financial playing field is level. That means the Yankees won't be able to blow everyone away with a big offer like they did for Tanaka. That lowers their odds of signing him some degree.
The more important factor here is Otani's league minimum salary in 2018. That won't have much impact on the Yankees' plan to get under the luxury tax threshold. They can go about their offseason, get the pieces they need, and if they land Otani at some point along the way, great! His salary won't blow up the luxury tax plan. Treat him almost like a luxury item. Build your team as if you won't get him, and if you do, it's the icing on the cake.