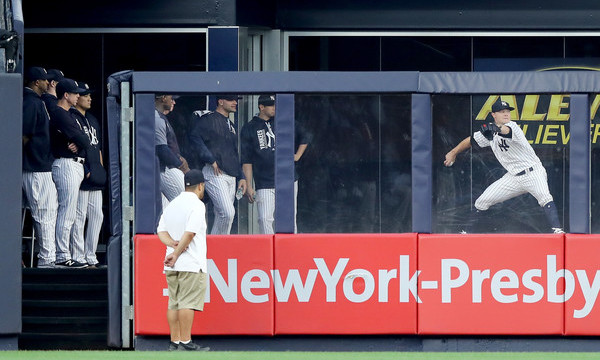 Going into Spring Training this year, the Yankees really had no idea what their 2018 rotation would look like. Michael Pineda and CC Sabathia were going to be free agents, Masahiro Tanaka could opt out this winter, and the other two spots were wide open. The hope was Luis Severino would grab one of those spots and run with it. The other spot? Who knows.
Now, ten months later, four of the five rotation spots are ostensibly accounted for the next two years. Severino broke out this year, Tanaka didn't opt out, and Jordan Montgomery grabbed that wide open rotation spot. The fourth starter was a trade deadline pickup. The Yankees imported right-hander Sonny Gray from the Athletics in a midseason trade. The trade details:
To Yankees: Gray and $1.5M in international bonus money
To Athletics: Jorge Mateo, James Kaprielian, and Dustin Fowler
That's three of my top 12 prospects coming into the season — I was the low man on Fowler too, most ranked him in the top ten — to Oakland for a pitcher who threw 117 innings with a 5.69 ERA (4.67 FIP) around forearm and lat injuries last season. Of course, Kaprielian had Tommy John surgery in April and Fowler blew out his knee in July, and Mateo didn't hit much the previous year and a half, so it was almost an all damaged goods trade.
Prior to the trade Gray threw 97 innings with a 3.43 ERA (3.25 FIP) in 16 starts with Oakland, which was considerably better than his 2016 output but also not quite as good as his 2015 effort (2.73 ERA and 3.45 FIP), which earned him a third place finish in the AL Cy Young voting. In his final six starts with the A's, Gray allowed six earned runs and held opponents to a .164/.215/.271 batting line. Now let's dive into his time in pinstripes.
Late Season Walk Problems
The Yankees welcomed Gray to the team by committing three errors behind him in his very first inning in pinstripes. Three errors in the span of four batters to start the game. Cool, cool. Sonny took the loss that game — he allowed four runs (two earned) in six innings — partly because of the errors, but mostly because Corey Kluber struck out eleven in the one-run complete game.
Gray allowed no more than two earned runs in his first five starts and seven of his first eight starts with the Yankees — at one point this year he allowed no more than two earned runs in eleven straight starts, the longest such streak in baseball in 2017 — and on September 12th, he threw his best game with the Yankees. He held the Rays to two runs in eight innings at Citi Field. The offense didn't give him any support (more on that in a bit), so he ended up taking the loss, though it wasn't his fault. Sign me up for two runs in eight innings every day of the week.
Through his first eight starts with the Yankees, Gray had a 2.66 ERA (4.14 FIP) and only once did he allow more than two earned runs. Only two times did he fail to complete at least six innings, and one of those two times he threw 5.2 innings. Gray was pretty much exactly as advertised. The Yankees had a chance to win every game he pitched.
Sonny's last three starts of the regular season were a slog, mostly because he had trouble locating and worked himself into trouble with walks. Gray walked ten batters in his final three regular season starts and 14.2 innings, and he also ran into some home run trouble. The Red Sox tagged him for three homers on September 1st. The Rays hit two on September 12th and two more on September 28th. Gray allowed nine homers in six September starts after allowing ten homers from April through August.
The walks were a bit more worrisome than the home runs because a) home runs are going to happen in Yankee Stadium, and b) it wasn't just the raw walk totals. Gray was behind in the count often and his pitch count was getting elevated. Those problems continued in Game One of the ALDS, as Gray walked four in 3.1 innings. So that's 14 walks (and 12 strikeouts) in the span of four starts and 18 innings. Yikes.
Those walks combined with his generally slow pace earned Gray the "nibbler" tag even though walks had never really been a problem for him before, and his overall zone rate was basically league average the last few years. There are few things more annoying than pitchers who don't throw strikes and pitchers who work slowly. Sonny managed to combine the worst of both worlds in his final few starts. That wasn't fun.
I think the late season walk problem was more than likely the result of some mechanical issues and/or a result of the homers, which might've scared Gray out of the strike zone a bit. The biggest thing to me is health. As long as Gray is healthy, I'm not worried about the walks. I expect them to come down. Most pitchers run into a control rough patch every now and then — Tanaka never walks anyone, but he walked five in a four-inning start this year — and Sonny just so happened to have one late in the year.
Gray was able to rebound in his ALCS Game Four start — after the rough ALDS Game One outing, the Yankees pushed Gray as far back as possible in the ALCS — holding the Astros to two runs (one earned) on one hit and two walks in five innings plus two batters.
All told, Sonny posted a 3.72 ERA (4.87 FIP) in eleven starts and 65.1 innings with the Yankees after the trade. The walks and dingers in September really screwed up his fielding independent numbers.
A Lack Of Run Support
In terms of pitching style, Gray reminds me a lot of Hiroki Kuroda. He throws the kitchen sink at you — Gray throws four pitches at least 15% of the time each (four-seamer, sinker, curveball, slider) and a fifth (changeup) 6% of the time — but he has power (93.8 mph average fastball), so it's not like he's out there throwing slop. And, as David Adler explained, Sonny has multiple versions of each pitch because he varies the break and spin on everything. Kuroda was the same way.
Gray is also similar to Kuroda in that his team never scores any damn runs for him. The Yankees never seemed to score for Kuroda. They sure as heck didn't score for Gray this year. The Yankees scored 39 runs total in Gray's eleven starts this year — nine of those 39 runs came in one game — or 3.55 runs per game. They scored 819 runs in their other 151 games, or 5.42 runs per game. Good grief.
I don't know where it started, but there was this "the Yankees don't score runs for Gray because he works so slowly" narrative that was floating around for a while. It's true that Gray works slowly — he averaged 28.4 seconds between pitches this season, most in baseball among the 58 pitchers who threw enough innings to qualify for the ERA title — but is that the reason the Yankees didn't score? Are the position players thrown so out of whack by his pace that they can't hit?
I decided to make a graph. Here is pitcher pace plotted against run support for the 131 individual pitchers who qualified the ERA title the last two years. There are some duplicates in here — there's a 2016 Kluber and a 2017 Kluber, etc. — but this is just a real quick plot for season review purposes.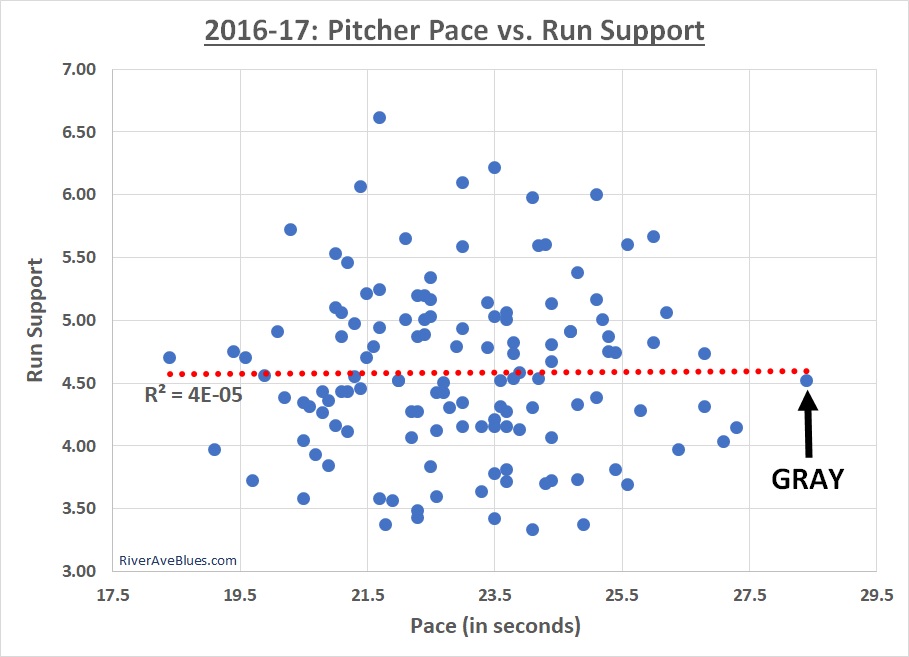 The R² of the trendline is 0.00004. In English, that means there is basically zero correlation between a pitcher's pace and the run support he receives. Shocking, I know. Who would've guessed run support is not a pitcher skill? The whole "he doesn't get run support because he works so slowly" narrative always struck me as one those things someone said to explain something they couldn't otherwise explain, and it sounded just plausible enough that people bought it.
I have no idea why the Yankees didn't score runs for Gray. I have no idea why the Yankees didn't score runs for Kuroda either. Sometimes pitchers just don't get run support. It happens. Across full seasons too. It's annoying. Believe me, I know. I'm sure Gray knows too. The guy has thrown 21.1 postseason innings in his career, and in those 21.1 innings, his team has scored zero (0) runs with him on the mound. What the hell? He's cursed. Cursed by the run support gods.
2018 Outlook
The Yankees traded for Gray to improve their 2018 and 2019 chances as much as their 2017 chances. He is under control for another two seasons, which is pretty awesome. When healthy, Gray is really good. He's a bulldog with a deep repertoire who takes video game stuff to the mound more often than not. The Yankees don't need him to be the ace — that's up to Severino and Tanaka — but Sonny has the potential to pitch at that level.
Like I said, as long as Gray is healthy, I don't have any real worry that his late season walk problems will be a long-term issue. I think it was just one of those things. And the lack of run support … I dunno. I can't explain it. The Yankees figure to again have a very good offense next season, and if Sonny makes 30 starts, chances are he's going to get plenty of run support. I feel like Gray is really being overlooked right now. He's an impact pitcher in the prime of his career and the Yankees got him while trading no one off their MLB roster. Couldn't ask for anything more.