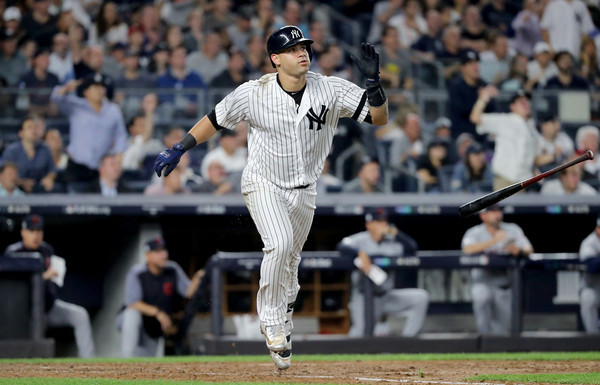 Because he packed a season's worth of production into two months last year, it can be a little easy to forget the 2017 season was the first full MLB season of Gary Sanchez's career. He usurped Brian McCann as the starting catcher late last year and so convinced the Yankees he was ready for full-time catching duty that they traded McCann over the winter. They didn't keep the veteran safety net.
Sanchez, who is three weeks away from his 25th birthday, left zero doubt he is not only the catcher of the present for the Yankees, but a centerpiece of their new core. He missed a month with a biceps injury early in 2017 and still hit .278/.345/.531 (130 wRC+) with 33 homers in 122 games. Thirty-three different catchers had at least 300 plate appearances this season. Here are Sanchez's ranks:
AVG: .278 (7th)
OBP: .345 (9th)
SLG: .531 (2nd behind Kurt Suzuki (?!?))
wRC+: 130 (1st)
HR: 33 (1st)
XBH: 53 (1st)
fWAR: +4.4 (1st)
bWAR: +4.1 (1st)
At worst, Sanchez has established himself as the best power-hitting catcher in baseball. Only seven players have hit more homers than Sanchez since he was called up for good last August 3rd. That's among all players, not only catchers. Sanchez missed a month and he's still hit more homers (53) since last August 3rd than guys like Nolan Arenado (52), Edwin Encarnacion (51), and Kris Bryant (51). He beat Giancarlo Stanton in the first round of the Home Run Derby this year (in Miami)! And that bat drop.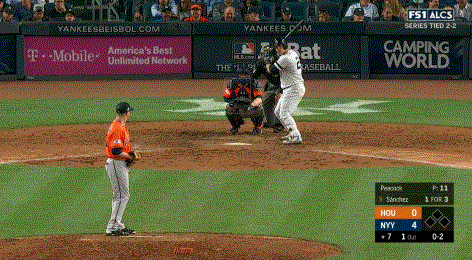 At best, Sanchez has established himself as one of the two or three best all-around catchers in baseball. Yes, that includes defense. Buster Posey remains the gold standard among two-way catchers. Sanchez is much closer to challenging him for that title that a lot of people seem to realize. By this time next year, the crown could be he is. Let's review Gary's first full big league season.
You Can't Spell Kraken Without Rake
Coming into the season, I was among those who thought Sanchez had no chance to continue last season's pace, and he didn't. Gary put up a .299/.376/.657 (171 wRC+) batting line with 20 homers in only 53 games last year. Doing that again seemed impossible. That isn't to say I thought Sanchez would be bad. I just didn't expect him to be that good again. And he wasn't. But he was still great!
What impressed me most about Sanchez this year was how, in four of his five healthy months, he was dominant offensively. And I mean dominant. Not pretty good or a tick above average. Gary was a force pretty much all season aside from a July swoon. His month-by-month splits:
April: .150/.190/.300 (23 wRC+) in five games before the injury
May: .293/.398/.440 (130 wRC+)
June: .307/.390/.659 (175 wRC+)
July: .231/.273/.396 (69 wRC+)
August: .287/.347/.648 (157 wRC+)
September: .303/.354/.528 (134 wRC+)
At one point in August, when most catchers are starting to wear down a bit in the dog days of summer, Sanchez swatted nine homers in the span of 12 games, including the second longest home run in baseball in 2017, a 493-foot moonshoot at Comerica Park. He started 117 total games between catcher and DH and only 24 times did he fail to reach base.
High-leverage situations? Sanchez hit .390/.422/.561 (162 wRC+). Men in scoring position? He hit .281/.356/.477 (118 wRC+). Gary's go-ahead two-run double in Game Four of the ALCS is on the short list of the biggest hits of the season. It certainly felt like the biggest at the time.
The only real knock against Sanchez offensively — well, aside from his total lack of baserunning value, which comes with the territory with catchers — is that he tends to get a little pull happy and expand the zone. There's nothing wrong with being a pull hitter! Pulling the ball has such a stigma attached to it these days because of the shift. All batters hit the ball the hardest when the pull it. That's okay.
Sanchez led all qualified hitters in pull rate (51.6%) this season — Carlos Santana (51.4%), Brian Dozier (50.4%), and Rougned Odor (50.3%) were the only other hitters with a pull rate over 50% in 2017 — and when he struggles, it's almost always because he gets pull happy and starts chasing everything. His swing rate on pitches out of the zone gradually increased as the season progressed, even as pitchers threw him fewer pitches in the zone.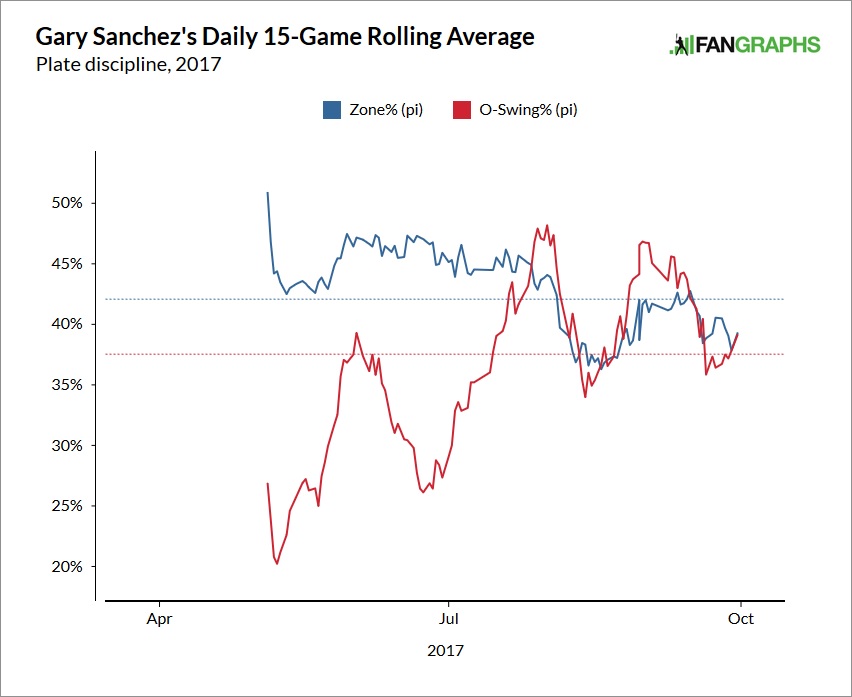 On one hand, that seems bad. Pitchers threw fewer pitches in the zone as the season progressed and Sanchez chased more and more. On the other hand, Sanchez raked in August and September, so maybe it's not that big a deal? Gary is certainly capable of going the other way. Look at the video of the ALCS Game Four double again. He split the right-center field gap. Sanchez also homered to right field in Game Four of the ALDS.
Again, this was Gary's first full big league season, the first time he went threw the league multiple times and the first time he had pitchers adjust to him and had to adjust back. His strikeout (22.9%) and walk (7.6%) rates certainly weren't unwieldy. Sanchez is just a young hitter who has to learn when to stop being so pull happy. There's nothing wrong with being a pull hitter and I wouldn't try to change anything. What Gary is doing works, so keep doing it. As he gains experience and figures out how pitchers are attacking him, he'll be even more dangerous.
Throwing & Framing
We all know Sanchez can hit. He's a great hitter regardless of position and an elite hitter for a catcher. His defense is quite divisive, however. Everyone agrees he's a great thrower, right? Right. Sanchez threw out 23 of 60 basestealers this season, or 38%. The league average is 27%. Remember when he threw out Brock Holt with a one-run lead in the ninth inning on August 19th? It was flawless.
Only Tucker Barnhart (44%), Yan Gomes (42%), and Martin Maldonado (39%) threw out basestealers at a higher rate than Sanchez among the 17 catchers with at least 800 innings caught this year. And it's not only that Sanchez threw out a high percentage of basestealers this year. His arm is so good teams don't even try running against him. The stolen base attempt leaderboard:
Cardinals: 86 (Yadier Molina)
Indians: 87 (Gomes)
Yankees: 91 (Yo Soy Gary)
And that's with Sanchez missing a month and Austin Romine's miserable throwing arm — Romine threw out only 10% (!) of basestealers in 2017 — filling in as the starter for a month. As long as Gary stays on the field, teams may attempt fewer steals against the Yankees next season than any other team. His arm is that good. Teams don't even bother testing him much of the time.
There is more to catcher defense than throwing out basestealers, obviously. Sanchez was either comfortably above-average or comfortably below-average at pitch-framing this season, depending who you ask.
Hmmm. I trust Baseball Prospectus more only because I know more about their methodology, though I was surprised to see Sanchez rated so well at pitch-framing. He ranks 19th among all catchers. That isn't to say I thought Sanchez was a bad framer. Bad framers stick out like a sore thumb. Those dudes are easy to spot. I thought Gary was closer to average based on the eye test, which is what you get when you average out Baseball Prospectus and StatCorner.
Let's Talk About The Passed Balls
Now let's get to the elephant in the room. Sanchez's blocking was so bad at one point this season — Gary allowed five passed balls in a 12-game span in late-July/early-August — that the usually protective Joe Girardi called him out publicly. He never does that. Sanchez allowed a passed ball that let a run score in a loss to the Indians, and afterwards Girardi called him out.
"He needs to improve. Bottom line," said Girardi after the game. "I don't have a problem with his effort, but sometimes he shows his frustrations … He's late getting down. That's what I see sometimes, and it's something we've been working on and we continue to work on. He's capable of doing a better job."
Not only did Girardi call Sanchez out, he benched him him for a few days, and he did it in such a way that got the message across without hurting the team. Gary sat the day after the passed ball, which was a day game after a night game, meaning he was probably going to sit anyway. The next day was an off-day, then the next day he was the DH. That's three days away from catching but only one day out of the lineup, a day he was going to sit anyway.
Did the benching work? Only Sanchez can answer that. What we do know is that before the benching, Sanchez allowed 12 passed balls in 59 games, or one every 4.9 games. After the benching, he allowed four passed balls in 40 games, or one every ten games. Big improvement! I thought Gary's best defensive stretch of the season came during the playoffs, particularly when he blocked the hell out of Masahiro Tanaka's splitters in Game Three of the ALDS.
Sanchez led all catchers with 16 passed balls — and he missed a month, remember — and his 53 wild pitches allowed were second most in baseball. I know wild pitches are, by definition, the pitcher's fault, but an awful lot of passed balls and wild pitches are tough to define. It's not clear whose fault it is. Surely some of those 53 wild pitches were on Sanchez. Either way, Gary let a lot of pitches get by him this year.
All told this season, 110 different players caught a game in the big leagues. Here is the bottom of the leaderboard of Baseball Prospectus' catcher blocking metric:
106. Jonathan Lucroy: -2.3 runs
107. Mike Zunino: -2.6 runs
108. Gary Sanchez: -2.6 runs
109. James McCann: -2.8 runs
110. Wilson Ramos: -3.2 runs
Yep, bottom of the league. To be fair, the Yankees do not have the easiest pitching staff to catch. Sanchez (and Romine) had to contend with Tanaka's splitters in the dirt, Sonny Gray and Jaime Garcia throwing nothing straight, David Robertson spiking curveballs, Dellin Betances having no idea where the ball is going most of the time, so on and so forth. According to Statcast, only four teams threw a higher percentage of pitches in the dirt than the Yankees this year.
Now, that said, there were many blockable pitches along the way that Sanchez did not block. And given the nature of blocking pitches in the dirt, it's so very easy to blame them on Gary being lazy, and I hate that. He gets called lazy because he's from the Dominican Republic and that garbage stereotype exists in baseball. I hate questioning effort level and the only time I do it is when it is particularly egregious. Andruw Jones jogging after balls in the gap in 2012 is the best recent example I can come up with of a Yankee straight up dogging it.
Sanchez, more than anything, has to improve his blocking technique. He has to better anticipate pitches in the dirt, get down quicker, and get himself square to the ball. Gary can do it! I know he can. He's already come a very long way defensively in his career. Catching is hard, man. Especially for young catchers. Almost all of them struggle when they first get to the big leagues. Most struggle at the plate. Sanchez has struggled behind it.
And you know what? Even if Sanchez never improves his blocking and is among the league leaders in passed balls year after year after year, under no circumstances should the Yankees move Gary out from behind the plate. He's a great thrower and at least an adequate framer, and of course his bat is elite for the position. Move him to first base or DH and he's merely above-average. At catcher, he's a cornerstone type. Keep him there. Keep him there keep him there keep him there. Keep him there.
2018 Outlook
Sanchez was outstanding this season. Yes, his blocking stunk, and no, he was not as good as he was during his 2016 cameo, but he was excellent overall. On the very short list of the best catchers in baseball, truly. There is no question the Yankees will go into next season with Sanchez as the starting catcher and a middle of the order hitter. He is the team's best and most important hitter aside from Aaron Judge. I think he is their most indispensable player. The drop off from Sanchez to his replacement is greater than the drop off at any other position, I believe.
And here's the thing: I think Sanchez is going to get better. I think there's room for growth in his game, both offensively and defensively, and I think he'll make those improvements as he gains experience. I expect Gary to become a better hitter once he understands what pitchers are trying to do to him and that getting so pull happy can be a detriment, and I think his blocking will improve too. Even with the blocking issues, Sanchez is a franchise catcher, and as good as he was in 2017, the talent is there for him to be even better. I believe it.