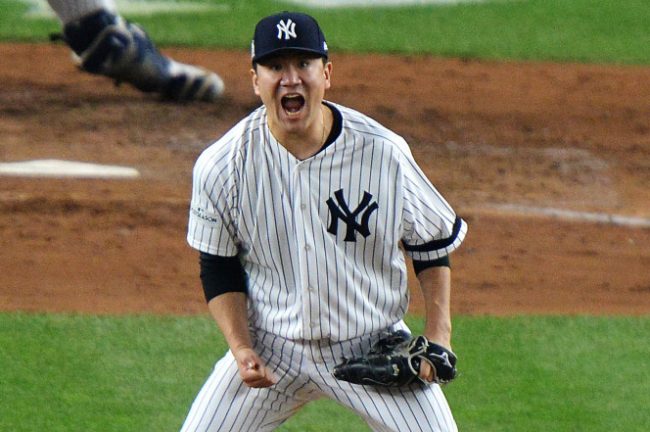 All week I was preparing myself for the inevitable announcement that Masahiro Tanaka would opt out of his contract with the Yankees, leaving them with a big hole in the rotation. I had visions of a rotation without Tanaka and without CC Sabathia to balance the end, leaving the Yankees with only Luis Severino, Sonny Gray, Jordan Montgomery, and….who knows what else? Granted, the Yankees have come into years with rotations featuring way less than a top-3 Cy Young finisher, a solid veteran, and a promising youngster, it still wasn't, as a former manager 'round here might say, what you want. Then, all of a sudden, he wasn't leaving. He was coming back. He is coming back. And positivity falls into place.
Worst case scenario now, the Yankees are only looking to fill one rotation spot, and only if they opt not to give CC Sabathia the Andy Pettitte treatment, which he's definitely earned. The best case scenario stays the same, though, as unlikely as it may be. That includes the Yankees retaining Sabathia and also landing the (potential) prize of the offseason, Shohei Otani. Yes, this would give the Yankees six starters, but as we've seen–hell, just look to Queens–pitching depth can disappear in the rotation of a pitch. Stocking up on starters is always a team's best case scenario.
Even without Otani, a rotation of Severino, Tanaka, Gray, Montgomery, and Sabathia is formidable. Throw in a full season of Tommy Kahnle and David Robertson, a hopefully resurgent Dellin Betances, a healthy Adam Warren and Chad Green, and normal Aroldis Chapman and the Yankees could challenge anyone for the best pitching staff in baseball.
As he does when he pitches, Tanaka has–with this decision–inspired confidence in me for 2018. Sure, that confidence was there given the success of the team this year, but Tanaka helps push that over the edge. Starting pitching has been a weakness of the Yankees heading into the season for…many years and now, that's not the case, regardless of what happens with CC.
A pitching staff makes, like dominoes do, things fall into place. A strong rotation gives the Yankees balance to their potent lineup. Now, as they did for parts of last year, they have a rotation and a bullpen to buoy them when the lineup goes through slumps and a lineup to push through the wall when the rotation has an off week.
Would or could all of this be true without Tanaka? Sure, they could've found someone to replace him and not necessarily missed a beat or a step. But I'm more fond of and confident in Tanaka than I would be or would have been in any sort of replacement for him. Is that a case of blinders or pinstripe-tinted glasses? Maybe, sure. But all I know is I'm damn glad Tanaka is going to be with the Yankees for the next few years, and I hope you are, too. Welcome home, Masa, even if you never left.