After a strong 2016, it's hard to argue that Masahiro Tanaka's overall numbers in 2017 weren't disappointing. He pitched to a 4.74 ERA (107 ERA-) and allowed 35 home runs, fourth worst in baseball. Still, with the way he closed out the year, the 29-year-old starter left Yankees fans with a smile on their faces heading into next year.
Flailing in the first half
Tanaka was the perfect example of why spring training means next to nothing. He had arguably the best spring of any pitcher in baseball, then fell flat in first game of the year. He allowed five of the first six batters to reach in Tampa before allowing a pair of homers later in the game. Overall, he lasted just eight outs and gave up seven runs. Yikes.
He picked up his game towards the end of the month, closing his April with a shutout of the Red Sox at Fenway Park. Outdueling Chris Sale, he only struck out three yet never allowed Boston to threaten while inducing plenty of weak contact.
But that wasn't a sign of things to come. May treated Tanaka poorly. He allowed four runs or more in all but one of his six starts, including six runs or more in three of them. On Derek Jeter Day (and Mother's Day), he allowed eight runs in 1.2 innings vs. Astros. Luckily, he wouldn't have to face them again, right?
In a nine-start stretch from May 2 to June 17, he allowed 18 home runs. Yikes. That included four (!) three-homer games. It seemed like every game had a few balls crushed, even at spacious road parks like Oakland-Alameda Coliseum.
Returning from the Yankees' hellish, mid-June West Coast trip, Tanaka put together a few dominant starts to end first half (not to mention him striking out 18 during two starts on that trip). He matched Yu Darvish out-for-out on June 23, tossing eight shutout innings while striking out nine. He held the Blue Jays to one run in seven innings before a less-than-stellar outing against the Brewers to close the first half with a 5.47 ERA.
Resurgence for #TANAK
But he would only fall so far. Tanaka lowered his ERA in six consecutive starts soon after the break, beginning with a near-perfect start against Tampa Bay in July at home. He hadn't allowed a baserunner for 5.2 innings before allowing a single to Adeiny Hechavarria. He'd give up a homer to Lucas Duda, but struck out 14 and allowed just the one run in eight innings.
Tanaka held both the Mariners and Red Sox to one run in seven innings in consecutive starts before a clunker in Texas. After see-sawing between great and bad starts in September, he finished his regular season on the highest of notes, striking out a career-high 15 and surrendering just three hits in seven shutout innings against the Blue Jays.
For the season, tanaka struck out a career-best 194 while seeing his velocity increase across the board. His swinging strike rate was easily his best.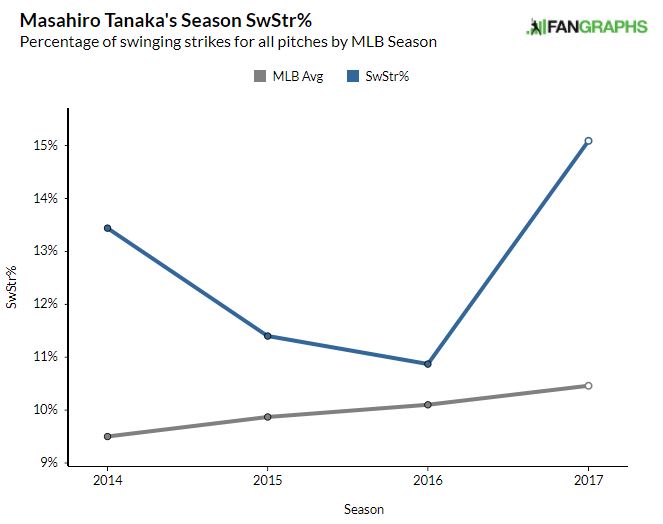 However, his other peripherals (walks/HRs) and his hit rates both worsened en route to a poor regular season. Still, consecutive seasons of 30+ starts for a pitcher with injury concerns is a milestone nonetheless.
A dominant postseason
It's easy to forget about regular season struggles when you ace your way through the postseason. With the Yankees facing elimination in ALDS Game 3, Tanaka gave them exactly what they needed for seven scoreless innings. He splittered the Indians to death and allowed just four baserunners. He got out of his only jam (started by an Aaron Judge-aided triple) with a pair of strikeouts, including one of Jay Bruce, who had hurt the Yankees significantly in Games 1 and 2. It was just a marvelous outing from the veteran starter.
Tasked with beginning ALCS Game 1, he allowed just five baserunners in six innings, but it wasn't enough against a dominant Dallas Keuchel. His two runs allowed came on a string of hits in the fifth inning. He went away from his splitter and kept Houston off balance with his four-seamer. Regardless of the defeat, it went a lot better than his start against the same squad in May.
And then there was his Game 5 start. No offense to the Jays or Rays regular season games, or any other Tanaka start for that matter, but this was his best start since coming over from the NPB considering the circumstances. He put the Yankees one game from the World Series and put himself in line for ALCS MVP. Still relying on the fastball, he kept the ball on the ground and struck out eight. Still miss the moments when we could think about him vs. Clayton Kershaw in WS G1.
Side notes
Just a couple things to mention about Tanaka's season. First, he continued to decrease his straight fastball usage, this year by four percent from 31.6 to 27.6 percent of the time. He upped his slider and cutter usage to make up for it and now throws the slider more often than the four-seamer. He uses his splitter just 1.3 percent less than his four-seam fastball.
Second, his home-road splits were stark. Having better stats at home is common. But for a homer-prone pitcher whose home games take place at Yankee Stadium? It's surprising that he would have a 3.22 ERA, 112 Ks and 15 homers in 95 innings at home vs. a 6.48 ERA, 82 Ks and 20 homers in 83.1 innings on the road.
Finally, just wanted to mention that Tanaka remains a strong fielder. Pitcher fielding is such a small part of the job that it can be overlooked and he's never been a finalist for a Gold Glove. However, he is very smooth off the mound and has made just one error in his four years in New York.
2018 Outlook
Figured I'd be writing this with Tanaka as a free agent, but as you likely know, he opted into the final three years of the deal. Three years for $67 million seems like less than he would have received on the open market, so it's a solid deal for the Yankees. One has to wonder if his camp was worried about his medicals, but his elbow has held up just fine the last three years, so hopefully it will continue to do so for a long while.
Based on his entire tenure in pinstripes, it seems like Tanaka's poor first half of 2017 is an outlier rather than a harbinger of bad seasons to come. The way he returned to form and then dominated in the postseason displayed the Tanaka we expected out of the spring. And if there was any doubt he could pitch in a big game, this October erased those worries completely.
For next year, Tanaka should be back at the front of the rotation alongside Luis Severino … and maybe Shohei Otani. He remains as homer-prone as ever but has learned to pitch effectively even if he gives up a long ball or two.